Randy
200px
GENERAL INFO

AGE
8
BIRTHPLACE
Castle Street
PERSONAL INFO

RELATIONSHIPS

Lotey

CLASS
Child, Student
WEAPONS
Electricity
Lotey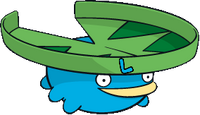 GENERAL INFO

AGE
6
BIRTHPLACE

Castle Street
PERSONAL INFO

RELATIONSHIPS

Randy

CLASS
Child, Student
WEAPONS
Water/Grass
Randy and Lotey are heroes in the Litle P and Sandslash Series, as well as one of the titular character's friends. Randy is the oldest in Litle P's "Group", being 8, while Lotey is the second youngest at 6. Both of them are usually Score-keepers, Referees, or other roles when the friends play games. They have a Destiny Bond, meaning they cannot move far from each other, can read each other's minds, and both share pain.
Their personalities often change, but they remain relatively the same. Lotey is (suprisingly) the more "jumpier" of the two, and also the more intelligent. He is mute, so Randy has to talk for him. Randy, on the other hand, has sometimes shown himself to be wild, but he's usually very laid-back and reserved.
Relationships to Other Charcters
Randy
Litle P is Randy's friend for forever (according to them). However, he sometimes gets annoyed when Litle P's antics get to wild.
They are good friends, but Cleffa plays with Lotey more
Even though they both fight constantly, they are both brothers and Randy is very protective of Lotey.
They are on good terms, and can be considered friends.
Lotey
while not as close to Litle P as Randy is, they are still good friends
Lotey and Cleffa are very good friends.
While they both fight almost all of the time, Randy is Lotey's only way to communicate to the world, and his older brother.
Friends
Enemies
Talents
Randy
playing the guitar
playing the harmonica
whistling
Lotey
Painting
Drawing
Photography
Theme
Trivia
Originally, Sandslash P was to be named Randy. the P in Randy's nickname is a homage to that.
Randy is a good musician, while Lotey is an artist. Art and Music are both considered forms of art.