Rambi the Rhino is not from Fantendo. However, this article may include related fan ideas.

These external sources may have official, more accurate information:

This article is free to edit. Please follow the article standards and respect good-faith contributions.
Rambi the Rhinoceros
サイのランビ Sai no ranbi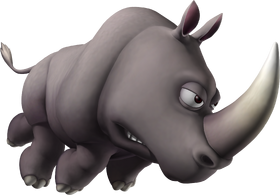 Rambi as he appears in Donkey Kong Country Returns
GENERAL INFO

GENDER
♂ Male
SPECIES
Rhinoceros
ALIGNMENT
Good
PERSONAL INFO

RELATIONSHIPS
CLASS

Animal Friend

ABILITIES

Horn
MISCELLANEOUS INFO

CANON APPEARANCES

Donkey Kong Country
Donkey Kong Counry 2: Diddy's Kong Quest
Donkey Kong Country Returns
Donkey Kong Country: Tropical Freeze


NON-CANON APPEARANCES
Rambi the Rhino is a recurring Animal Friend that appears throughout the Donkey Kong series. He is a large, gray rhinoceros a strong ally to Donkey Kong, and is tied with Enguarde the Swordfish for the most playable appearances.
Rambi first appears in Donkey Kong Country, where like the other Animal Friends he can be found in an Animal Crate and broken free to ride on. Using his horn, Rambi can charge through enemies and defeat them just by running into them. His horn can also open up walls to reveal passageways that would normally require a Barrel. However, he isn't invincible and there are some obstacles that can harm him, such as spikes and fire. Donkey Kong Country 2: Diddy's Kong Quest gave him the ability to charge up a dash, allowing him to run fast for a short period of time. He also appears in Donkey Kong Country Returns and Donkey Kong Country: Tropical Freeze as the only rideable Animal Friend, functioning the same as he did in the previous games.
Game Appearances
Rambi appeared as an animal buddy in the Wii racing game Donkey Kong Racing where he served as one of the rideable Animal Buddies. Rambi was one of the strongest buddies but he was also slower, he had very high stamina. He had a horn attack which would reduce foes 'stamina.
If you use a Donkey Kong amiibo while playing, you will unlock sun sun island mountain, Rambi appears as a hidden race,
Rambi appear's as a "Vehicle" on land.
Although Rambi does not appear in this game, Donkey Kong functions very similar to him, such as being able to plow through enemies and blocks.
Rambi appears as a playable newcomer in Super Smash Bros. Charged. Rambi boasts high mobility for a heavyweight, allowing him to move around the stage quickly. In a similar manner to Little Mac, Rambi's grounded moves are very powerful, being particularly potent KO moves that can take stocks at ludicrously low percents. His smash attacks are especially strong and have the unique ability to ignore shields, being able to hit opponents with the full blunt of the damage regardless if they have a shield up or not. Because of this, the only way to dodge an incoming smash attack is to perfect shield, dodge, or move away. To compensate, while his aerial moves have utility for situational combos, with some being able to meteor smash, his jump height is one of the worst in the game, and while he has a decent recovery courtesy of his up special, it's predictable and can be easily countered.
Being quadrupedal like Ivysaur and Duck Hunt, a lot of Rambi's basic attacks are unconventional, ranging from headbutts, to stomps, to attacks utilizing his horn. He also doesn't grab opponents like other characters, and instead pins them to the ground with his feet, with his pummel being stomping on them. Similar to King K. Rool's, his down throw can also bury opponents. His side special Rhino Charge is based on his charging attack from Donkey Kong Country 2: Diddy's Kong Quest, and his up special summons Squawks the Parrot to carry Rambi upward.
While Rambi himself doesn't appear in Mario Kart: Infinity Remix, a Kart body based off of him called the Rambi Rider (which previously appeared in Mario Kart DS) appears that can be customized with any tire and glider. It offers a great boost in weight and traction and a moderate boost in top speed, but also lowers acceleration and handling greatly.
Gallery
Trivia
Navigation Templates
Template:ESSBNav