Rambi the Rhinoceros
サイのランビ Sai no ranbi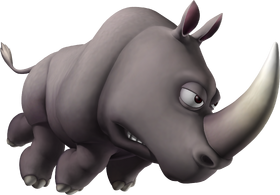 Rambi from Donkey Kong Country Returns
GENERAL INFO

GENDER
♂ Male
MISCELLANEOUS INFO

CANON APPEARANCES

Donkey Kong Country
Donkey Kong Counry 2: Diddy's Kong Quest
Donkey Kong 64
Donkey Kong Country Returns
Rambi the Rhinoceros is an Animal Buddy that has appeared in many Donkey Kong games such as Donkey Kong Country, Donkey Kong Country 2: Diddy's Kong Quest and Donkey Kong 64. He is considered a staple to the series and is the mascot for the Animal Buddies.
Rambi's most recent appearance was in the Donkey Kong Country Returns where he was a powerful Animal Buddy who was immune to many things, except fire.
Game Appearances
Rambi appeared as an animal buddy in the Wii racing game Donkey Kong Racing where he served as one of the rideable Animal Buddies. Rambi was one of the strongest buddies but he was also slower, he had very high stamina. He had a horn attack which would reduce foes 'stamina.
If you use a Donkey Kong amiibo while playing, you will unlock sun sun island mountain, Rambi appears as a hidden race,
Rambi appear's as a "Vehicle" on land.
Although Rambi does not appear in this game, Donkey Kong functions very similar to him, such as being able to plow through enemies and blocks.
Trivia
Community content is available under
CC-BY-SA
unless otherwise noted.