This article is part of the Medieverse. Surely you're not looking for the original Rachel Harel?
Rachel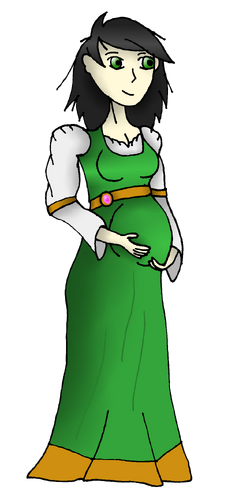 GENERAL INFO

GENDER

♀

Female
SPECIES
Human
CURRENT STATUS
Alive
AGE
23
BIRTHPLACE
Occiden
PERSONAL INFO

OCCUPATION(S)
Housewife
MISCELLANEOUS INFO

SERIES
Medieverse
CANON APPEARANCES

TBA
Rachel is a character in the Medieverse who takes a major role in the story.
History
At first Rachel lived as a normal housewife together with her husband in a house in Occiden. They lived a happy life although they didn't have much of an income, only relying on her husband's farmers salary. One day she noticed that she was pregnant, which normally would be something to be happy about, however her husband was caught positive with the plague. He heard about a tale of a famous doctor who could heal it, but he never returned. Rachel now lived alone with her unborn baby, unable to properly provide for herself.
Physical description
Rachel has a peachy skin and pitch-black hair with deep green eyes. She is a rather thin despite her pregnancy duo to her not eating very much. She has a big belly because she is pregnant. She wears a long green dress with a white blouse, with long wide sleeves, underneath it. The bottom of her dress is colored orange, as well as the strap above her belly, and at her elbows. On the belly strap she has a pink gemstone that is passed down through the family.
Personality
Despite everything that has happened to her, Rachel is a very kind person. She means no harm to anyone, and values life. She puts the need of others before that of her, and is rather down to Earth, yet fun-loving. Because of her pregnancy she has motherly traits, loving to take care of people. Rachel however can become aggressive when the life of her little one is put into danger, or if someone threatens her with it. She will do anything to protect her baby. While she is a clever lady, she is rather defenseless against anything, and vulnerable because of her pregnancy.
Abilities
Rachel possesses no abilities whatsoever. She only knows how to properly take care of people and how to handle certain situations with her calm thinking.
Relationships
Unten
Leah
Trivia
Community content is available under
CC-BY-SA
unless otherwise noted.