Rabbid Mario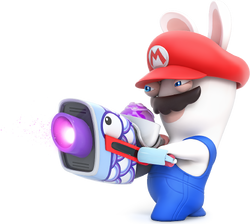 Artwork of Rabbid Mario from Mario + Rabbids Kingdom Battle.
PERSONAL INFO

RELATIONSHIPS
Rabbid Mario
is a playable Hero in
Mario + Rabbids Kingdom Battle
. He is the
Rabbid
version of
Mario
. He was created when Spawny used the SupaMerge to fuse a Rabbid with a Mario Cap.
General Info
Appearance
Rabbid Mario resembles a Rabbid version of Mario, although without a shirt. He wears Mario's cap and trademark blue overalls and has his mustache.
Powers and Abilities
Rabbid Mario is described as a "bruiser". He has the ability to "Boom Dash", allowing him to dash towards his opponent and release shock waves on impact. He can also build up defense to take less damage with "Bodyguard" and bring foes towards him with "Magnet Dance".
Personality
Like most Rabbids, Rabbid Mario is playful and mischievous. He likes to pretend he is Mario and brags frequently, recklessly taking on any challenge. He also might have a ear for music, as he performed his own version of the Super Mario Bros. theme song.
Appearances
Rabbid Mario appears in Mario Hoops 3-On-3 Switch (mainly known as Mario Hoops 3-On-3 Deluxe) as a playable character. He is an All-Around character type and his special move is Gunner Dunk. He is a secret character to unlock him you must complete Fire Tourney on Hard Difficulty (or above). His default partner is Mecha Rabbid. His team name is the Rabbid Mario Gunning Dunker.
Rabbid Mario appears in Raving Rivals as a main playable protagonist. His action command is X and teams up with Rabbid Luigi to save the Mushroom Kingdom. However, as Raving Rivals is a prequel to Kingdom Battle, Rabbid Mario is seen to have a grudge against Mario and battles him frequently.
Gallery
Navigation Templates
Playable Characters
Assist Characters
Obstacles
Other Characters
Alolan Grimer · Amul · Ann Takamaki · Big Urchin · Blizzy · Bravoman · Buzz-Buzz · Cutiefly · Don-chan · Dragoneel · Fierce Deity · Gil · Happy Mask Salesman · Judge · King · Kissy · K.K. Slider · Litwick · Lloyd · Mappy · Mareanie · Mii · Missile · Morgana · Perry · Pidgit · Pooka · Rabbid Luigi · Rabbid Yoshi · Red Baron · Ribbon · Rowlet · Runner · Ryuji Sakamoto · Sandy · Smasher · Rusty Slugger · Servbot · Sima Zhao · Swanna · Tarosuke · Timmy Nook · Toadsworth · Tommy Nook · Tron Bonne · Valkyrie · Wonder Momo · Ziggy
Collectibles

Trophies

Stickers

Boolossus · Boo Mario · Bowser · Captain Toad · Cat Peach · Chain Chomp · Cloud Mario · Fire Mario · F.L.U.D.D. · Koopa Clown Car · Mega Mushroom · Mario · Penguin Mario · Peach · Propeller Mario · Rock Mario · Toad · Toadette · Waluigi
Birdo · Boo Buddies · Blooper · E. Gadd · Fuzzy · Metal Form · Waluigi · Whomp

Candy Kong · Lord Fredrik

9-Volt · Fauster

Ball and Chain · Deku Leaf · Majora's Mask · Mipha

Abra · Drifloon · Spinarak

Katrina · Mr. Resetti

Adam Malkovich · Arachnus

Nightmare · Noddy · Prank

Mr. Chicken

Back Shield · Centurion · Eggplant Wizard

Disco Kid · Doc Louis · Donkey Kong · Giga Mac · Glass Joe · King Hippo · Little Mac · Von Kaiser

Blue Falcon · Captain Falcon · Pico · Rick Wheeler · Wild Goose

Louie

Pyra

Franklin Badge · Negative Man

Apollo Justice · Franziska von Karma · Miles Edgeworth · Larry Butz · Judge · Phoenix Wright

Dr. Wright · Hammer Slam Bowser
Devil · Dr. Wright · F-Type · Rusty Slugger · Zethia