Project Nexus
Developer(s)
AlwaysDREGOL
Publisher(s)
Fantendo
Platform(s)
Playstation 4
Playstation 5
Xbox One
Xbox Series X/S
PC
Genre(s)
Fighting
Platforming
Release Date(s)
November 2022
Mode(s)
Single Player
Multiplayer
Age Rating(s)
— Tagline of the game

Project Nexus (sometimes just called Nexus) is a 2022 Fighting Game developed by AlwaysDREGOL for Playstation 4, Playstation 5, Xbox One, Xbox Series X/S and PC. Its gameplay is very close to that of the Nintendo platform/fighter hybrid series Super Smash Bros., and from that series, Project Nexus also borrows the core idea of it being a crossover game where the playable characters hail from various videogame franchises, such as God of War, Halo, Final Fantasy, Metal Gear and many more.
The game was first announced in June of 2019, and a first playable alpha ran from March to December of 2020. The game is now set for a full release on November of 2022.
Gameplay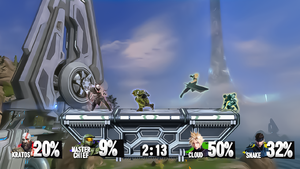 As mentioned, Project Nexus is structured like a traditional platform fighter, where players compete in matches for up to four participants in which the objective is to knock the opponents out of the stage to gain points. Each player has a Damage Meter displayed at the bottom of the screen which shows how much damage that player has taken (in the form of a number percentage, so the higher the number, the higher the damage), with more damage meaning that they'll be easier to launch out of the screen.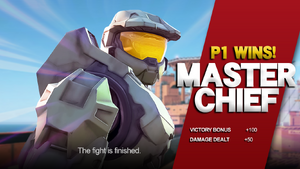 There's mainly two sets of attacks each player has, those being Normal Attacks and Special Attacks, as well as a grab and its associated throws, useful to bypass Shields, which in turn will grant protection against most Normal and Special Attacks. Once enough damage has been dealt or received, players are also able to unleash a Finisher, an especially powerful move which usually deals a lot of damage and can more than likely result in a KO for the players at the receiving end.
Various Game Modes aside from the classic one are available, including Battle Royale, where a player's respawns after being KOed are limited, Knockout, where the Damage Meter of each player decreases with damage and causes that player to lose once it reaches 0 (similarly to more classic fighting games like Street Fighter), and others.
Game Modes
The game is mainly focused around Multiplayer (online or offline), but it also has a good variety of modes for offline and solo play as well.
Arcade Mode
A series of five encounters alternating with bonus matches, ending with a final boss fight. Each character has their own intro and ending cutscenes. The cutscenes feature voice acting over drawn scenes, similarly to games like Street Fighter IV and Mortal Kombat 11. The Narrator (voiced by Logan Cunningham) will narrate these cutscenes and give a brief (and sometimes vague) background of how and why the characters got involved in the Nexus. After beating Sephiroth, the player is rewarded with currency to spend at the Shop.
Brawl
The standard mode to fight other players (offline) or CPUs.
Free for All : Up to four players can fight under a customizable time limit (from 1 to 30 minutes), and victory is awarded to the player who scored the most KOs when the time reaches zero. Alternatively, players can set a Goal of a set number of KOs to reach (from 1 to 99). If the battle ends in a tie between two or more players, a ten second Overtime will start, with each player's damage percent starting at 300%. The first player to score a KO wins the match. Should the Overtime end in a tie as well, victory is automatically awarded to the player who dealt the most damage during the match.
Battle Royale : Up to four players can fight with a customizable and limited number of Lives (from 1 to 99). A Time Limit can also be turned on for this mode. Victory is awarded to the last player remaining. The Overtime applies to this ruleset as well.
Knockout : Up to four players can fight with a more traditional life system. The Damage Meter turns into a Health Meter (which can start from 1HP to 300HP), and victory is awarded to the last player remaining. Attacks deal a set amount of Knockback in this mode. A Time Limit can also be turned on. The Overtime applies to this ruleset as well, although instead of starting at 300% Damage, each player starts with 1HP.
Tournament
The Online Mode of the game. It is split in Casual and Ranked. The game uses Rollback Netcode to try and provide a lagless online experience.
Casual : Players can fight people all over the world in Custom Lobbies or via Matchmaking in matches with any kind of ruleset and up to four players. By default, Stages are set in their Regular form.
Ranked : A more competitive environment where players can fight matches for a maximum of two players in a ruleset consisting of a Battle Royale with 3 Lives and a Time Limit of 7 minutes, exclusively via Matchmaking. The game tracks a player's wins and losses, and changes their rank accordingly. An higher rank will prioritize matches with players of a similar skill level. The Rank resets with each 'Season', which lasts for about 13 weeks. The Ranks (from lowest to highest) are - Beginner, Intermediate, Seasoned, Expert and Legend.
Spectator : Players who don't desire to fight online can still participate as Spectators of Casual matches. A bet can be placed on any opponent before the match starts to potentially win in-game currency, but the bet a player placed will only be visible to themselves.

Tutorial
The basics of the game and more advanced tutorials are here, as well as detailed breakdowns of each characters. The Tutorials are offered by Otacon from Metal Gear, who appears in his pixelated version from Metal Gear Solid 2 to guide players. It also features Practice Mode.
Basic : The absolute basics of the game. This mode introduces Movement, Normal Attacks, Special Attacks, Shield, Rolls and Grabs.
Advanced : Advanced techniques are introduced here, such as Combos, Fast Falling, Techs and Perfect Shields.
Practice : A free Practice mode with in-depth options to offer a suitable environment to test out combos or just get a better feel of any chosen character at the player's own pace.
Character Specific : Tutorials made specifically for each character. It will give a full breakdown of their moveset, any special mechanics that they may possess and how to best play with them. It also showcases some combos for each character.

Endless
Fight an endless amount of opponents and set an high score. "Missions" will sometimes appear throughout every attempt, which will task players with performing specific actions as they fight, within a certain time limit. These are optional, but will reward players with in-game currency if performed correctly.
Nexus Ball
In this mode, unlocked by defeating 100 or more foes in Endless mode, two or more players can take part in a game of soccer, where a Ball needs to be sent in the opponent's Goal to score points. Up to two teams consisting of two players each can play, either under a time limit or a set number of goals, and many different skins are available to unlock for the ball, which can be customized via cosmetics acquired at the Shop.
Shop
A place where players can spend their in-game currency (earned by just playing in the various game modes) to buy cosmetics items such as Alternate Costumes, Victory Poses, Game Cutscenes, Concept Arts or items of customization for their online profile, such as their Avatar, Banner, Pre-Match Phrases and so on.

Playable Characters
The starting lineup of Project Nexus counts 40 characters in total.
Each franchise has one playable character as a representative of their respective series. Characters owned by many different companies are included, ranging from Sony first parties like Kratos from God of War, to Microsoft first parties like Master Chief from Halo, and a wide variety of third parties like Cloud Strife from Final Fantasy and Snake from Metal Gear. Notably, the game does not feature any character from Nintendo due to licensing issues.
Stages
The game features 40 Stages in total, one for each character.
Each stage can be played in its Regular form or Tournament form, which will give the stage a standard layout that is free of hazardous features (Regular is the standard in Brawl mode, while Tournament is the standard one in the Tournament mode). For every stage, there is a selection of Music Tracks which can be played on it, deriving from the stage's franchise. The number of tracks for each stage varies, and most of them feature one remixed track, composed specifically for Project Nexus. Which tracks plays during the match can be selected beforehand, or it can be made to be random every time.
List of Stages

LAKE OF NINE
God of War

MAKO REACTOR
Final Fantasy

INSTALLATION 04
Halo

AIR FORCE BASE
Street Fighter

BIG SHELL
Metal Gear

TEMPLE RUINS
Tomb Raider

METROPOLIS
Ratchet & Clank

N. SANITY ISLAND
Crash Bandicoot

THE HOUSE
Splatterhouse

APERTURE LABORATORIES
Portal

DREAM FOREST
Rayman

ALDEN'S TOWER
inFAMOUS

TIGER DOJO
Tekken

ASTRAL CHAOS
SoulCalibur

DEAD POOL
Mortal Kombat

THE ROOF
Plants vs. Zombies

SACRED LANDS
Horizon

MONKEY ISLAND TOUR
Monkey Island

MISSION 1
Metal Slug

KAER MORHEN
The Witcher

AMUSEMENT PARK
NieR

CITY 17
Half-Life

1989
Hotline Miami

SYNDICATE STRONGHOLD
Streets of Rage

RAPTURE
Bioshock

SPENCER MANSION
Resident Evil

TEMEN-NI-GRU
Devil May Cry

THE UNDERWORLD
Hades

SNOWDIN
Undertale

FORTRESS OF TIME
Prince of Persia

OMI LAKE
Ghost of Tsushima

MAGIC CRAFTERS
Spyro the Dragon

STORM POINT
Apex Legends

PARIS
Sly Cooper

GREEN HILL ZONE
Sonic the Hedgehog

PILTOVER
Arcane

FLORENCE
Assassin's Creed

WOOKIE HOLE
Battletoads

PRIDEMOOR KEEP
Shovel Knight

DANGER ROOM
X-Men
Post-Launch Content
While the game is set for release in November, additional DLCs are planned for the post-launch, granting the game a continued support well after it releases. So far, it has been confirmed that additional content will range from characters bundled with a stage and music tracks, plus additional alternate costumes for base game characters.
Blog Posts
A series of Blog Posts are released to share info and updates on the game, each one written by game director AlwaysDREGOL.