Princess Hana Lotus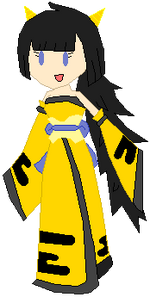 Lotus's art in Super Mario Powers Kuro.
GENERAL INFO

GENDER

♀

Female
SPECIES
Oni
AGE
26
PERSONAL INFO

RELATIONSHIPS
OCCUPATION(S)
Princess of Sakura Kingdom
WEAPONS
Fans
MISCELLANEOUS INFO

CANON APPEARANCES
"Mario, I... Thank you! Thank you so much!"
Princess Lotus is the princess of the Sakura Kingdom and a major character in the Super Mario Powers series. First appearing in the sub-series's first title, Super Mario Powers 黒, Lotus continues to make appearances across the series.
Appearance
Lotus resembles a normal human girl for the most part, looking to be slightly younger than Princess Peach and as such being shorter and scrawnier. She has black hair styled in a traditional hime cut, with a massive ponytail that spikes out in the back. Two small horns peek out from underneath her hair, displaying her status as an oni rather than a traditional human.
Lotus's typical outfit consists of a yellow and black kimono with detached sleeves, decorated with a black thundercloud pattern.
Personality
Lotus can be described as kind, loyal, dutiful, compassionate- all the qualities that she associates with the ideal princess. Being groomed from birth to fill her role, she is a very friendly woman who puts bonds between people above all else, leading to her style of ruling being rather pacifistic and preferring to settle disputes with truces over warfare. Lotus is willing to put the well-being of her friends, family, and subjects over her own, leading to many instances where she has overworked herself or made poor decisions for the benefit of others.
Lotus's hobbies outside of her royal duties include metalcraft, inventing, and cooking, and she is commonly referred to as the best chef among the playable characters within the Super Mario Powers series. Lotus is extremely open to experimentation in all facets of life, and she can often be seen tinkering with small electronic devices or trying new cooking recipes.
Lotus also has issues with her ease with getting attached to others; it is able to lead to sorrow when a friend she has made is forced to leave her or lead to massive amounts of guilt if she feels she has been tricked or taken advantage of. The later point is the primary source of her dislike of Jigea, the witch haven taken advantage of her friendship in order to ruin her kingdom.
Abilities
Like all oni, Lotus possesses the ability to harness the power of Sun Blossoms via prayer, unleashing their latent supply of electrical energy. As a royal member of her race, she has greater focus over this ability than others, and is able to manipulate the electrical energy as well.
Like many Mario series characters, Lotus possesses above-average athletic abilities.
Appearances
Though Lotus is not present in Stampede Breakfast 2, King Boo does have an alternate costume based on her. He wears a wig identical to Lotus' hair, and additionally has her horns.
Lotus appears as a downloadable playable character in Super Mario Kart: Switch Circuit, being a lightweight character. She, alongside the other playable characters in Super Mario Powers 黒 and Jigea, were available in the game's second DLC pack, Super Mario Kart: Switch Circuit x Super Mario Powers 黒. Alongside these characters, her special item is the Sun Blossom.
Lotus appears as a playable character in Super Mario Spikers, appearing as a Skill-type captain. Her outfit somewhat resembles the skin-tight jumpsuits other women in the game wear, though it's more revealing at the shoulders. It additionally has black cloud-like patters as with her traditional dress. Her emblem is a Sun Blossom, and her theme is Enka.
Relationships
Mario
TBA
Chiro
TBA
Suna
TBA
Jikero
TBA
Yukida
TBA
Jigea
TBA
Gallery
Trivia
As much of the original Super Mario Powers cast is built around the premise of changed/altered characters from the main Mario series, Lotus is inspired by an altered version of Peach.

Lotus's concept was based around the idea of having a princess character take her duties more seriously than previous princesses in the series, as well as one that would have a more tragic story and role than most.