Princess Daisy is not from Fantendo. However, this article may include related fan ideas.

These external sources may have official, more accurate information:

This article is free to edit. Please follow the article standards and respect good-faith contributions.
Princess Daisy
デイジー姫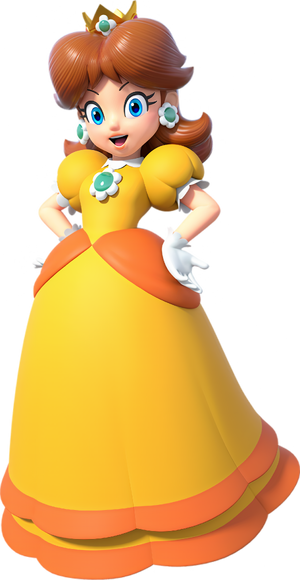 Daisy, as she appears in Mario Kart Tour.
GENERAL INFO

NICKNAME(S)

Daisy

GENDER

♀

Female
SPECIES
Human
CURRENT STATUS
Alive
BIRTHPLACE
Sarasaland
Mushroom Kingdom
Various others
MISCELLANEOUS INFO

VOICE ACTOR(S)

Deanna Mustard (current; Mario Golf: Toadstool Tour-present)
Satomi Koorogi (games)
Jessica Chism (original, previous; Mario Tennis) (games)
Jen Taylor (previous; Mario Party 3-Mario Party 5) (games)
"As the princess of flowers and liveliness, I will not let you destroy this reserve!"
—
Princess Daisy
Princess Daisy is the princess of Sarasaland, and is a good friend of Princess Peach and Rosalina. She first appeared in Super Mario Land, where she was kidnapped by the alien, Tatanga. Since her debut, she has appeared as a constant recurring character in Mario games.
Physical description
Daisy has an average build with vivid blue eyes, fair skin, and orange hair. Between Super Mario Land and Mario Party 3, Daisy's hair was long extending past her waist, similar to the size of Peach's hair. In addition, she is sometimes depicted with darker, titian hair, and slightly tanned skin. She has round cheeks, a button nose, thin, orange-colored lips, and large, round eyes with two thick, black lashes on the sides. Her hair is medium with a flipped style and parted bangs. She has an average weight and height compared to other Mario characters, being shorter than Peach but taller than Luigi, and generally being in the middle of weight classes.
Daisy is represented by the colors yellow, orange, and green. Daisy usually wears a yellow, floor-length gowned dress with white and orange accents. The details of the dress include puffed sleeves with white, petal-shaped openings, a white, petal-shaped collar, orange panniers at her waist, and orange frills at the opening of her dress. From Super Mario Land to Mario Party 3, before she had panniers, she had a thin white band around her waist. Her accessories include short, white gloves with petal-shaped openings, orange high heels, a gold crown with red jewels on the sides, flower-shaped earrings, and a flower-shaped brooch; her jewelry is coordinated with green gems and white, petal-shaped rims.
In NES Open Tournament Golf, Daisy wore a short sundress with ballet flats that matched her colors in yellow and white, but lacked a crown.
In Mario Tennis, she wore a dress that matched the colors of the original, although it was shorter to fit with the sports theme. In addition, she wore orange sneakers with white knee-high socks, but did not have a crown. In Short Game mode, her Player 2 color represented a lavender and purple colored dress and her sneakers colored purple as well.
In Mario Golf: Toadstool Tour, Daisy wore a two-piece uniform with the top being yellow and the shorts being orange. In addition, the shoes were yellow with orange spots in front and back plus mid-height white socks to go with it.
In Super Mario Strikers, Daisy wears a two-piece soccer uniform with the number in the rear of the jersey. Other parts included white high-top shoes with orange markings plus orange knee-high socks.
In Mario Strikers Charged, Daisy wore a new soccer uniform with armor due to the game's safety regulations. Her uniform is orange during home games and emerald green during road games.
In Mario Kart Wii, Daisy introduced a jumpsuit that contained white as the main color and orange and the stripe color. It included a yellow scarf and a yellow heart graphic on the back. It featured white-rimmed yellow elbow-length gloves,, and matching knee-high boots in yellow with white trim and soles.
In Mario & Sonic at the Olympic Winter Games, Daisy introduced an outfit more suited for colder weather. The outfit is a yellow mini-dress with an orange shrug and orange leggings with vertical white stripes on both sides. White gloves and boots with a yellow bottom are included.
In Mario Sports Mix, Daisy wore a short dress compared to what Peach first introduced in Toadstool Tour. However, the dress had two stripes, comparing to her overall modern-day dress.
In Mario & Sonic at the London 2012 Olympic Games, Daisy introduced a leotard that she wore mainly for gymnastics and swimming activities.
In Super Princess Daisy, Daisy wears her usual modern-day dress while playing in levels. Some cutscenes depict her wearing her two-piece sports uniform, a scuba diver set, a space agent suit, an mini-dress with orange leggings and flat sandals, and a two-piece swimsuit.
In Dr. Mario World, Daisy wears a yellow nurse polo shirt with a white lab coat, an orange skirt, and flat sandals, but lacks a crown.
Game appearances
Daisy appears in Super Smash Bros. Switch! as a playable character.
B: Flower Power-She punches, and flowers surround her, temporarily blocking.
Up B: Leap-She springs into the air.
Down B: Pound-She kicks the opponent into the ground
Side B: Tennis Time- She strikes out with a Tennis Racket
Final Smash: All Hail Me!- Flowers bounce across the stage, dealing massive damage to anyone they touch.
Super Smash Bros. Blue Heat
Daisy appears as an Assist Trophy in Super Smash Bros. Blue Heat. Once summoned, she attacks the nearest players with some basic kicks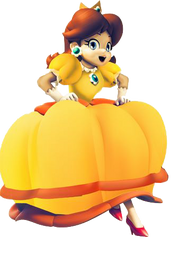 and punches, and then does a finishing blow with either a tennis racket or a golf club. Her outfit is that of the sports titles, and not the core Mario games, where she is in her dress.
In Super Paper Bros. she appears. Mario is told of a prophecy by Merlon, about the "Fair and White Princess". Mario suspected this princess to be his girlfriend Peach. But was wrong. Daisy was captured by Lord Kala and General Phai. After her capture, she is shown around the castle. she realizes an escape point, she makes a run for it, but is soon stopped by Phai. She is then introduced to all the members of the Agents of Shadow, she then trips and falls on Missile Mike, but actually slipping a note into his coat. This note revealed her location, after Mario & Co. defeated Missile Mike. They lead a raid of Kala's fortress. This was successful and Daisy was rescued. Afterward its was revealed Kala and Phai planned this all along.
In Super Mario:Dark Tide, Daisy accompanies Luigi and Peach as a chef.
Daisy will appear as the main damsel-in-distress in the upcoming Luigi Vs King Boo: Quest for the Princess. She is kidnapped by King Boo, and Luigi has to rescue her. Nothing much else has been revealed.
Super Mario Insurance
Daisy returns as a damsel in distress in Super Mario Insurance, along with Peach. Mario and Luigi fight to save her and their karts at the same time.
In Super Mario and the Quest for the Mushroom World, she is kidnapped along with Peach. Mario, Luigi, Blue Toad and Green Toad set out on an adventure to save her and Peach.
Super Smash Bros. Evolution
B: Unknown
B→: Flower Shuriken
B↑: Unknown
B↓: Crystal Smash
Final Smash: Flower Storm
In the Super Smash Bros. series Adventure Mode for Super Smash Bros. Evolution and Super Smash Bros. breakfighter, she lives with Lucas (Mother) and Riku in Destiny Islands.
Daisy appears as the main character in the Super Daisy series. Initially, she was the only playable character in Super Daisy Adventure and Super Daisy 64, but in future Game Boy Advance Daisy titles, more characters were playable. She has no particular attacks in the first games. On future installments, though, she can get very angry and go on fire to run faster and make ice blocks disintegrate.
In almost all games, she needs to fight Tatanga.
Mario Guitar World
In Mario Guitar World, in Pro mode, Daisy is the second boss of the story mode. If beaten Daisy will be unlocked, as well as other various features.
Nintendo Princesses
Daisy is one of the confirmed characters for the upcoming Wii platformer Nintendo Princesses. Whether she is playable is unknown.
Daisy is a player on the Peach Royals team on the multi-player Wii sports game Mario Rugby League. She is a skilled character, her skill is higher than Peach's but her speed is lower. She has the ability to shield herself with a flower to prevent tackling.
Super Luigi 64
In Super Luigi 64, she is kidnapped by King Boo.
In Luigi & Waluigi, she is kidnapped by Rui.
Pikachu's Final Destiny
Daisy makes a cameo appearance in Pikachu's Final Destiny. She wears her sports outfit, and jogs around Ocean Island.
Singalong Superstar!
Daisy appears as an avatar in every Mario Singalong! series game. She appears in Mario Singalong Superstar!, Mario Singalong Country! (in full cowgirl attire), Mario Singalong Boys vs Girls!, and most recently Mario Singalong Disney! where she develops a friendship with Minnie Mouse and Daisy Duck. Then, in Mario Singalong Rocks! Princess Daisy is involved in the story mode where she, along with her good friend Princess Peach, are kidnapped by Bowser and trapped behind music doors only to be later saved by Luigi and his brother Mario. She reappears in Mario Singalong Down Under! and Mario Singalong Legends!.
Renario Extreme Series
Daisy appears as a cameo in some RenarioExtreme series games. She also appears in the anime, where she portrayed as more tomboyish. In this series, her main outfit is her sports outfit instead of her dress.
Mario & Nintendo All-Stars Racing 2
She returns as a driver in Mario & Nintendo All-Stars Racing 2. She's partners with Peach.
Mario Kart: Double Dash!! 3
Daisy and Peach appear in Mario Kart: Double Dash!! 3 as partners. However, Daisy's special item is changed from a heart to a flower, though they still function the same way.
Super Girls
In Super Girls, Princess Daisy appears as a contestant. She has a total score of 31, tying her for fourth hottest with Rosalina and Peach.
In this game, Daisy is first seen waiting for Mario and Luigi alongside Peach. She and Peach send a letter to them, inviting them and other heroes to the Festival of the Heroes which celebrates Mario and his friends' accomplishments of helping to create peace within the world. This is until Bowser, Tatanga, Ganondorf, and other evil villains find out and get angry that they weren't invited.
In Super Princess Peach: Mushroom Kingdom's Drought, Princess Daisy is only used as a distraction. While she is over at Peach's castle having tea with Peach and Mario, Goombas kidnap her as a distraction so that while Mario is rescuing her, they can take Mushroom Kingdom's water supply. Little do they know that Princess Peach herself is still affected by the powerful Vibe Scepter, and that she has her own plot up her sleeves.
Daisy is a default playable character in P-Floatie Racers. Her P-Floatie is orange and bears her flower emblem for its decal. She's a lightweight character.
Daisy is one of the unlockable characters in Super Mario 3D Land: Fun with Friends. She is kidnapped along with Peach at the beginning of the story, but she is later rescued and unlocked after defeating the False Bowser at World 5-Castle.
Daisy is a playable character in Super Princess Peach: Wardrobe Warriors. She uses her soccer uniform from Super Mario Stikers. She's the strongest character of the trio and is the only one able to activate Stone Switches.
Along with Luigi, Princess Daisy plays in a central midfield role for Mushroom Kingdom FC in the Fantendo Football League.
Daisy is one of the racers in Super Mario Hover Race.
Daisy appears as a playable character in Mario Kart 8 Wii U. Her special move is Blossom Bomb.
Stats:
Speed: 2.5
Acceleration: 2.5
Drift: 4.5
Handling: 2.5
Off-Road: 3
Daisy appears as a playable character in Mario Kart Wii 2.0.
Daisy is the only playable character in the story mode of Princess Daisy: The Sarasaland Reconquest as she fights with Tatanga in order to recover her kingdom.
The Rage of Bowser: A Mario Movie
In The Rage of Bowser: A Mario Movie, Future Daisy is a minor character seen in the prologue and flashbacks to the future where Future Bowser is on the verge of being defeated by our heroes. In the bad future, she and Future Toadsworth teach Future Peach how to make one of the explosives that cripples Future Dry Bowser.
Paper Sisters
Paper Daisy is the third playable character of this game, and is unlocked during Chapter 3. She wants to help Peach and  Vivian save Mario from Bowser. Most of her attacks are flower-related.
Daisy appears as a deafault playable character in Mario Party 10.
Princess Daisy is set to appear in all four seasons of the Super Mario Revival anime as one of the many heroes. In the anime, Daisy loves to hang out with Peach and Luigi and play sports, go kart-racing, and also garden.
Like in the Mario video game titles, such as Mario Super Sluggers and many others, Daisy has flower-based powers in the anime. She uses them for playing sports, in gardening, and for fighting. Like the other characters, she gains new powers and attacks throughout new episodes.
Daisy is a physical fighter when it comes to fighting foes. She uses a variety of punches and kicks in contrast to Peach's slaps and parasol whacks. She also has a few attacks that are derived straight from the games, such as Flowerbed Return from Mario Power Tennis. Daisy also has a very powerful move called Daisy Garden Strike. It is original to the anime series.
Unlike Peach, Daisy wears her sports outfit as her main outfit in this animated series. She is rarely seen in her dress and only on special occasions. Additionally, unlike the games, Daisy has tanned skin (similar to her old appearance in the Nintendo 64 games but lighter), and also a thicker body shape than Peach.
Season 2, Super Mario Ultra, makes the first appearance of Princess Daisy's ultra form, which consists of her wearing a flowing white gown over her sports outfit, and a flowing white veil on the back of her head. On the back of her gown is a large white bow that flows behind her. She also wears makeup, namely yellow lipstick and yellow eye shadow. In this form, she becomes very powerful, and can use her most powerful attack, Piranha Plants Kiss.
Super Mario and the Mii Dimension (scrapped video game)
Daisy was originally set to appear in the video game Super Mario and the Mii Dimension before it became the anime known as Super Mario Revival. She appeared in her sports attire rather than her dress.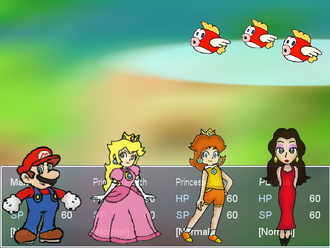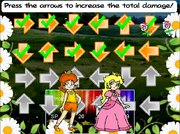 Many of her attacks lowered the agility of enemies.
Daisy's Moves
Flower Ball - Standard attack.
Speedy Bloom - Increases speed of one ally.
Flowerbed Return - Lowers enemy speed and deals a fair amount of damage.
Petal Barrage - Daisy's strongest move. Deals a lot of damage and lowers speed of enemies.
Daisy appears in Super Mario Bros. V as one of the 3 damsels in distress. She gets rescued in World 10.
Daisy appears in New Super Princess Peach Wii U were she must help Peach, Yellow Toadette and Blue Toadette rescue Mario, Luigi, Yellow Toad and Blue Toad.
Daisy also appears in the DLC game, New Super Princess Daisy Wii U, where she is the main character.
Initially, Daisy started out as being one of the guests that were attending Mario and Luigi's surprise birthday party, but after Bowser showed up to take over Princess Peach's Castle and have it uprooted (much like he did in the first Paper Mario), she and various others ended up getting imprisoned. After witnessing Princess Peach get brainwashed by a love potion that was given to Bowser by Dimentia, along with gaining the knowledge that its effects would become permanent within twenty-four hours of its use, Daisy and Tiptron have taken it upon themselves to sneak around the castle in hopes of obtaining the antidote that would change Peach back to her former self.
Additionally, with the help of a vengeful Antasma, they've also begun freeing many others that were being held prisoner at the time. Since their story about Dimentia and Dimention using the Koopa Troop as pawns ended up falling on deaf ears, Daisy and Tiptron are also trying to gather the evidence they need to expose the jesters' true intentions in hopes of saving the universe from getting ravaged by the Chaos Star.
Princess Daisy appears in Captain Toad: Pokémon Trainer as a member of the Royal 4 (the game's Elite 4). She specializes in Fighting and Grass-type Pokémon. She can be challenged for the first time after defeating Team Shell. Her room is located in Peach's Castle's secret tower, between Princess Peach's and Lady Rosalina's rooms.
Crossing through Countries
Main article: Daisy (Country Crossroad
Daisy will make an appearance in Country Crossroad as a default playable character.
Mario the Fighters
Daisy was Seen again in Mario the Fighters .
He has been announced to be a Wanderer in Mario the Fighters.
He has been announced to be a Warrior in Mario the Fighters.
A: Smash Dash (MP9 Bowser Jr. Boss Battle)
B:  Crystal Smash!
X:  Toxic Stab
Y:  Hypnotize
Dpad Up: Pulse Jump
Dpad Down: Prism Block (Crouch)
Dpad Left: Run
Dpad Right: Run
L: Pulse Kick
R: Pulse Punch
ZL: Pulse Ground Pound
ZR: Crossbow
[Hold] Y - B [X2} - X- Thumb Joystick Dpad up: Tanturm Combos
Daisy appears in Super Mario Moose as a damsel in distress. In the game, she is kidnapped and caged by Boom Boom, as is held hostage in World Boom Boom, where Mario and co. must go to save her.
Daisy has originally considered to be a playable character, but the idea was scrapped.
Daisy appears once again in Super Mario Moose Deluxe with the same role as she had in the previous game.
Mario Hoops 3-On-3 Deluxe
Daisy appears in Mario Hoops 3-On-3 Switch (mainly known as Mario Hoops 3-On-3 Deluxe) as a playable character. She is a Technical character type and her special move is Flower Dunk. She is a starter character. Her default partner is Princess Peach. Her team name is the Daisy Flowers.
Princess Daisy appears as the ruler of the game's third world, Sarasaland, in the Dust Kingdom, where she is worried about the numerous sinkholes that are appearing across her kingdom. Mario and Cappy go to find the source of the sinkholes, which turns out to be a giant earthworm named Pymaw. When Pymaw is defeated, the sinkholes disappear and Daisy rewards Mario with a Power Moon in her palace.
Main Article: Daisy/Smash Bros. Emerald
Daisy appears as an unlockable fighter in Super Smash Bros. Emerald. She is slightly heavier than her base fighter, Peach, but her attacks are slightly more powerful. She is from the Mario series. She is categorized as #13ε and her home stage is Mushroom Kingdom II and her final smash is Daisy Flower.
Star Team Heroes
She's one of the victims of the Kirthar's Snap Finger.
Daisy appears as a playable character in Mario Tennis: Heroes Vs Villains. She is a technician character having great accuracy but easy to knock back. Daisy's zone shots are Ribbon Twirl (Daisy spins ribbons around herself while twirling forwards or backwards) and Daisy Bomber (Daisy performs her Daisy Bomber from the Super Smash Bros. series left or right). Daisy's Special Shot is Blooming Blast in which a very tall flower grows lifting her up and then leans her forward so she can hit the ball. Daisy's villain is Waluigi and her Hero Special Shot is Sports Mix Attack where she throws a basketball, kicks a soccer ball, hits a golf ball, and hits a baseball at Waluigi launching him back. If Waluigi uses his Hero Special Shot Cancel then Daisy will reach for her basketball and realize it's not there ending the cutscene.
Daisy is one of the default roster characters.
Daisy appears inSuper Mario: Emoji Battle as a playable emoji. Daisy's Special is: Daisy clears a flower shape of emojis on the board. Daisy's Attack Special is: Daisy creates Flower hazards on the opponent's board. Daisy is a rare emoji that can be unlocked by opening a ! Block, opening a Brick Block, or battling Daisy in Character Battles. Daisy's favorite item is the Tennis Ball. Daisy's emoji can be fought in the following Character Battles: Peach and Daisy. Daisy's Badge can be unlocked by unlocking Daisy, unlocking any sports-themed item, and winning against three opponents in online matches.
Daisy appears as a playable character in Super Smash Bros. Melee: Definitive Edition. In the original GameCube version, she only appears as a trophy. Some of her moves are different than Peach, and she has six palette swaps. She can be unlocked by clearing Classic Mode without taking any damage.
Daisy is a playable character in Super Smash Bros. for the arcade, billed as Peach's echo fighter. She has eight palette swaps.
Daisy is a playable character in Mario Super Sluggers HD, a remake of the original game. She has eight palette swaps.
Daisy appears as a patient in Enjoy Your Massage!: Celebrities on the Run. She wears a two-piece swimsuit as shown from a cutscene in Super Princess Daisy.
Daisy appears in her own video game as the main protagonist. She must save Sarasaland from Tatanga's relapse.
Daisy is a playable character in Dr. Mario World for the Nintendo Switch. Her appearance is slightly different than the now-defunct mobile version as her footwear mans flat sandals rather than heels. She has eight color variants.
Daisy makes her debut in the Luigi's Mansion series' fourth installment. Here, she takes the role of damsel in distress as she is kidnapped by the cult of Kuoelma to be used as a vessel for his return.
Other Media Appearances
Daisy makes her television debut in the Stories of New Tendo City where she gains the surname "Flora". She is one of the cast members of the "Super Mario Bros. Super Show!!", but is used less frequently than Peach. She is also the co-owner of the Royal Bakery alongside Peach, which is said to be Mayor Pauline's favorite. She is described as very tomboyish, and spunky, and also has an intense love of sports, Soccer being one of her personal favorites. She has a major temper, which usually comes out during intense Soccer games. She is also married to Luigi, and has an intense dislike of Waluigi both on-screen for the show, and off-screen in real life. She is also close friends with Krystal, and Roy. In the series, Mario Golf character, Azaela is portrayed as her younger, and equally sporty sister.
The Princesses: The Fashionista (Script Edition)
Daisy was the designer of clothing, she is the best designer of clothing, she putted flowers on clothes.
Here is the clothing ratings: (you may edit it to se your ratings!)
Some Parts:
Daisy: Yeah look at this!
Customer: What a great clothing!
Daisy: Thanks!
Related
Family Members
Trivia
Daisy's gray color, which is one of her palette swaps in various games, is based on Zinnia from Pokémon Omega Ruby & Alpha Sapphire.
Gallery
Click here to see Princess Daisy's gallery.
Quotes
"

Thank you very much,

Luigi

.

"
— Daisy, Super Luigi Wii
— Daisy, many games
"Beauty is more than just jewels or treasure! Sure, those things are nice, but beauty is much deeper than that! Beauty is being kind and friendly and not being a jerk!"
— Princess Daisy, explaining to King Croacus the true meaning of beauty in Super Mario Revival
Navigation Templates
Mario Kart Dimensions
Characters
Toad • Koopa • Baby Mario • Lakitu • Mario • Luigi • Peach • Yoshi • Bowser • King Boo • DK • Wario • Dry Bones • Shy Guy • Toadette • Paratroopa • Retro Mario • Baby Luigi • Daisy • Birdo • Bowser Jr. • Diddy Kong • Kamek • Dixie Kong • Waluigi • Wiggler • Boom Boom • Rosalina • Pom Pom • Petey Piranha • Mii • Noki • Pianta • Goomba • Hammer Bro. • Kritter
Courses
Luigi's Circuit • Sky Fortress • Pinna Playground • Airship Ruins Pipe Sewers • Cheep Cheep River • Ghost Mansion • Prehistoric Path Soda Lake • Chai Hills • Supermassive Station • Cement Factory Donut Plains • Subcon Desert • Bowser's Castle • Rainbow Road GCN Baby Park • MKP Retro Hills • 3DS Piranha Slider • SNES Vanilla Lake 1 GBA Yoshi Desert • SNES Donut Plains 3 • MKP Sherbet Mountains • N64 Luigi Raceway N64 Frappe Snowland • NDS Mario Circuit • GCN Mushroom City • MKP Tutankoopa's Curse NDS Wario Stadium • GBA Boo Lake • Wii Bowser's Castle • GCN Rainbow Road Gelato Speedway • GCN Peach Beach • NDS Delfino Square • Corona Caverns
Stardust Fields • Peach's Castle Grounds • Dimble Clearing • Bowser's Lava Lair • Delfino Plaza • Wii Block Plaza • SNES Battle Course 1 • GCN Tilt-a-Kart • 3DS Sherbet Rink • MKP Vanilla Dome
Items
Coins • Item Box • Morph Bubble • Licenses • Mushroom (x3) • Fireball • Banana Peel (x3) • Super Star • Bob-Omb • Green Shell (x3) • Red Shell (x3) • Blooper • Golden Mushroom • Fake Item Box • Blue Spiny Shell • POW Block • Super Leaf • Boomerang • Lightning Bolt • Whimp • Topmaniac • Freezie • Bullet Bill • Oil Drum • Dash Pepper
Enemies
Chain Chomp • Goomba • Cheep-Cheep • Thwomp • Dry Bones • Roto-Disc • Boo •

Mecha Bowser

• Electro-Koopa • Bowser Statue • Fishbone • Eerie • Rocky Wrench • Fishin' Boo • Cannon • Piranha Plant • Ptooie • Inky Piranha Plant • Chargin' Chuck • Goombe • Monty Mole • Cheep-Chomp • Swooper • Terekuribo • Bony Beetle • Dry Bone Bro. • Jack O' Goomba • Buzzy Beetle • Big Boo • Big Bubble • Bat •

Skellyrex

• Torpedo Ted • Unagi • Sidestepper • Fighter Fly • Blooper •

Chicken

•

Chikako

•

Pompon Flower

• Nyololin • Goombo • Bullet Biff •

Pionpi

• Pakkun Flower •

Roketon

• Supermassive Koopa Troopa • Supermassive Goomba • Supermassive Piranha Plant • Game & Watch • Super Koopa • Koopa Troopa • Volcano Lotus • Spike Top Snifit • Ukiki • Pokey • Pidgit •

Tweeter

• Halcandra Dee • Degout • Halcbounce • Halco Burt • Armoured Halcandra Dee • Halcandra Bowby • The Metal General of Egg Engines • Polluted Piranha Plant • Swoopin' Stu
Mario Kart: Double Dash The Sequel
Starting Characters
Mario, Luigi, Peach, Daisy, Yoshi, Birdo, Toad, Toadette, Koopa, Paratroopa
Goomba, Paragoomba, Shy Guy, Fly Guy, Wario, Waluigi, Rosalina and Luma, Pauline, Mowz, Bandit.
Unlockable Characters
Baby Mario, Baby Luigi, Baby Peach, Baby Daisy, Bowser, Bowser Jr., Donkey Kong, Diddy Kong
King Boo, Petey Piranha, Dixie Kong, Funky Kong, Dry Bones, Dry Bowser, Noki, Pianta
Lakitu, Honey Queen, Hammer Bro., Blooper, Bullet Bill, Banzai Bill, Mii Kart Outift, Mii Bike Outfit
Nitro Courses
Mushroom Cup:

Mario's Rainbow Castle

, Shroom Circuit,

Rainbow Road

,

Bowser's Fortress

,

Mariachi Mole Mine

.
Flower Cup: Luigi's Mansion II, Koopa's Seaside Bonanza, Shroom Woods, Mowz's Hideout, Paratroopa Party.
Star Cup: Bowser Jr's Castle, DK's Jungle Hijinks, Bullet Bill Highway, Funky Kong Circuit, Music Mania.
Special Cup: Peach's Palace, Fly Guy Isle, Mosh Pit Playroom, Rainbow Road 2, Heatwave House
Hammer Cup: C'est Defino, Rio de Janeiro, Biddybud Dash, Bomb-omb Brigade Prix, Kalimari Railway
Retro Courses
Shell Cup: NDS Luigi's Mansion, 3DS Music Park, N64 Kalimari Desert, GCN Dino Dino Jungle, ARC Mario Beach.
Banana Cup: GBA Shy Guy Beach, GCN Sherbet Land, Wii Dry Dry Ruins, 3DS Koopa City, ARC Yoshi Park 1.
Leaf Cup: Wii Grumble Volcano, GBA Vanilla Lake, NDS Cheep Cheep Beach, GCN Mushroom Bridge, ARC Waluigi Stadium.
Lightning Cup: SNES Rainbow Road, N64 Toad Turnpike, GBA Sky Garden, Wii Wario's Gold Mine, ARC Banana Ruins.
Mega 'Shroom Cup: N64 Choco Mountain, 3DS Maka Wuhu, GCN Luigi Circuit, Wii Rainbow City, ARC Diamond City.
Battle Courses
Nitro: Theatre Stage, Chocolate Cake, Isle Defino, Nintendo Wii, Nintendo 3DS
Retro: Wii Delfino Pier, GCN Pipe Plaza, NDS Tart Top, N64 Double Deck, GBA Battle Course 2
Template:DMK Template:HallwayToDoom