Prince Peasley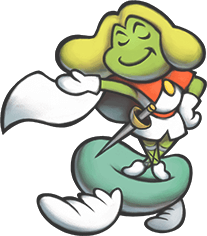 Prince Peasley
PERSONAL INFO

CLASS
Hero,
Prince
MISCELLANEOUS INFO

CANON APPEARANCES
Prince Peasley is the prince of the Beanbean Kingdom. He is a beanish boy with blonde hair. His smile is said to light up an entire room.
Fanon Appearances
Prince Peasley appears as an assist trophy in the game. He does either two things when he is summoned; he either attacks opponents with his sword or flaunts his hair, releasing a bright light that stuns opponents and meteor smashes airborne opponents (albeit weakly).
Star Team Heroes
He's one of the survivors of the Kirthar's Snap Finger.
Gallery