Prince Fluff is not from Fantendo. However, this article may include related fan ideas.

These external sources may have official, more accurate information:

This article is free to edit. Please follow the article standards and respect good-faith contributions.
Prince Fluff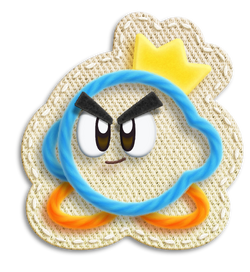 Prince Fluff in Kirby's Epic Yarn
GENERAL INFO

GENDER
♂ Male
SPECIES
Unknown, possibly Popopo
MISCELLANEOUS INFO

VOICE ACTOR(S)

Tomoko Nakamura
"Thanks for your help, not that I needed it."
—
Prince Fluff, Kirby's Epic Yarn
Prince Fluff (Japanese: フラッフ Furaffu), also referred to as simply Fluff, is the deutragonist of Kirby's Epic Yarn, serving as the character controlled by the second player. Prince Fluff is one of the rulers of Patch Land, a world made of yarn, and lives in Patch Castle located near Quilty Square; as he is never described as having any royal duties, it can be assumed that he himself does not rule over the fabric world's population. He possesses the ability to transform into different objects by rearranging the threads of yarn that make up his body; Kirby also possesses these abilities in Epic Yarn, though only due to being transformed into a similar state by Yin-Yarn's Metamato. Like Kirby, Prince Fluff can also make use of the six Ravel Abilities present in the game's Nintendo 3DS remake, Kirby's Extra Epic Yarn
During early development of Kirby's Epic Yarn, Prince Fluff was intended to be the game's protagonist. After Good-Feel approached Nintendo with the idea and the game received the Kirby branding, he would instead serve as a supporting character. Prince Fluff shows many of the same qualities as Kirby does, such as being a heroic figure with a love of food, though whether or not this was true for the original concept of Fluff of Yarn.
Physical Appearance
Prince Fluff appears to be similar in design to how Kirby appears in Kirby's Epic Yarn. He is a spherical character of a light blue colour and possesses stout and round arms. He has large orange shoe-like feet, and wears a yellow, three-pointed crown atop his head. Prince Fluff's facial features are fairly minimal, with his most prominent feature being his large eyebrows that are almost-always pointed down over his brown eyes. For an unknown reason, Prince Fluff is always shown to be scowling during gameplay of Kirby's Epic Yarn, though he appears to smile in the Nintendo 3DS remake.
While Kirby, Meta Knight, King Dedede, and the other residents of Dream Land are transformed back into their original states upon Yin-Yarn's defeat, Prince Fluff still appears to be made out of yarn, showing that the fabric design of Patch Land was not caused by Yin-Yarn's Metamato and that the residents of that world truly are made of yarn.
Game Appearances
Kirby meets Prince Fluff as a second player. He can use his crown as an attack.
Prince Fluff appears as an Assist Trophy in Super Smash Bros. Zero, where he uses the Yarn Whip attack from his debut title to deal damage to foes. Prince Fluff can also transform into the Tankbot to KO fighters before he disappears from battle, using the vehicle's boxing glove to launch foes and deal an incredible amount of damage. Prince Fluff was likely originally planned to be a playable character in the game, as a file exists alongside the other fighters' labelled PRI_FLU.
Star Team Heroes
He's one of the victims of the Kirthar's Snap Finger.
Gallery