Primid is not from Fantendo. However, this article may include related fan ideas.

These external sources may have official, more accurate information:

This article is free to edit. Please follow the article standards and respect good-faith contributions.
Primid

A Primid as it appears in Super Smash Bros. Brawl.

Species Origin
Shadow Bugs
Rarity
Common
Alignment
Evil
Affiliation(s)
Tabuu
Primids are enemies that appear in Super Smash Bros. Brawl, specifically in the Subspace Emissary. They are low-level goons of the Subspace Army, and are the most frequently encountered enemies in the game. They resemble green, humanoid beings with black arms and legs, brown gloves and boots, a black face, and a red feather on its head. The emblem of the Subspace Army is embedded in its chest. Primids are made out of Shadow Bugs, which leak out of their back.
Primids, being among the most common enemies in the Subspace Emissary, are fairly basic enemies. They will try to approach the player and use melee attacks, usually involving their hands, feet, and body. These attacks deal low damage and knockback, and their health and defense are low, meaning they can be taken out easily. On the flipside, they sometimes appear in large groups, making them difficult to deal with if the player is overwhelmed.
Outside of Brawl, a Primid appears in Super Smash Bros. Ultimate as a Spirit, where its Spirit Battle pits the player against eight Mr. Game & Watch's, referencing how Tabuu extracted Shadow Bugs from Mr. Game & Watch to make the Subspace Amry.
Variants
Outside of the regular variety, there are six known variants of Primids that appear throughout the Subspace Emissary, each with their own appearance, attack patterns, and statistics.
Sword Primids are Primids that wield there are green energy swords. Instead of melee attacks, they attack with sword slashes. This gives them disjointed range, making them more difficult to deal with, though their attacks are usually weaker.
Boom Primids are Primids that wield large boomerangs that they throw at the player. They will fly back to them after being thrown, allowing them to use it again. They can be thrown at different speeds, and they'll usually stay at mid range from the player.
Scope Primids are Primids that wield yellow energy scopes. Using them, they can fire energy projectiles at the player from afar. Because of this, they tend to stay at far range rather than get close to the player.
Fire Primids are red-colored Primids. Instead of using melee attacks, they can spit fire at players, either attacking with a single fireball or a large stream of flames. They are as weak as regular Primids, but have an immunity to fire-based attacks.
Big Primids are, as their name suggests, giant-szied Primids, being about three times as large as other varieties. They use melee attacks such as punches and kicks like the regular variety, but because of their increased size, these attacks deal significantly more damage. They also have a lot of health, making them difficult to defeat.
Metal Primids are Primids made out of metal. They have the same health as regular Primids and use the same kind of melee attacks, though because they are made of metal, they have very high launch resistance, and only the strongest attacks in the game can make them flinch. Because of this, they can be hard to attack without being intercepted, especially en masse.
Face gallery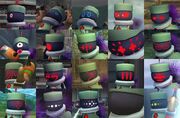 There are many different faces that a Primid can have. The faces change each time Adventure Mode is loaded up.
Appearances
A Primid reappears in Super Smash Bros. Fusion as a downloadable playable character, and was released on September 21, 2015. His special moves are all based upon the Subspace Emissary from Brawl, as his standard special move has him shooting three blasts from the same weapon used by Scope Primid, his up special being him holding on to a Buckot in a matter not unlikely Solid Snake's up special from Brawl, his side special has him throwing a boomerang, just as the Boom Primids did in Brawl, and his down special has him spinning around whilst holding a Jyk. Primid's Final Smash has him riding atop a Towtow as it rampages around the stage before falling asleep and disappearing.
Primid is the only character in the game to be represented by the Smash Bros. symbol, as Master and Crazy Hand both are both not represented by a symbol in-game, and only on the game's website, and the other members of the Subspace Army are represented by the Subspace Army logo. In the game, Primid will always spawn with the default eyes - white with red pupils. His colour changes do have him switching face textures, however.
Primid's on-screen appearance has him being formed by a group of Shadow Bugs. His victory animations include him jumping up and down wildly, his Shadow Bugs dispersing and him "melting", and him riding on a Towtow, trying to calm it down.
Primids reappear as enemies in Super Smash Bros. Charged, where they can be encountered in Smash Run DX. All varieties appear, and function the same as they did in the Subspace Emissary Super Smash Bros. Brawl
Gallery