Poochy is not from Fantendo. However, this article may include related fan ideas.

These external sources may have official, more accurate information:

This character's article is free to edit. Please follow the article standards and respect good-faith contributions.
Poochy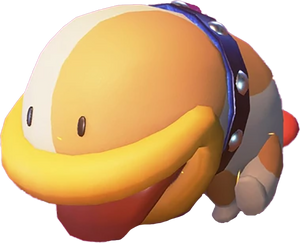 PERSONAL INFO

CLASS
Pet Dog
Companion
MISCELLANEOUS INFO

CANON APPEARANCES
Poochy is Yoshi's pet dog who follows Yoshi throughout the Yoshi's Island series. You can leap on his back to scale spikes, or guide him to hard to reach places to get daisies or yarn. 
Appearance
Poochy is a medium-sized brown and white dog with an abnormally large mouth, with a large tongue. He also has small, black eyes, and a tail with a circle that sticks out on the end. He wears a black collar with gold buttons on it.
Game Appearances
Mario Kart Double Dash: All Powered Up!
Poochy appears in Mario Kart Double Dash: All Powered Up! He appears in the background of Yoshi's Egg Pass and Police Guy's Pass.
In Yoshi's Island U, Poochy does not appear until act 1 of the plot is finished. Once it is, Poochy gets his own levels, with no Yoshi. Then, Poochy is transported twenty-five years in the future, along with all of Yosher's Isle and surrounding area.
In PoochyQuest: The Dogs Awaken, Poochy has his first major role in a Yoshi game. Poochy has to save his home by finding Yoshi, and then returning for a face off between them and the final boss.
Gallery
Navigation Templates


Playable Characters

Yoshi • Yoshi (species) •

Yarn Yoshi

• Poochy

Non-Playable Characters


Antagonists

Baby Bowser • Kamek • Toadies • Purps the Yoshi • Boshi •

Bosses

•

Enemies

Babies

Baby Mario • Baby Luigi • Baby Peach • Baby DK • Baby Wario • Baby Waluigi • Baby Daisy • Baby Rosalina •

Baby Koopa

• Baby Toad

Helping Characters

Yosher • Shop Guy • Yoshis • Birdo •

Pipe Poochy

•

Poochy Pups

•

Cloud Poochy

Worlds


Normal Worlds

Mild Wilds • Hopper's Lake • Jumpy Cliff • Death Den • Funky Forest • Overcast Ocean • Crystal Cave

DLC/Bonus Worlds

Volcanic Cove • Mechanical Moon • Steamboat Skies • Bowser Badlands • Rickety Ravine • Damp Dreamlands • Tiny Tundra • Pyro Plains • Crystal Cave • Castle Castaway • Woolly World

Bonus Challenges

Slot Machine

•

Catch 22

•

Flutter Flying

•

Egg Toss

•

Scratch & Match

•

Yoshi's Switch

•

Egg Thrust

Items


Power-Up Items

Watermelon • Fire Watermelon • Ice Watermelon • Light-Bulb Berry • Heart Berry • Dash Berry • Smash Berry • Blimp Berry • Slash Berry • Cape Berry • Bomb Berry • Mallet Berry • Ninja Berry • Scorpion Berry • Mecha Berry • Arsenal Berry • Dragon Berry • Shadow Berry • Berry • Wolf Berry • Whip Berry • Ranger Berry • Soldier Berry • Cherry Berry • Supersonic Berry • Elec Berry Inferno Berry • Blizzard Berry • Dagger Berry • Spin Berry • Skull Berry • Frost Berry • Cosmo Berry • Wind Berry

Collectables

Coins • Dragon Coins • Bob-ombs • Eggs • Magic Pendants • Smiley Flower • Yarn Fragments

Fruit

Grapefruit • Banana • Apple • Grapes • Melon • Pepper • Cantaloupe • Blackberry • Blueberry • Raspberry • Strawberry • Orange

Gadgets

Map • Compass • Jalapeno Shoes • Flutter Wings • Ukulele • Icicle Boots • Cacti Shell