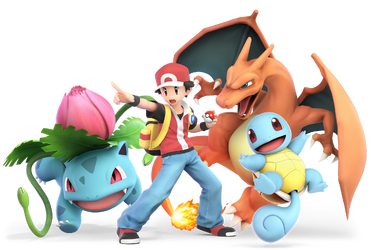 Pokémon Trainers are a prominent type of character in the Pokémon series. As the name suggests, they generally catch, train, care for, and battle Pokémon.
Characteristics
Most characters encountered in the Pokémon games are Trainers, making them a large and diverse group.
Some Trainers, like the player characters of the core series, journey to challenge a Pokémon League, fill out the Pokédex, and master their technique. Along the way, certain strong Trainers known as Gym Leaders (and Alola's equivalent Trial Captains) test their skill. Player characters also confront Trainers working for villainous teams.
Other game characters can be categorized into various Trainer classes that may hint at their teams, strategy, and skill level. Most of the incidental Trainers seek to battle upon making eye contact with another Trainer.
Fanon appearances
The Pokemon trainer has extended its variety of trainers from 2 to 18, with all the Pokemon Trainers from the Kanto to Galar main games except Kris conforming this character.
Despite having trainers from regions aside of Kanto, their Pokemons are the same: Squirtle, Ivysaur and Charizard; thing that is taken as a reference to the Pokemon Transfer used to send a Pokemon from a generation game to another.
Category
Pages in the Pokémon Trainers category should appear here automatically.