This article is part of the Medieverse. Surely you're not looking for the original Pixel?
Pixel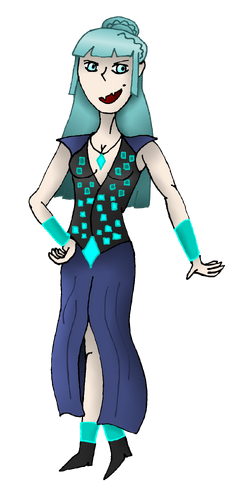 GENERAL INFO

GENDER

♀

Female
SPECIES
Witch
CURRENT STATUS
Alive
AGE
23
BIRTHPLACE
Septent
PERSONAL INFO

OCCUPATION(S)
Law Enforcer
Informant
MISCELLANEOUS INFO

SERIES
Medieverse
CANON APPEARANCES

TBA
Pixel is a character in the Medieverse who takes a major role in the story.
History
Where Pixel originally came from is unknown, but she worked her way up to being the law enforcer of the kingdom of Regno. She formerly only worked as an informant for Io when she was young, gathering information for him from out of town. She now has her own little ones that gather information for her.
Physical description
Pixel looks drastically different than she does in the Fantendoverse. For starters she isn't a computer program anymore, having feet and a peachy skin color. She however does retain her cyan-colored hair in the same style, except that her side bangs are now braided back. Her outfit now covers more of her body and is made from fabric. The cyan is worked into the dress as decoration, the upper part being less bright than the lower part.
Personality
Her personality is similar to her alternate version. She is as cunning as ever, and while she doesn't really display it, she still hates humans, despite being one herself. She mainly has this hatred towards humanity because she sees how bad and corrupted they are, including herself and wishes the end of the world to come as soon as possible. Despite all this hatred, she managed to hide it pretty well on the outside, but can talk really passionate about it when the topic comes up.
Abilities
While Pixel doesn't possess the same abilities she has in the Fantendoverse. Instead she has many little birds roaming through the kingdom who give her information of what is going on in every corner of the kingdom. She however keeps this information for herself, to use later, making her a person with much intellect. She is said to know everything about everyone and will blackmail you if she want, causing nobody wanting to be on her bad side.
Relationships
Cheryl
Aran
Melissa
Trivia