The Pit Kid Icarus did not originate from fanon, and more information can be found on their respective wiki(s). You may read more about 1 on the following wiki(s):
Pit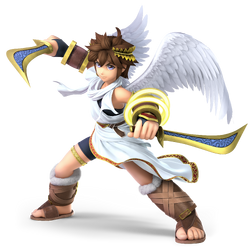 GENERAL INFO

GENDER
♂ Male
SPECIES
Angel
CURRENT STATUS
Unknown
BIRTH LOCATION
Angel Land
PERSONAL INFO

CLASS
Angel Warrior
WEAPONS
Palutena Bow
Light Arrows
Pegasus Wings
Mirror Shield
Upperdash Arm
Guardian Orbitars
MISCELLANEOUS INFO

CANON APPEARANCES

Kid IcarusSuper Smash Bros. for Wii U/3DS

VOICE ACTOR(S)

Minami Takayama (Japanese)
Lani Minella (English, original/previous; Super Smash Bros. Brawl)
Antony Del Rio (English, current)
Alessandro Juliani (English; other media)
Troy Lund (English; unused)
Pit is a young angel boy from the Kid Icarus Series. He is Palutena, the Goddess of Light's, most loyal servant. He usually gives himself the task of rescuing Palutena from the Goddess of Darkness, Medusa. Using the Three Sacred Treasures, Pegasus Wings, Mirror Shield and Arrows of Light, he was able to destroy Medusa's army, defeat Medusa, and save Angel Land from destruction. His most recent canon appearance was in the 2012 3DS rail shooter, Kid Icarus: Uprising.
Game Appearances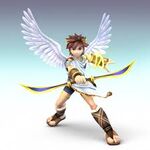 Pit is a playable character in Super Smash Bros. Revolution, Super Smash Bros. Demigod, and Ultra Smash Bros. His playable debut was in the 2008 Wii game Super Smash Bros. Brawl, the third installment in the Super Smash Bros. series. He was originally meant to appear as a playable character in the Classic Mode of Super Smash Bros. Adventure. He was taken out when Classic Mode was removed from the game.
Super Smash Bros. Series Special Moves
Crisis
Pit appears in Neverworld as an ordinary angel at the beginning, however, when he decides that all are corrupt, he serves the Neverworlder, being promoted to Angel of Death.
Pit gets summoned by Palutena to defeat his dark side but, when he gets to the dark side of Skyworld they multiply and more things don't act like they seem. Will the Dark Side take over Skyworld? Pit can't handle this on his own can he? That's where his good friend Mario steps in. Angel Island soon turns ways only time can tell.
Captain N
Resistance Leader
Pit's first canonical appearance in the Captain N series is in Captain N: Outskirt Warriors where he has risen to the ranks to become a general in the resistance army led by Takamaru and Little Mac. He is sick of being abandoned here in the outskirts after being one of the greatest heroes of all time and strives to return to Videoland with the others.
His naive and childish nature can sometimes be a hindrance but through his partnership with Bubbles in the army he becomes a valuable asset to the team. At the end of the game when the Master Hand freezes time Pit is rescued with several others and leaves the resistance army.
N Team
His first actual appearance in the series is in Captain N: The Game Master where he is one of the bodyguards to Princess Lara and is quick to trust Kevin where the others are more skeptical. He retains his naive and childish personality which sometimes gets the others into trouble but he is a strong fighter and helps the team.
Pit is quick to reveal his past in the outskirts to Kevin Keene and tells him about the others, he suspects this is where King Charles has been sent to that is why he stays so close to Lara to help her find her father. Pit and Link do not get along very well and are constantly at ends.
Pit appears in Kid Icarus: Revelations. In the game, he must save Palutena who is trapped in another world, know as the Dark Realm. He think that is Medusa who is behind this, but later he have a little surprise...
Main article: Pit (Calamity)
Pit is a playable veteran that returns in Super Smash Bros. Calamity. Pit's moveset has been changed for the most part, as his aerials, and pummel and throws where changed. He also gains a new Final Smash, Great Sacred Treasures.
amiibo
| | | |
| --- | --- | --- |
| | An amiibo figure of Pit exists! For more info about this amiibo, see this page. | |
Gallery
Navigation Templates
Playable Characters
Assist Characters
Obstacles
Other Characters
Alolan Grimer · Amul · Ann Takamaki · Big Urchin · Blizzy · Bravoman · Buzz-Buzz · Cutiefly · Don-chan · Dragoneel · Fierce Deity · Gil · Happy Mask Salesman · Judge · King · Kissy · K.K. Slider · Litwick · Lloyd · Mappy · Mareanie · Mii · Missile · Morgana · Perry · Pidgit · Pooka · Rabbid Luigi · Rabbid Yoshi · Red Baron · Ribbon · Rowlet · Runner · Ryuji Sakamoto · Sandy · Smasher · Rusty Slugger · Servbot · Sima Zhao · Swanna · Tarosuke · Timmy Nook · Toadsworth · Tommy Nook · Tron Bonne · Valkyrie · Wonder Momo · Ziggy
Collectibles

Trophies

Stickers

Boolossus · Boo Mario · Bowser · Captain Toad · Cat Peach · Chain Chomp · Cloud Mario · Fire Mario · F.L.U.D.D. · Koopa Clown Car · Mega Mushroom · Mario · Penguin Mario · Peach · Propeller Mario · Rock Mario · Toad · Toadette · Waluigi
Birdo · Boo Buddies · Blooper · E. Gadd · Fuzzy · Metal Form · Waluigi · Whomp

Candy Kong · Lord Fredrik

9-Volt · Fauster

Ball and Chain · Deku Leaf · Majora's Mask · Mipha

Abra · Drifloon · Spinarak

Katrina · Mr. Resetti

Adam Malkovich · Arachnus

Nightmare · Noddy · Prank

Mr. Chicken

Back Shield · Centurion · Eggplant Wizard

Disco Kid · Doc Louis · Donkey Kong · Giga Mac · Glass Joe · King Hippo · Little Mac · Von Kaiser

Blue Falcon · Captain Falcon · Pico · Rick Wheeler · Wild Goose

Louie

Pyra

Franklin Badge · Negative Man

Apollo Justice · Franziska von Karma · Miles Edgeworth · Larry Butz · Judge · Phoenix Wright

Dr. Wright · Hammer Slam Bowser
Devil · Dr. Wright · F-Type · Rusty Slugger · Zethia
Community content is available under
CC-BY-SA
unless otherwise noted.