Pink Gold Peach is not from Fantendo. However, this article may include related fan ideas.

These external sources may have official, more accurate information:

This article is free to edit. Please follow the article standards and respect good-faith contributions.
Pink Gold Peach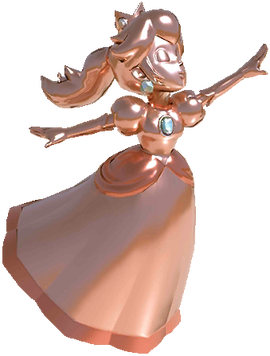 The mysterious metallic form of Princess Peach.
PERSONAL INFO

CLASS
Princess
Hero
Powered-up form
MISCELLANEOUS INFO

CANON APPEARANCES

Mario Kart 8 (2014)
Pink Gold Peach, also known as Metal Peach or PGP, is a metallic character who debuted in Mario Kart 8. Like how Metal Mario is to Mario, she is the metallic counterpart of Princess Peach.
Pink Gold Peach's background and identity depends on the views of the creator of whichever game she appears in. Some creators view her as simply Peach's form when she grabs a Metal Cap or a Gold Flower, while some creators may view her as an entirely separate character.
Physical Appearance
Pink Gold Peach shares the same model as Princess Peach, and wears the same clothes, too. Pink Gold Peach is made up of a shiny pink metal (with a close resemblance to a bronze colour), called rose gold. Additionally, she wears diamonds instead of the sapphires that Peach does.
Personality
Pink Gold Peach shares the same personality as Peach, except there is more of a mysterious vibe to her. She is a bit more serious, and in Super Mario Unite!, she shows determination to race against opponents and save her people even if it means risking her life.
Appearances
Pink Gold Peach is an unlockable heavyweight racer in this game.
Pink Gold Peach first appears in episode 3 of the third season of Super Mario Revival, Super Mario Innocence. After stating that she will never stop protecting her friends at the cost of her life, Peach awakens her new power, and gains the ability to become Pink Gold Peach, her most powerful form.
Peach still has the ability to become Pink Gold Peach in the following season, Super Mario Unite!.
Powers and Attacks
Pink Graceful Kiss - a powerful attack which is a large blast of glittering pink light.
Gallery
Community content is available under
CC-BY-SA
unless otherwise noted.