Pikmin IV is an upcoming real-time strategy action video game developed by Studio Lillie (t∣b∣c) and published by Nintendo for the Nintendo DSGo and Nintendo Switch in late 2022. It is the second portable game in the Pikmin series and the first main series title, continuing the story from the two previous games: Pikmin 2 and Pikmin 3.
The game features the return of Captain Olimar alongside a new captain, the Hocotatian Eli, the two of whom make one last voyage to PNF-404 despite it having been abandonded decades prior. It is the first game in the series to be semi-open world, with Metroidvania elements present in terms of open exploration and new abilities allowing new options across the map, as well as a change in the day system to allow gameplay during the night rather than being forced to return to orbit.
Alongside new gameplay elements, Pikmin IV features two completely new Pikmin species, the Clawed Pikmin and Bell Pikmin, as well as the return of every Pikmin species from previous games in the story mode. The game also contains a return of Mission Mode and Bingo Battle, with all of the stages from Pikmin 3 returning alongside dozens of new battle arenas and challenges based off of the completely new Story Mode content.
Gameplay
The gameplay in Pikmin IV is similar to past Pikmin games, mostly being inspired by Pikmin 3.
The day and night system from previous games has been completely changed; rather than being forced back to the ship at night time, there is now no time limit at all, and the player may choose to stay on the surface of PNF-404 constantly without ever returning to orbit. Doing so, however, has inherent risks, as many enemies are only active at night, burrowing out of the ground or coming out of hibernation, often putting Pikmin outside of direct sight at risk of being killed and making exploration harder. For this reason, it is often advantageous to return to the ship and go into orbit once the sun begins to set. Heading into orbit causes all Pikmin not in the safe zone or in the squad of a Captain to be eaten just like leaving the surface in previous games, but the player has unlimited time to round up their Pikmin beforehand so it is less punishing overall.
The other benefit of going into orbit is that the ship and Master Onion can be moved to a new location; unlike past titles, the entire game takes place on a single large map, bigger than all of the areas from previous titles combined. In order to more effectively perform tasks, the ship and Onion may be moved when returning to the surface or remotely to another discovered location; however, they can only be placed in designated areas, which are encountered spuriously across the landscape. Pikmin still return items they are bringing home to the current location of the ship and Onion, meaning that they might have to travel a long distance if they are not relocated appropriately.
Like in Pikmin 3, all of the varying Pikmin types are stored in the Master Onion, rather than separate Onions; however, rather than finding Onions that merge with the Master at the end of the day, Pikmin must instead carry back dormant Onions to be absorbed by the Master before they eject a single seed of the new type. This is because the player could conceivably never return to orbit and thus may never have the opportunity to merge Onions. The only exception to this are the odd occasions where a Pikmin type is received that does not have the appropriate Onion absorbed, most notably the White Pikmin

and Purple Pikmin

which at first are only acquired from Candypop Buds and do not receive an Onion outside of two extremely challenging secrets; in this case, Pikmin without Onions can still be put into the Master, but they will not grow any more of their type, instead counting for the Pikmin type with the lowest numbers.
Commands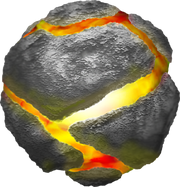 In order to faciliate more complex actions, a new Command feature has been added; to use a complicated Command, simply hold down on the d-pad and then use the right stick to choose an action. These allow much desired commands such as ordering only the currently selected Pikmin type to charge, rather than the whole group, as well as ordering Pikmin to not return to the source of fragments such as bridge pieces of piles of gold nuggets.
Another big change comes in the forms of Bomb Rocks, which again have been changed; rather than being small enough for a single Pikmin, they must instead be held by three Pikmin at once. They have be ordered to Throw it using the new Command feature by selecting "Throw Bomb Rock"; the Pikmin will then move closer to a selected target and throw the Bomb Rock at it. A similar action can be done with Drop Bomb Rock, but it will not be activated. Additional functionality is present for fighting enemies; if Pikmin with Bomb Rocks are ordered to swarm a target, they will begin to move around its perimeter avoiding attacks until they are ordered to Throw; if the target is still selected, they will attempt to move directly in between the Captain and the target, allowing a Captain to maneuver such that the Pikmin are aiming for a specific section of the target.
Sprays
As in previous games, special
sprays
can be collected in one of two ways: either the current captain can find and consume "spray nectars," or berries from the
Burgeoning Spiderwort
can be collected by Pikmin and returned to the ship. Either of these two methods will add spray juice to the current total, and once that total reaches 100, another spray will be synthesized. Some berries are larger and give more juice, as do larger collections of nectar. Spray can only be synthesized once the appropriate Ship Part is collected, but nectar and berries can be collected before then.
Each spray has a unique effect, but there are two types: some sprays are sprayed backwards and affect all the Pikmin in the party as well as any Pikmin that are within the area of effect, while the other type is sprayed ahead of the captain and affect any enemies or objects touched by it. The effects of the sprays, as well as the ship part that allow them to be synthesized as well as the colour of the associated berry, are described below:
Pikmin maturity
As in previous games, Pikmin have various maturity levels indicated by the end of their stem, either having a leaf, bloom, bud, blossom, or flower; a higher maturity Pikmin will move faster, deal more damage, dig faster, have better intelligence, and be more likely to survive attacks. Some Pikmin types also gain additional attributes; for example, flowered
White Pikmin

cause enemies to chew longer while dealing more poison damage, further increasing their usefullness.
Ultra Spicy Spray

will no longer increase the maturity stage of Pikmin, and completing electrode circuits now only increases maturity by one stage. Unlike previous titles, Pikmin will no longer increase in maturity level by staying in the ground; instead, Pikmin with higher levels are now more likely to be produced when the amount of that Pikmin type in the Onion reaches a sufficient level; this, combined with the new increased rarity of nectar, means that there is a higher incentive to grow Pikmin much past 100, whereas previous games had no such incentive unless Pikmin died.
The limits for producing higher levels are as follows:
Pikmin types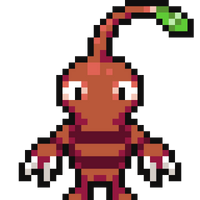 One of the two new Pikmin types is the
Clawed Pikmin
, a Pikmin coloured brown with two darker stripes across its stomach, although its more notable characteristic are the long, sharp claws it has at the ends of its two arms. These claws can be used to great effect by Clawed Pikmin in demolishing many obstacles, most notably those composed of dirt, sand, or other particles. It can thus take down Dirt Walls, uncover buried treasures, and defeat sandy enemies with greater efficiency. Additionally, it cling onto enemies more easily with its claws, and deals almost as much damage as a Red Pikmin. Lastly, it is immune to the new freezing hazard, being invulnerable to freezing and in fact being able to burst its fellow Pikmin out of ice blocks; it can also use its claws to dig into ice, therefore not slipping on icey surfaces.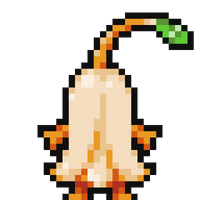 The other new Pikmin type is the
Bell Pikmin
, which is covered almost completely by a bell flower-like growth, with only its arms and legs sticking out at key points. This serves to protect the Bell Pikmin from almost any hazards delivered from above, such as rain drops, lightning, and icicles; unfortunately, it is not immune to these hazards in other scenarios, such as when falling into bodies of water or being shocked by electrodes. It is also immune to explosions always, a product of its natural body rather than its protective flower. Its main ability is that it can absorb various objects such as bomb rocks and take in their properties for a short or long amount of time, depending on the object. A few of the objects include:
Bomb Rocks: After eating a Bomb Rock, their skin begins to glow an ambient orange, and they walk slightly faster. If thrown they will stick in place to wherever they are thrown for a few seconds before releasing an explosion that only affects what they are sticking to, as the explosion is blocked otherwise by the flower. For example, if thrown at a Bulborb, they will stick to its body and explode soon after, only hurting it. This makes them incredibly effective as they are not weighed down by the Bomb Rocks and can easily damage enemies and obstacles without hurting nearby allies
Amber: Their flower itself begins to glow and they speed up more than before. In this state, they are as fast as White Pikmin and as strong as Red Pikmin; however, using a Spray on them has no effect.
Shockrock: Their flowers begin to crackle with electricity, and any enemies they latch onto are shocked, stunning them slightly. They are also completely immune to electricity in this form.
Gasrock: Their flowers begin to glow purple as gas is emitted, seeping around them. Enemies in a certain radius are hurt slightly, but with enough at once it will do high amounts of ambient damage.
The seven main Pikmin types from Pikmin 3 also return, being the Red Pikmin

, Yellow Pikmin

, Blue Pikmin

, Purple Pikmin

, White Pikmin

, Rock Pikmin

, and Winged Pikmin

, although Bulbmin do not return as in Pikmin 3.
Image
Information

Red Pikmin

are the first Pikmin found and the only Pikmin type to be immune to fire, one of the most common hazards used by enemies. They deal 50% more damage in all circumstances, making them one of the most useful types for combat. Being the only types with a nose, they are more susceptible to smell than other types, for better or worse.

Yellow Pikmin

are the only Pikmin with ears, allowing them to catch wind and fly farther when thrown than any other type. They are also uniquely resistant to electricity and can even conduct it without pain, allowing them to complete circuits and grow in maturity in the process. Their dig speed is also 50% faster than normal.

Blue Pikmin

are the only Pikmin that are completely immune to water and sticky substances, allowing them to wade through ponds and withstand attacks from enemies like the Watery Blowhog. They are also 50% more resistant to other hazards and thus have a greater chance of not only staying alive but also not losing maturity.

Rock Pikmin

have very dense exteriors that allow them to smash through crystals, ice, and the armor of larger animals, and to deal incredible damage when thrown onto enemies. Unfortunately, they can still be eaten by enemies, as their shells easily dissolve in saliva, and they are too big to easily grab onto enemies, meaning they can only effectively deal damage when first thrown and must be picked up and thrown again to continue hurting the enemy. They are immune to crushing and blunt force damage, including stabbing attacks.

Winged Pikmin

are constantly in flight, allowing them to carry items across barriers and pools of water and to damage high-flying enemies easily. They are not only immune to smells but also to most crushing damage, as they are simply knocked away. Their small stature unfortunately means that they deal little damage against most enemies, and are only fit for charging airborne enemies.

Purple Pikmin

are exceptionally strong and heavy, able to ground pound onto enemies; in doing so, they hone in on their opponent, making them more likely to hit. Their ground pound does a great deal of damage and, unlike the

Rock Pikmin

, they can continue to attack afterwards even stronger than

Red Pikmin

. They can also carry objects as if they were 5 Pikmin, although they walk and carry objects exceedingly slowly. Their heavy stature makes them immune to wind attacks.

White Pikmin

are the fastest Pikmin in the game and the only type immune to poison hazards; in fact, they are poisonous themselves, dealing damage to enemies while they attempt to eat them.

White Pikmin

that are buds take longer to eat than other Pikmin, giving them more time to damage their predator before they die, and as their maturity increases so does their resistance to being eaten. Their red eyes also allow them to see hidden objects buried underground. Sadly, they are one of the weakest types, almost more weak than

Winged Pikmin

.
Minor Changes
A number of small changes have been made to make gameplay more enjoyable, consistent, or interesting.
Pikmin again have a random chance of spawning a seed after dying, similar to Pikmin 1, with a higher chance based on their maturity level; unlike in Pikmin 1, the seed is dropped as soon as they die, and the sprout will appear within a few minutes of being emitted
Swarming returns from Pikmin 1 and Pikmin 2 after being omitted in the third game, although in most cases it is disadvantageous compared to Charging

Winged Pikmin

are no longer immune to most sources of crushing damage
Controls
Pikmin IV is designed to be played using either the Nintendo DSGo itself, the Nintendo Switch Pro Controller, or a pair of two Joy-Cons. If the player is using the Nintendo Switch in handheld mode or is playing on the Nintendo DSGo they can use the touchscreen of the device to aim as well, much like the Pikmin 3 touchscreen update. If the two Joy-Cons are detached from one another, the right Joy-Con can be used to aim the cursor, albeit in a different way from previous titles; essentially, moving the controller offsets the cursor from its current position, rather than matching where the player is pointing. This provides more accurate control than the right stick but also has a chance to desync.
Nintendo DSGo style
Pick-up/Throw Pikmin
Punch

Disband Pikmin/Charge at target
Activate jetpack
Switch active captain
Lock-on to target
Whistle Pikmin
Hold and move to swarm
If locked-on, places the cursor on the object.
Hold to move the cursor without moving the captain
Move captain/cursor
Move camera
Hold to choose which Spray is active
Use chosen Spray
Choose which Pikmin type is active
Choose a Command to give to the squad
Open the map
Pause the game
Two Joy-Con style
Pick-up/Throw Pikmin
Punch

Disband Pikmin/Charge at target
Activate jetpack
Switch active captain
Lock-on to target
Whistle Pikmin
Hold and move to swarm
If locked-on, places the cursor on the object.
Hold to move the cursor without moving the captain
Move captain/cursor
Move camera
Hold to choose which Spray is active
Use chosen Spray
Choose which Pikmin type is active
Choose a Command to give to the squad
Open the map
Pause the game
Story Mode
Story Mode is the primary gameplay mode in Pikmin IV and entails Captain Olimar and Captain Eli exploring the planet of PNF-404 across various areas that, for the first time in Pikmin history, all form a singular continuous map. Their main goal is to make their way towards the center of the map, fighting enemies along the way; during their journey, they may collect Ship Upgrades to augment their abilities and treasures to convert into Pokos

to unlock further upgrades, although that is optional.
Nintendo Direct summary
"Planetary exploration has never been a challenge for esteemed astronaut Olimar, captain of the S.S. Dolphin and veteran of several successful missions to the faraway - but not so foreign - planet that the residents of planet Hocotate call PNF-404. But when something goes terribly wrong, Olimar and the new captain Eli crash land onto the surface of PNF-404 just like Olimar did so many years prior; and, just like then, they must rely on the help of little creatures called Pikmin to make their way back home."
Plot summary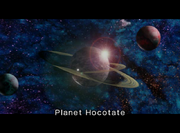 Decades after the story of
Pikmin 3
, planet PNF-404 has been abandoned by both the Hocotatians and Koppaites. A young Hocotatian named Eli learns about the planet at a local museum and becames enamored with it, eventually joining the first crew to return to PNF-404 in over thirty years following the return of legendary captain Olimar to public life. With Eli manning the craft and Olimar providing veteran strategic support, the ship sets off to the abandoned planet, ready to find more treasure than ever before.
As the ship sets down for the first time on the surface, a strange blast of light hits it and blasts it into pieces, sending the smaller vessel containing Olimar away from the ship and leaving the remainder to fall towards the ground in pieces. Eli barely manages to maintain conciousness and lands safely in a pile of leaves, looking upwards to watch his only way home explode in the atmosphere. Picking himself up off the ground, Eli sets off towards where he saw Olimar fall, determined to survive.
Finding himself walled off on all sides, Eli begins to lose hope until he discovered a small spherical object on the ground. Grazing it with his suit, it begins to flow a faint red and fly upwards and then crash back down; with another try, it finally stays airborn for long enough to detach three long legs and release a single seed that plants itself into the ground. The seed sprouts a long stem with a leaf on the end and Eli plucks it to reveal a slender Red Pikmin

that reacts gleefully to his presence. After some prompting, Eli calls the Pikmin to himself with his whistle and then orders it to take down a nearby Pellet Posy, bringing the Pellet back and releasing more seeds.
As Eli begins to realize how Pikmin work and what they can do, the sun sets overhead, but the small area they are in does not contain any harmful enemies, only a few Female Sheargrubs. Eventually Eli and his squadron of Pikmin grow enough in size to push over a large book, opening a way outside of their containment. Venturing outwards, Eli finds the small capsule containing Olimar and opens it, freeing the Hocotatian. At first, Olimar is seemingly infuriated to see the Pikmin as Eli tries to explain them, but he soon calms down and explains himself: he had used Pikmin so many years ago to explore PNF-404, but eventually realized that he was exploiting them and their world for profit. He hid all of the Onions so that no one else could use them, rendering the planet uninhabitable as the foreign people invading it could not take on the wildlife without the help of Pikmin.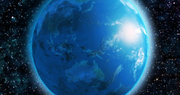 Eli tries to get Olimar to explain why he would return, but he refuses; he only states that there might be hope at the top of the huge mountainous mound they are near, and suggests they head towards it or explore further in preparation. The player may either move directly to the final area and finish the story or search the surrounding area, finding a new Pikmin type the Clawed Pikmin
Onion nearby and shocking Olimar who did not know they existed; only with their help do Eli and Olimar find additional Ship Pieces and Minerals, before breaking into the next area. As they continue exploring they find new and old Pikmin types, with Olimar attempting to help explain what they are finding.
When they come across old buildings built by previous explorers, Olimar will sometimes lament about their hubris and their greed, even chastisizing Eli for using them. Eventually he reveals that during one of the huge excavation projects, more than a thousand Pikmin died in a terrible event, which was the catalyst for Olimar leaving the journey and hiding the Onions. He later expands on this, describing terrible machines that they found on the planet that would have disastrous consequences if they returned home with them. As he describes this, an earthquake rocks the scene, and a few Minerals seem to surface from nowhere.
Once they finally make their way to the mound they find a hole at the top and enter a long labyrinth filled with mechanical versions of enemies and metallic traps. Olimar grows sad upon seeing this, realizing that the machines they found have been discovered despite his attempts to hide them. They make their way down to the very bottom of the mound and discover a titan robot that accompanied by artificial versions of Pikmin that they must take out one by one. When they defeat the robot, a small Hocotatian falls out of the top; Olimar runs over to the Hocotation and hugs him, revealing that it is his son.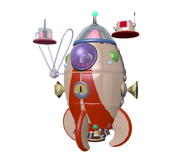 As he explains, his son grew angry that Olimar would hide such potential useful inventions and aspired to return, having learnt of the Pikmin from him. With that secret knowledge, he made his way back and discovered the secret of the Pikmin: they were seemingly genetically engineered by a higher force than they can comprehend, a mixture of plant and animal made to follow devices and being more powerful than any other force, even Hocotatians and Koppaites. Olimar knew this and sought to cover it up, thinking they might be brought home and used for terrible purposes; his son thought that they might be used to improve the life of everyone. In his search for them, however, he was overcome with power. Knowing his son had gone off to PNF-404, Olimar commissioned one more trip, bringing along only one other crew member to limit the chances of accidental discoveries.
The two of them bring the son along as they find the S.S. Dolphin, which the son had used to return to the planet years prior, and launch off with all of their acquired Minerals, hoping to finally leave PNF-404 behind.
Endings
If no Pikmin died during the course of the game, the three Hocotatians make up with one another and return, announcing that there is nothing left of note on PNF-404; no one from there visits the planet again for many, many centuries. If less than 5% of the sprouted Pikmin died, the son refuses to cooperate, stealing another ship and returning to PNF-404 later in his life, but few other Hocotatians make the trip, and Olimar decides to not chase after him again. If more than 5% of the total sprouted Pikmin died, they are unsuccessful in keeping the secret; Hocotate Freight and other space agencies set off towards PNF-404 and reopen it to galactic tourism, finding new technology that eventually leads to interstellar war.
Mission Mode
Mission Mode is an alternative gameplay mode for Pikmin IV based on Mission Mode from Pikmin 3 and Challenge Mode from Pikmin 2. There are three different types of missions, each with their own criteria for ranking, and each mission awards points based on how well these criteria are completed, such as giving points based on how many Pikmin are alive at the end of the mission. There are three missions for every area in the main game, with one for every type per area, and all three missions are unlocked as soon as the landing site in each area is unlocked at least once in Story Mode.
Unlike in the Pikmin 3 Mission Mode, missions do not end automatically when a Platinum Medal is earned; instead, players can choose to end the mission as soon as they wish, including as soon as it starts. By doing so they receive points for time remaining, although the amount of points is logarithmic; going from 6 seconds left to 5 seconds left is a much larger change in points than going from 60 seconds left to 59 seconds left. In some cases, players must make the choice between continuing to earn other sources of points like growing Pikmin in Collect Treasure

or ending the mission earlier for the time points.
Any of the missions can be completed with an additional player controlling the second captain, either through split screen or by connecting another Nintendo Switch or Nintendo DSGo wirelessly. The 2.00 upgrade added online play for owners of the game with the Nintendo Online service.
Collect Treasure!
In Collect Treasure

missions, captains are tasked with collecting as many pieces of treasure as possible. This treasure includes both the minerals found in the game as well as a few Ship Parts in some missions, which unlock the same abilities as they do normally. Each mission has a list of upgrades that are always present, although the Low-Orbit Engine is never included, as well as what purchaseable upgrades are unlocked when a Ship Part is recovered. In all missions enemy carasses can be recovered and will count for Pokos

, although in some cases, if a Master Onion is present, they will also lead to Pikmin seeds being created. Pellets will create Pikmin seeds while not counting for Pokos

.
Points are awarded on the basis of collecting Pokos

foremost, with additional points awarded for number of Pikmin grown, number of Pikmin present at the end of the day, Pikmin diversity ratios, and time remaining on the clock.
Defeat Enemies!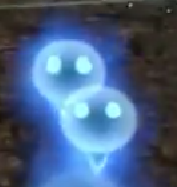 In
Defeat Enemies

missions, the objective is to defeat as many enemies as possible and bring all of them back to the Master Onion to sprout new seeds, reminiscent of the
Challenge Mode
from
Pikmin
. A few missions contain Pellets that can be used to grow Pikmin freely, but most require many enemies to be defeated to reach the goal. The amount of Pikmin needed to acquire higher maturity levels has been changed from the main game, being lowered so that players receive flowers earlier within the bounds of the mission, and more importantly the rules have been changed so that the amount of total Pikmin in the Onion counts for maturity, not just the specific Pikmin type. This means that the last Pikmin retrieved on a Platinum Medal run, for example, are always flower Pikmin. Some missions have special enemies like the Shaggy Long Legs that do not drop bodies but give other bonuses, like additional points or
Ultra Spicy Nectar

.
Points are awarded on the basis of Pikmin

grown foremost, with additional points awarded for Pikmin death count, Pikmin diversity ratios, special enemies defeated, and time remaining on the clock.
Race to Finish!
In Race To Finish

, the objective is to collect as many Tokens

spread throughout the arena as possible before collecting the Goal Flag at the end of the mission area. Unlike other types of missions, players cannot choose to end the mission from the Ship at the landing site; instead, they must collect the Goal Flag, meaning they must move through the majority of the area of the mission first. Tokens are generally spread along the path from the beginning of the mission to the Goal Flag, although some may be in hard to reach places; some are found lying on the ground like Data Files, while others must be earned by defeating enemies holding them or breaking down barriers. No Pikmin

can be grown or Pokos

earned as the Ship and Master Onion are not present; enemy bodies will instantly vapourize once defeated, and there are no treasures present.
Points are awarded on the basis of Tokens

foremost, with additional points awarded for Pikmin death count, enemies defeated, and time remaining on the clock.
Medals
Each stage can give one of five rankings; no medal, Bronze, Silver, Gold, or Platinum. No medal means that the player did not perform well enough for even the bronze ranking.
| Rank | Collect Treasure | Defeat Enemies | Race To Finish | Value |
| --- | --- | --- | --- | --- |
| No Medal | --- | --- | --- | 0 |
| Bronze | | | | 200 |
| Bronze | | | | 500 |
| Bronze | | | | 1000 |
| Bronze | | | | 4000 |
Each type of mission has different criterion for their medals:
Two-Player Versus

The two-player versus mode in Pikmin IV is similar to the Bingo Battle mode from Pikmin 3, pitting two players against once another to try and complete a randomly generated bingo card that appears on their screen. It can be played either in splitscreen mode or with two Nintendo Switch or Nintendo DSGo consoles connected wirelessly to one another. The 2.00 update added support for competitive player against two friends or two strangers that own the game and have a Nintendo Online service subscription.
The bingo cards are filled as the items on the card, either pieces of treasure or enemy bodies, are collected. If all of the instances of that item are collected, the item is made unobtainable, and its slot on the card is blacked out. Each player also has a Victory Marker near their base that can be grabed by Pikmin; if one player grabs the their opponent's Victory Marker and returns it all the way to their base, they will win automatically.
There are four main ways to win a game against an oponent:
Scoring a bingo: If a row, column, or diagonal line is completed on the bingo card, that player wins
Pikmin extinction: If one player loses all of their Pikmin, their opponent automatically wins
Captain down: If both captains on one side loses all of their health, that player loses
Stealing a Victory Marker: If a player steals their opponents Victory Marker, they win
Items
The Golden Grenade treasure will never appear on a bingo card but it is present commonly throughout the various two-player maps; retrieving it will unlock a random item that must be used before another can be unlocked. If a Pikmin is attempting to return a Golden Grenade while an item is waiting to be used, they will drop it underneath the Onion; once the item is used, they will pick it back up and bring it to the Onion, unlocking another item. The item that is unlocked can only be used once and is randomly selected from the following list:
Applies the effects of an

Ultra Spicy Spray

as if it was used normally

Applies the effects of an

Ultra Bitter Spray

as if it was used normally

Applies the effects of an

Ultra Dry Spray

as if it was used normally

Applies the effects of an

Ultra Sweet Spray

as if it was used normally

Applies the effects of an

Ultra Sour Spray

as if it was used normally

Warps the user's opponent to a random space on the battle arena

Summons a rock storm that crushes the Pikmin of the user's opponent

Shuffles the bingo card of the user's opponent

Activates a randomly chosen bingo space on the user's card

Destroys all enemies currently on screen

Bolts of lightning drop near the opponent of the user

10 Pikmin seeds are spawned from the user's Onion

10 Pikmin seeds are spawned from the user's Onion

Spawns multiple dormant bomb rocks near the user

Teleports the Victory Marker back towards the user's base
Creatures
The world of Pikmin IV is filled with numerous creatures which provide the main challenge as well as main gameplay elements of the game. Defeating them requires skill, effective use and knowledge of Pikmin mechanics, and possibly luck, and it rewards players with an opportunity to grow more Pikmin much more effectively than with Pellets as well as the possibility of new treasures to collect. On the flip side, however, enemies that are not dealt with properly can kill entire squads of Pikmin, disturb Pikmin carrying back objects, and even lay waste to the current landing site; some may even rebuild obstacles or be a nuisance in other ways.
Each enemy has a unique appearance, behaviour, name, and scientific name; these scientific names, along with the familial description, give a connection with other enemies genetically and hint at its evolutionary history. Each creature also has a "weight," indicating how many Pikmin are needed to carry it; a "max," indicating how many Pikmin can hold onto it at once before more will refuse to carry it; and a "seeds" value, which shows how many seeds will be given when returned to the Master Onion in the type of the Pikmin that retrived it.
Name
Information
Amphituber

Wogpole
Amphicaris frodendum
The larval form of Yellow Wollywogs, these Amphitubers resemble tadpoles; they are notoriously annoying to defeat, swimming quickly and constantly away from Captains, and give a measly reward for being caught. If they are forced onto land they will flop around, taking damage until they eventually return to water. They are usually found near other Amphitubers.

| Weight | Max | Seeds |
| --- | --- | --- |
| × 1 | × 2 | × 1 |

Glass Wollywog
Amphicaris crystallo
An odd variation of the Wollywog that has numerous crystals sticking out of it, making its attacks even more dangerous to most Pikmin as well as making it impervious to traditional attacks. Captains must utilize

Rock Pikmin

to crack the crystals and avoid its crushing attacks, or brute force it and lose many Pikmin in the process.

| Weight | Max | Seeds |
| --- | --- | --- |
| × 7 | × 14 | × 6 |

Pale Wollywog
Amphicaris albino
Frog-like creatures adapted to the harsh, subterranean environments of PNF-404, with pale skin to match. Their crushing jumps can kill most Pikmin instantly, save for the

Rock Pikmin

impervious to blunt force. They like to reside in water near their children, being the Wogpoles and Young Pale Wollywogs. They tend to have more health than their Yellow bretheren.

| Weight | Max | Seeds |
| --- | --- | --- |
| × 7 | × 14 | × 6 |

Young Pale Wollywog
Amphicaris albino
The juvenile counterparts of the Pale Wollywog, sporting less health and depending on their parents for safety still. They sometimes will chase around nearby Wogpoles playfully or croak at one another. Their crushes cannot kill Pikmin but they do displace them, sometimes knocking them into other hazards or into an adult Pale Wollywog's attack.

| Weight | Max | Seeds |
| --- | --- | --- |
| × 4 | × 8 | × 3 |

Yellow Wollywog
Amphicaris frodendum
Similar to the Pale Wollywog in terms of attack damage, although slightly weaker; they are used to living prosperously above ground, rather than fighting for their life in the harsh cave ecosystems. They sometimes take time to bask in the sun and dry off outside of water, but will soon return when seeing an enemy threatening them or their Wogpole children.

| Weight | Max | Seeds |
| --- | --- | --- |
| × 7 | × 14 | × 6 |

Mossy Wollywog
Amphicaris herbesco
Amphitubers that has adapted perfectly to the forest, developing natural camoflauge that allows them to completely avoid detection from predators. If any come to close, they can quickly jump out of their hiding spot and squash them with a much larger crushing range than their relatives, then quietly return to their resting place. They also tend to hide sticking completely vertically to the wall using a special adhesive excreted by their skin.

| Weight | Max | Seeds |
| --- | --- | --- |
| × 7 | × 14 | × 6 |

Young Mossy Wollywog
Amphicaris herbesco
The juvenile counterpart of the Mossy Wollywog with many of the same mannerisms but less health overall. They also have a chance to fall down from their hiding spots after a while, still not experienced with clinging to walls.

| Weight | Max | Seeds |
| --- | --- | --- |
| × 4 | × 8 | × 3 |

Amprat

Bearded Amprat
Mus fulmen
One of the few mammals in the game, the Bearded Amprat is covered with bronze-filled stands of hair that conduct the electricity it produces in a special gland. When it sees Pikmin, it will begin to conduct electricity and then charge at the captain, opening its mouth in the process to try and take a bite.

Yellow Pikmin

are recommended to take it on

| Weight | Max | Seeds |
| --- | --- | --- |
| × 5 | × 8 | × 4 |

Arachnode

Territorial Arachnode
Araneolus terra
The Territorial Arcachnode is a small, yellow spider that always resides on a web it has built, either hanging between two surfaces or flat on the face of a wall or floor. Pikmin that enter the web will be trapped and must struggle to break free while the Arachnode approaches to try and eat them. Captains can also be caught on the web. The web cannot be destroyed without first killing the Arachnode, which is best defeated by

Rock Pikmin

due to their strong impact.

| Weight | Max | Seeds |
| --- | --- | --- |
| × 3 | × 5 | × 2 |

Scrambling Arachnode
Araneolus circiensis
The Scrambling Arachnode resembles the Territorial Arachnode other than being slightly larger, having a more bulbous body, and being orange in colour. Unlike the other member of its family, it does not build a web to stay on; instead, it shoots webs at attacking Pikmin, causing them to become stuck and allowing it to close in to eat them. Webs that it creates can be broken with enough time, or will break by themselves when the Scrambling Arachnode is killed.

| Weight | Max | Seeds |
| --- | --- | --- |
| × 3 | × 5 | × 2 |

Arachnorb

Raging Long Legs
Pseudoarachnia furiendis
The Raging Long Legs has the largest head of any Arachnorb and thus is the easiest to hit; additionally, it stomps extremely slowly, allowing Pikmin to dodge out of the way without worry. Although it has the most health of any in its family, it will likely die the fastest, as there is little consequence for rushing it and being careless with any Pikmin type.

| Weight | Max | Seeds |
| --- | --- | --- |
| × -- | × -- | × -- |

Shaggy Long Legs
Pseudoarachnia pellis
This Arachnorb is covered in furry hair that must be removed by charging the legs and having Pikmin climb up and remove the puffs of hair around every knee joint before finally reaching the head and peeling off its protective fur. After the hair is gone, it can be attacked like any other Arachnorb, having few defense mechanisms besides walking towards bodies of water and others hazards to disuade captains from using Pikmin that cannot survive them.

| Weight | Max | Seeds |
| --- | --- | --- |
| × -- | × -- | × -- |

Man-at-Legs
Pseudoarachnia navaronia
Unlike the boss from Pikmin 2, the Man-at-legs in Pikmin IV is not mechanical, rather being the version of the creature that has not been merged with mechanical parts. Its long spindly legs do not have feet at the ends sufficient for squishing Pikmin, only being able to stab at most one at a time, while its body has no natural defensive capabilities. As such, it is mostly harmless, and its first appearance in Story Mode is mostly comical. Its other appearance, however, is the opposite; it gains its metalic body, including artificial feet that allow it to crush dozens of Pikmin at once, alongside a turret that shoots explosive bullets that only one Pikmin type can survive a hit from.

| Weight | Max | Seeds |
| --- | --- | --- |
| × -- | × -- | × -- |

Spire Long Legs
Pseudoarachnia frigus
A new Arachnorb species composed of extremely long legs covered in frost that begin to crystallize into stalagmites once the Spire Long Legs senses danger. Although its feet are not very dangerous, any Pikmin standing below it are at risk of falling stalagmites, and Pikmin crawling up its legs must first break bits of ice along the way to get to its frosty head. Only

Winged Pikmin

and

Yellow Pikmin

can reach its head without climbing, and they are at risk of freezing when a cloud of frost is released from its head every 10 or so seconds.

| Weight | Max | Seeds |
| --- | --- | --- |
| × -- | × -- | × -- |

Armbroil
Toiling Armbroil
Artifex collyris
The Toiling Armbroil is a large armadillo-like boss creature that rolls up into a ball when attacked and proceeds to roll around its battle arena, squashing Pikmin in the way and knocking any currently attacking Pikmin off. Its hide is covered in multiple discrete parts that are each either made up of sand or crystaline material, requiring either Clawed Pikmin or

Rock Pikmin

respectively to destroy. Alternatively, simply attacking the sides will do small amounts of damage, so it can be defeated with only

Red Pikmin

and lots of patience.

| Weight | Max | Seeds |
| --- | --- | --- |
| × 15 | × 30 | × 12 |

Miniature Armbroil
Artifex sessilis
The Miniature Armbroil resembles the larger creature of the same family, but is much smaller, more common, and less dangerous. Its rolling attack can only knock Pikmin away, meaning its only method of killing Pikmin is bitting them; however, it can only bite one at once, and it takes a while to swallow, leaving it open to attack. It either has a small crystal on its back or a patch of sand, but can also be defeated through brute force without exposing its weakness with Clawed or

Rock Pikmin

.

| Weight | Max | Seeds |
| --- | --- | --- |
| × 4 | × 8 | × 2 |

Bloathen
Blubbug
Fouskaflexilis bilia
While it at first appears to be a yellow balloon, the Blubbug is soon revealed to be an incredibly bloated bug that bounces around constantly; although it cannot hurt Pikmin directly, it always threatens to bounce them into other obstacles. It can be popped using strong Pikmin or patience, but its body is almost worthless. Its only real worth is knocking it purposefully into crevices to use as a temporary bouncing pad.

| Weight | Max | Seeds |
| --- | --- | --- |
| × 1 | × 2 | × 1 |

Blowhog

Fiery Blowhog
Sus draconus
This blowhog shoots highly flammable gas that immediately ignites, dousing Pikmin in flames, and bucks its body to send Pikmin on it in front of it, exposing them to further fire attacks; because of this,

Red Pikmin

are the best to use here, as they are immune to fire and dispense of them quickly.

| Weight | Max | Seeds |
| --- | --- | --- |
| × 4 | × 9 | × 3 |

Watery Blowhog
Sus loogiens
Watery Blowhogs are very similar to Fiery Blowhogs, but they instead expel a wet substance that sticks to the Pikmin's head and drowns them out unless they are whistled at; because of this, the best Pikmin to use are

Blue Pikmin

.

| Weight | Max | Seeds |
| --- | --- | --- |
| × 4 | × 9 | × 3 |

Puffy Blowhog
Sus inflata
A huge, purple blowhog that floats in the air and slowly sucks in and then expels air, blowing away Pikmin. It has a high chance to return a Pikmin to a lower stage when blown unless they are immune to wind. They can quickly expand their body to send Pikmin away from their body if they are clinging to it or nearby. The easiest way to defeat them is to send a Pikmin into their nozzle while they are sucking in air, as it will cause them to cough the Pikmin out and stop sucking; or to use Clawed Pikmin, as they can hang on even after the Blowhogs expand and are immune to wind.

| Weight | Max | Seeds |
| --- | --- | --- |
| × 2 | × 5 | × 3 |

Folding Blowhog
Sus acordius
This blowhog has numerous square folds in it, making it resemble an accordion; because of its shape, it takes much longer for it to suck up air, but its windy breath is incredibly powerful, able to send Pikmin flying far across the map. Pikmin that are knocked away by wind almost always find themselves in some sort of hazard, so it is best to avoid it in any way possible. Luckily,

Red Pikmin

and other powerful types can easily take it out by the time it completes its first breath.

| Weight | Max | Seeds |
| --- | --- | --- |
| × 2 | × 5 | × 3 |

Hydra Blowhog
Sus terni
It resembles the Fiery and Watery Blowhogs in body size and shape, but with a few key differences: it has three snouts instead of one, and uses one at a time to either shoot poisonous gas, cold air, or fire; and it has a stripe of colour around its body that changes based on what nozzle it is about to use to attack. A combination of

Purple Pikmin

,

White Pikmin

, and

Red Pikmin

might be used as they are immune to each of the respective elemental attacks.

| Weight | Max | Seeds |
| --- | --- | --- |
| × 5 | × 10 | × 4 |

Breadbug

Breadbug
Pansarus gluttonae
A Breadbug is a rather large creature that resembles a piece of bread. It travels around a set area near its nest and hunts for items to grab; once it finds one, it will attempt to bring it back to its nest. It can only carry items that weight less than 25 Pikmin, and if it attempts to carry anything higher, it will struggle for a few seconds then stop in embarassment. It may attempt to carry the same item as a Pikmin, at which point it will struggle in a tug-of-war against them, which can only be beaten by putting more than 25 Pikmin on the object. The Breadbug has a strong skin and is very difficult to hurt unless it a tug-of-war is won and it is dragged all the way back to the Onion or Ship, at which case it will be bashed against the respective object and tip over, being exposed to damage.

| Weight | Max | Seeds |
| --- | --- | --- |
| × 12 | × 25 | × 6 |

Crumbug
Pansarus gluttonae
The juvenile version of the Breadbug is the Crumbug, which has all of the same mannerisms. It can only carry objects as if it was 3 Pikmin, and thus is easier to beat in a carrying contest. Additionally, it is more susceptible to damage via normal methods, and instantly dies if carried all the way back to the Onion or Ship. It sometimes attempts to carry Bomb Rocks and, in the process, activates them, often leading to its own death. It is always found around one mature Breadbug, and often multiple Crumbugs accompany a single Breadbug and its nest which they all share.

| Weight | Max | Seeds |
| --- | --- | --- |
| × 3 | × 6 | × 2 |

Dwarf Red Bulborb
Pansarus pseudoculii russus
Mimicking a juvenile Red Spotty Bulborb, the Dwarf Red Bulborb attempts to blend in with its adopted parent, sleeping near it and only waking when disturbed. It can only bite one Pikmin at a time, and can be instantly dispatched qwith a single Pikmin hit on the back. Interestingly, Pikmin IV is the first title where the Dwarf Red Bulborbs exhibit the Breadbug behavior of grabbing onto items; however, they only do this if the mother they are following has been killed, at which point they will attempt to drag it back to their spawn point. In Story Mode, there are never enough Dwarf Bulborbs to satisfy the weight requirement next to a mother.

| Weight | Max | Seeds |
| --- | --- | --- |
| × 3 | × 6 | × 2 |

Dwarf Orange Bulborb
Pansarus pseudoculii orangium
In behaviour and ability it is exactly the same as the Dwarf Red Bulborb, other than that it will squeal when awoken, alerting its adopted mother and waking her. They are found near Orange Spotty Bulborbs instead of Red Spotty Bulborbs.

| Weight | Max | Seeds |
| --- | --- | --- |
| × 3 | × 6 | × 2 |

Snow Bulborb
Pansarus pseudoculii frosticus
The Snow Bulborb mimicks the Hairy Spotted Bulborb, but does not have its unique hairy body; instead, it is simply a paler variant of the Dwarf Red Bulborb. It has less health than the other Dwarf Bulborbs and is much more difficult to wake up due to evolving for snowy environments.

| Weight | Max | Seeds |
| --- | --- | --- |
| × 3 | × 6 | × 2 |

Burrow-nit

Joustmite
Trilobitins miles
The Joustmite is a bug with a hard chitin shell that is actually not attached to its body. It will attempt to shoot its probiscis outwards to stab and eat Pikmin, up to three at a time, although it takes a while to suck them in after stabbing them. Its back side is not properly protected by the shell and thus can be easily charged.

| Weight | Max | Seeds |
| --- | --- | --- |
| × 6 | × 12 | × 3 |

Flighty Joustmite
Trilobitins valkyrus
The FLighty Joustmite has the same tendencies as the normal Joustmite other than being able to take to the air once it loses a quarter of its health, where it will begin to regain health. It can be attacked either on its open back or underside, but it will retaliate by shooting its probiscis downwards to eat Pikmin. If it misses, however, it will become stuck in the ground, and will be easier to attack.

Winged Pikmin

can easily charge it and weigh it down to the ground.

| Weight | Max | Seeds |
| --- | --- | --- |
| × 6 | × 12 | × 3 |

Crabion

Peckish Aristocrab
Stirpis cymatillis
A large crab, slightly resembling an onion with two eye stalks on top, that skitters across the water to catch captains off guard. It can grab up Pikmin with its large pincer and toss them in its mouth, or stab the ground to kill them. It can also blow bubbles out of its mouth that trap Pikmin and make them slowly drown. Its pincer can be destroyed with

Rock Pikmin

leaving it defenseless, forcing it to run away and try to evade attacks. Pikmin on its two yellow cheek growths will deal more damage than anywhere else.

| Weight | Max | Seeds |
| --- | --- | --- |
| × 9 | × 18 | × 4 |

Crawmad

Hermit Crawmad
Camabarus rustica
A small, amphibious relative of the hermit crab that lurches out of its hole to grab a few Pikmin then quickly scurries back and returns. Any Pikmin that are brought all of the way back will die as a result. After it emerges, its vulnerable backside will be exposed, and it can easily be killed by a charging squad of Pikmin.

| Weight | Max | Seeds |
| --- | --- | --- |
| × 5 | × 10 | × 3 |

Bug-Eyed Crawmad
Camabarus civicus
As a boss, the only trait to distinguish the Bug-Eyed Crawmad other than being gargantuan is its two large eyes on stalks that it uses to peer out of its hole and spot intruders, before jumping upwards and charging them. It can grab up to 15 Pikmin at once, much more than its relative, as well as use its pincirs to crush Pikmin. Its weakness is its eyes, which can be destroyed by clinging Pikmin to force it on its back where it can be easily attacked by thrown Pikmin. Once it has taken enough damage, it will leave its hole and travel freely around the nearby area, and if in water, will swim very quickly away from and then towards the captain, making hitting its eye much harder.

| Weight | Max | Seeds |
| --- | --- | --- |
| × 20 | × 40 | × 12 |

Dirigibug

Careening Dirigibug
Flotillium circusmaximus
Using sacs filled with air that resemble balloons, this bug floats above its targets and creates bomb rocks that it activates and then throws below, exploding nearly anything it dislikes. By hitting its balloons with a Pikmin it can be grounded, possibly before its bomb goes off, which is an effective way to dispatch of it. Rarely the bomb will be a dud and can be picked up by Pikmin and used for other purposes, even against the creature that created it.

| Weight | Max | Seeds |
| --- | --- | --- |
| × 3 | × 6 | × 2 |

Hanging Dirigibug
Flotillium gymnastica
Although they might appear to be Careening Dirigbugs at a distance, Hanging Dirigibugs can be identified by their lack of colourful sacks; instead, they use special posterior legs to hang onto twigs and other skinny objects while dropping bombs below. They can be weighted down by sufficient amounts of Pikmin in much the same way as their relatives, or their support can be dropped to squish them rather effectively.

| Weight | Max | Seeds |
| --- | --- | --- |
| × 3 | × 6 | × 2 |

Dweevil

Anode Dweevil
Mandarachnia volticula
A tiny spider that steals treasures, Ship Parts, and enemy bodies. If it takes an object, Pikmin must be thrown at it to kill it. It will often release electricity to deter Pikmin from attacking it, making

Yellow Pikmin

useful.

| Weight | Max | Seeds |
| --- | --- | --- |
| × 2 | × 4 | × 1 |

Caustic Dweevil
Mandarachnia sulfumid
A tiny spider that steals treasures, Ship Parts, and enemy bodies. If it takes an object, Pikmin must be thrown at it to kill it. It will often release watery goo to deter Pikmin from attacking it, making

Blue Pikmin

useful.

| Weight | Max | Seeds |
| --- | --- | --- |
| × 2 | × 4 | × 1 |

Fiery Dweevil
Mandarachnia napalmens
A tiny spider that steals treasures, Ship Parts, and enemy bodies. If it takes an object, Pikmin must be thrown at it to kill it. It will often release flames to deter Pikmin from attacking it, making

Red Pikmin

useful.

| Weight | Max | Seeds |
| --- | --- | --- |
| × 2 | × 4 | × 1 |

Munge Dweevil
Mandarachnia pungetis
A tiny spider that steals treasures, Ship Parts, and enemy bodies. If it takes an object, Pikmin must be thrown at it to kill it. It will often release poison to deter Pikmin from attacking it, making

White Pikmin

useful.

| Weight | Max | Seeds |
| --- | --- | --- |
| × 2 | × 4 | × 1 |

Noxious Dweevil
Mandarachnia olidus
A tiny spider that steals treasures, Ship Parts, and enemy bodies. If it takes an object, Pikmin must be thrown at it to kill it. It will often release an odor to deter Pikmin from attacking it, sending nearby Pikmin into a panic.

| Weight | Max | Seeds |
| --- | --- | --- |
| × 2 | × 4 | × 1 |

Volatile Dweevil
Mandarachnia explodus
A Dweevil that is made out of highly explosive material, exploding almost immediately after it falls to the ground near a group of Pikmin. Unlike in Pikmin 2, this Dweevil is actually made out of explosive material, although its body still resembles a bomb rock.

| Weight | Max | Seeds |
| --- | --- | --- |
| × -- | × -- | × -- |

Elips

Puckering Blinnow
Narrolingus piscatum
A small fish with kissing, puckering lips that patrols the water alongside three or four other members of their species. When they see a Pikmin in the water, by the shore, or flying above the surface, they will head towards it and grab it in their peak before swimming away quickly.

Blue Pikmin

can charge after them quickly to dispatch of them before they can swallow the Pikmin they have skewered.

| Weight | Max | Seeds |
| --- | --- | --- |
| × 1 | × 2 | × 2 |

Flint Beetle

Iridescent Flint Beetle
Pilli envelopens
A glistening green bug that erupts out of the ground, usually near vegetation, and scurries around before finding another place to burrow down. Everytime a Pikmin lands on its body during the meantime, it will leave behind a small treasure, such as a 1 Pellet or a few Ultra Spray Berries. It cannot be killed, but after 5 hits it will automatically burrow downwards and remain invulnerable during its animation.

| Weight | Max | Seeds |
| --- | --- | --- |
| × -- | × -- | × -- |

Iridescent Glint Beetle
Pilli auricus
Much like the Iridescent Flint Beetle, this bug leaves behind treasures as it runs around, although it is much faster and harder to hit overall before it escapes. It leaves behind better treasures such as 5 Pellets and entire Ultra Spray Nectars.

| Weight | Max | Seeds |
| --- | --- | --- |
| × -- | × -- | × -- |

Doodlebug
Pilli flatularum
As a Flint Beetle, the Doodlebug gives treasures when it is hit by a Pikmin, although it has defensive measures; it constantly emits noxious gas that kills all but

White Pikmin

unless they are whistled quickly, and lowers their maturity by a level. Unlike Iridescent Beetles, they only go away once hit enough and do not leave on their own automatically, making them more of a nuisance than a blessing, especially since they have a higher chance to release Mitites when hit than any real reward.

| Weight | Max | Seeds |
| --- | --- | --- |
| × -- | × -- | × -- |

Stony Flint Beetle
Pilli sisyphons
Having a completely different purpose and behavioural pattern than the others of its family, the Stony Flint Beetle is an oddity, as its only real action involves putting its feet up like a dung beetle to support a large ball, such as the billiard balls found as obstacles or boulders shot from Armored Cannon Beetle Larva. They will fight against its momentum, stopping Pikmin from pushing it unless there are enough of them and even shooting a boulder backwards, giving the Cannon Beetle Larva a nasty surprise. Overcoming their strength with Pikmin will often leave them comically crushed as the ball rolls over them; otherwise, they run away before they can be targeted.

| Weight | Max | Seeds |
| --- | --- | --- |
| × -- | × -- | × -- |

Flitterbie
Unmarked Spectralid
Fenestari prismatus
One of the most harmless enemies, Unmarked Spectralids are simply butterflies that hover around many areas and do nothing harmful to Pikmin or other enemies. Sometimes they will be accidentally killed by other enemies or a stray Pikmin. They like to land on things like the eyes of a Bulborb. When killed, their body instantly disintegrates.

| Weight | Max | Seeds |
| --- | --- | --- |
| × -- | × -- | × -- |

Patterned Spectralid
Fenestari phaleratus
Like the Unmarked Spectralids, except that they drop valuable goods upon being killed matching their colour. Blue Patterned Spectralids drop

Ultra Dry Spray

, for example, while Yellow Patterned Spectralids might drop nectar for Pikmin to feast on. As such, it is recommended that captains try to dispose of them or trick enemies into doing it for them.

| Weight | Max | Seeds |
| --- | --- | --- |
| × -- | × -- | × -- |

Groink

Gatling Groink
Opsidio cella
The Gatling Groink is a terrifying enemy that boosts a cannon for incredible firepower, able to shoot Pikmin from a far distance away, killing an entire squad instantly in an area-of-effect attack. Usually, however, they only use short bursts which simply hit a few singular Pikmin or none at all. They walk around areas, being almost invulnerable from the front thanks to their windshield but luckily being too slow to turn effectively and avoid damage from the back. Their shots can kill other enemies or obstacles. If left for long enough without being carried, they will automatically revive at low health and slowly regain all of it.

| Weight | Max | Seeds |
| --- | --- | --- |
| × 12 | × 24 | × 6 |

Turret Groink
Opsidio cella
A version of the Gatling Groink that, instead of being legbound, instead is mounting on a rotating turret that can swivel much quicker than the normal Groink. As such, it is more effective at turning to avoid attacks from the back, which is especially important as its back side has numerous cables coming out attached to the turret which makes it even more vulnerable from that side. Their shooting attacks are also more effective at killing Pikmin. Once killed, their platform self-destructs, leaving no body.

| Weight | Max | Seeds |
| --- | --- | --- |
| × -- | × -- | × -- |

Juvenile Groink
Opsidio cella
A young Gatling Groink without mechanical augments that can be found in laboratory areas, suggested to be grown in order to create Gatling Groinks proper. They have no natural defenses, will always flee from any danger, and can be killed with a single Pikmin hit, their body deflating quickly like a balloon and flying away.

| Weight | Max | Seeds |
| --- | --- | --- |
| × -- | × -- | × -- |

Grub-dog

Red Spotty Bulborb
Oculus kageyamii russus
One of the most iconic enemies from the series, these large bug-like creatures are mostly dormant during the day, only waking when they notice a Pikmin is nearby, but they become incredibly active at night. They can bite many Pikmin at once, and are somewhat quick on their feat, able to turn to face captains. They cannot see into bushes or other foliage, and hitting them in the eyes temporarily stuns them, making them drop any Pikmin in their mouth.

| Weight | Max | Seeds |
| --- | --- | --- |
| × 10 | × 20 | × 4 |

Orange Spotty Bulborb
Oculus kageyamii orangium
Appearing much like a Red Spotty Bulborb but with black skin, yellow eyes, and an orange backside, the Orange Spotty Bulborb is slightly more aggressive, awakening at the sound of footsteps and having a larger range that it will chase a captain before returning to its home. It also has slightly more health and is able to eat a few additional Pikmin per bite, being overall more powerful and dangerous than the Bulborb without necessarily having new or different moves.

| Weight | Max | Seeds |
| --- | --- | --- |
| × 10 | × 20 | × 4 |

Whiptongue Bulborb
Oculus kageyamii lingua
Upon being awoken and spotting prey, the Whiptongue Bulborb will whip their tongue in the targets direction, grabbing up to 5 Pikmin and once and slurping them down almost immediately. The only way to save captured Pikmin is to hit them in the eye, stunning them and knocking the Pikmin loose while also giving an opportunity to charge at the creature. Unlike Pikmin 3, the Whiptongue Bulborb is nocturnal like the other main grub-dogs.

| Weight | Max | Seeds |
| --- | --- | --- |
| × 10 | × 20 | × 4 |

Young Whiptongue Bulborb
Oculus kageyamii lingua
Found rarely alongside their parents, the Young Whiptongue Bulborb can only grab one Pikmin at once, but otherwise acts similarly to the mature Bulborb they will eventually grow into. They can be killed with a single Pikmin should it land directly on their back, just like every young or mimicking Dwarf Bulborb.

| Weight | Max | Seeds |
| --- | --- | --- |
| × 3 | × 6 | × 2 |

Spotty Bulbear
Oculus terribilis dotticum
One of the only grub-dogs to be diurnal, the Spotty Bulbear is a notorious threat, being able to eat more Pikmin than other bulborbs at once while also having almost 50% more health. They do not have a set patrol area; instead, they naturally roam throughout the entire map, able to enter nearly anywhere that prey is present, including Pikmin and even other enemies. Although they can no longer revive, they have been given the ability to resist attacks to their eyes thanks to a thick mucus that coats them, meaning that captains must genuinely fight them without easy recourse.

| Weight | Max | Seeds |
| --- | --- | --- |
| × 10 | × 20 | × 4 |

Young Spotty Bulbear
Oculus terribilis dotticum
Unlike other Dwarf Bulborbs, these are truly juvenile versions of Spotty Bulbears, and they follow them accordingly, giving their mother an effective flank against attacks from Pikmin. They can eat 2 Pikmin at once rather than one like the other dwarfs, and they have slightly more health, although they can still be killed instantly with a direct hit.

| Weight | Max | Seeds |
| --- | --- | --- |
| × 3 | × 6 | × 2 |

Hairy Bulborb
Oculus kageyamii folliculus
An odd adaptation of the Bulborb that has a hairy hindside and featureless front, intended to blend in with snowy environments. They can be found completely camoflauged with the snow around them, although the Snow Bulborbs around them may give them away; their hindsides are almost completely protected from Pikmin attacks but will be quickly defurred with continued aggression, leaving them as bare as any other Bulborb. Once their protection is removed, they have little health compared to relatives, and they are slow to move to payback their attackers.

| Weight | Max | Seeds |
| --- | --- | --- |
| × 10 | × 20 | × 4 |

Visceral Bulblax
Oculus sanguis
Considered the "normal" Bulbax, these creatures have all of the qualities of the Emperor Bulblax with much lower stats, intended to be standard enemies rather than bosses while teaching players how to fight the Emperor. Their backsides are heavily protected and, unlike the Hairy Bulborb, no amount of attacks will make them more vulnerable. They are regenerate health more than other enemies and, after death, continue to do so until they come back to life with full health. They are found outside the entrances to both the Emperor and Empress Bulblax and, thanks to their regeneration, will often come back to life and attack the flank of an unsespecting captain while they are taking on a monarch grub-dog.

| Weight | Max | Seeds |
| --- | --- | --- |
| × 12 | × 24 | × 5 |

Emperor Bulblax
Oculus sanguis supremus
The king of all grub-dogs, the Emperor Bulblax is a boss that will test the player's knowledge of the grub-dog family in general, as well as the Visceral Bulblaxes present around its lair. It has a rubber hide that is almost completely invulnerable to attacks, making frontal attacks necessary; its eye stems are taller than others and it is stunned for much less time by ocular attacks; it regenerates health such that it must be defeated quickly; and it can eat Pikmin without limit, possibly decimating an entire squad. Lastly, it can do a special squashing attack to jump into the air and avoid attacks, as well as a charging attack and a burrowing attack where it emerges from a completely different section of the arena before shooting spit from a distance. Its main weakness involves being fed bomb rocks before being stunned, although this is less effective than in Pikmin.

| Weight | Max | Seeds |
| --- | --- | --- |
| × 20 | × 40 | × 15 |

Empress Bulblax
Oculus sanguis supremus
Another boss and the queen of the grub-dogs, the Empress Bulblax is a long and round, constantly birthing Royal Bulblax Larvae that eventually fill the arena completely. It can roll quickly around its arena and, compared to Pikmin 2, this is much more effective due to the unique shape of said arena, forcing captains to constantly move around and be threatened by its rolling. Additionally, it can now eat Pikmin near it, able to eat one at a time but swallow extremely quickly, making Pikmin loss common. It is the heaviest and most seed-bearing creature in the entire game.

| Weight | Max | Seeds |
| --- | --- | --- |
| × 50 | × 100 | × 25 |

Royal Bulblax Larvae
Oculus sanguis supremus
The children of the Empress Bulblax that are constantly born during her battle, swarming at the captains. They sometimes are squished by her body, but are more likely to take the winding path around the perimeter of the arena so that they can bypass the path through her rolls and drop directly on the captains. They can only bite one Pikmin at a time and are relatively slow, but as a swarm they are dangerous. They can be killed with a single Pikmin thrown directly on their back, and one Pikmin can even kill multiple if they are next to one another.

| Weight | Max | Seeds |
| --- | --- | --- |
| × -- | × -- | × -- |

Water Dumple
Ichthyosa felinis
A purple creature related to the Bulborb that mostly lives in water, although it can survive perfectly fine on land. It is frail like Dwarf Bulborbs, able to be killed with just one Pikmin throw and easily defeated from the back, but can still gobble up Pikmin quickly if attacked from the front. They will sometimes chase after and attempt to bite Wogpoles present in the same bodies of water as them.

| Weight | Max | Seeds |
| --- | --- | --- |
| × 3 | × 6 | × 2 |

Heavil

Skutterchuck
Hierodeciderit crystallosum
The heavil has a black, wafer-like body and orange underside. It picks up crystal nodules, bomb rocks, minerals, and amber and throws them, with thrown bomb rocks activating after landing. If nothing is around to grab they may pick up Pikmin or Captains and throw them, possibly damaging the Captain, or they will scuttle away quickly. A single

Rock Pikmin

can destroy any crystal nodules or amber, while other Pikmin can steal their Bomb Rocks.

| Weight | Max | Seeds |
| --- | --- | --- |
| × 3 | × 6 | × 3 |

Honeywisp

Honeywisp
Nektara fatuus
A ghostly spirit that appears around certain areas when a captain approaches and disappears within 10 to 20 seconds; during that time, Pikmin can be thrown at it, and a single successful hit will cause it to disappear and drop the egg it is carrying. The egg, like any other, can contain nectar, Mitites, spray nectar, or nothing, with the most likely option being nothing. Honeywisps are notably less common than in previous games.

| Weight | Max | Seeds |
| --- | --- | --- |
| × -- | × -- | × -- |

Jellyfloat

Lesser Spotted Jellyfloat
Cephalus dottalium
Lesser Spotted Jellyfloats are blue with yellow spots and smaller than the Great Spotted Jellyfloat, along with long antennae. They are considerably faster in the water and can suck from a greater distance, but are also more easily defeated with

Blue Pikmin

.

| Weight | Max | Seeds |
| --- | --- | --- |
| × 4 | × 8 | × 4 |

Greater Spotted Jellyfloat
Cephalus vortexia
Considerably larger and faster at digesting than the Lesser, and red with pink spots. Their antennae are actually shorter than the Lesser, and unlike them, they never appear in water. They are also a bit slower but have triple the health. They have the special ability of sucking up Captains as well.

| Weight | Max | Seeds |
| --- | --- | --- |
| × 10 | × 20 | × 7 |

Flying Spotted Jellyfloat
Cephalus aerialis
Like the Lurking Slurker, these mainly attempt to consume only a few Pikmin at once, swooping in from out of sight while sucking and taking up a few Pikmin and waiting to digest them before coming back for more. Although they can digest the fastest and are the quickest, they are easily killed with just a single Pikmin attack, making

Yellow Pikmin

and

Winged Pikmin

the best for taking them down while they are flying high.

| Weight | Max | Seeds |
| --- | --- | --- |
| × 3 | × 5 | × 4 |

Kettlebug

Antenna Beetle
Mesmeri raiocontra
The Antenna Beetle has, unsurprisingly, two long antennae that it uses to whistle nearby Pikmin to its side. After doing so it will almost immediately jump away, causing them to follow suit, often into danger. The only way to subdue it is attack as soon as it lands before it can whistle or approaching quickly and punching it with a captain, although either strategy has disadvantages. A few instances of the creature have learnt to specifically lure Pikmin into danger, going out of their way to hover over hazards while keeping themselves safe.

| Weight | Max | Seeds |
| --- | --- | --- |
| × 3 | × 6 | × 2 |

Mesmerizing Snapbeetle
Mesmeri raiocirca
The Mesmerizing Snapbeetle is like its cousin in that it can control Pikmin, although it has much more limited control; every few seconds it can "snap," causing all Pikmin within range to act as if dismissed from their captain. This is frustrating if the captain is facing a larger enemy, as they will have to whistle again to recoup their squad, sometimes calling back Pikmin already attacking another creature. They usually come in groups, making them hard to kill but, when not near a more dangerous enemy, they are essentially harmless.

| Weight | Max | Seeds |
| --- | --- | --- |
| × 2 | × 4 | × 1 |

Lithopod

Armoured Cannon Beetle
Granitus chukkulinae
A large grey beetle with a black carapace that is almost completely invincible. It is constantly sucking in air and then shooting out huge, explosive rocks at targets, even if it cannot directly see them. Its only weakness is the blowhole on its head that it sucks air through, which a Pikmin can be thrown into to disrupt its air. It will then open its back to cool itself, revealing a steaming hot grill-like opening that

Red Pikmin

can be thrown onto to damage it. After enough cycles, it will go into flight, giving it more accurate shots and making it harder to target its blowhole; luckily, lodging a Pikmin in there makes it fall to the ground with a thud, damaging it some and opening its weakness.

| Weight | Max | Seeds |
| --- | --- | --- |
| × 16 | × 35 | × 7 |

Armoured Cannon Beetle Larva
Granitus chukkulinae
The larvae of the Armored Canon Beetle, able to shoot the same large boulders but without having to suck up air into a blowhole. Their rocks are shot forwards towards various targets, following the natural geometry of the area as they go. They can be lured into shoot boulders at nearby enemies to damage them, and even at themselves using certain turns on the ground. They do not have the thick exoskeleton of their mature forms so they can be attacked normally by Pikmin, but they will buck them off forwards right into the path of their boulders. They can either be burrowed in the ground or walk around freely.

| Weight | Max | Seeds |
| --- | --- | --- |
| × 7 | × 14 | × 4 |

Arctic Cannon Beetle Larva
Granix chukkulinae
Arctic Cannon Beetle Larva shoot balls of snow instead of boulders, which only cause Pikmin to become stuck in them rather than kill them. Pikmin stuck in snowballs will continue rolling with them until they hit a wall and break, scattering them everywhere. Because of this, it is still more than possible than Arctic Cannon Beetle can kill a Pikmin, just not directly. Much like their relative, their snowballs can be directed back at them, and like other enemies it will do damage to them.

| Weight | Max | Seeds |
| --- | --- | --- |
| × 7 | × 14 | × 3 |

Greater Cannon Beetle
Lapillus eurus
Despite being called "Greater," this is ostensibly a weaker version of the Armored Canon Beetle, albeit less common. It takes longer to suck in air through its blowhole and can only shoot out fractions of rock like a scattershot, knicking captains but usually not hitting Pikmin. It can also be directly attached through its exoskeleton, although using the usual tactic is still advantageous. It is only fought once in the game and is introduced humorously as the "most powerful Lithopod of history," before being easier to defeat than the Armored Canon Beetle, at least for skilled players.

| Weight | Max | Seeds |
| --- | --- | --- |
| × -- | × -- | × -- |

Mandiblard

Female Sheargrub
Himeagea mandibulosa
The female variety of Sheargrubs who appear white with no mandibles and pose no threat at all to Pikmin other than potentially distracting them. They are usually found with males who will try to protect them from enemies, albeit usually unsuccessfully.

| Weight | Max | Seeds |
| --- | --- | --- |
| × 1 | × 2 | × 1 |

Male Sheargrub
Himeagea mandibulosa
The male variety of Sheargrubs who appear purple with small mandibles. They can only eat one Pikmin at a time but do so rather quickly and unexpectedly, making them frustrating to deal with in groups. They can be dispatched with a single hit on the back from any Pikmin type.

| Weight | Max | Seeds |
| --- | --- | --- |
| × 1 | × 2 | × 1 |

Shearblug
Himeagea rotundus
Appearing more grey than their relatives, Shearblugs spend all of their time under the water, only burrowing out of the ground when targets approach. When threatened they retreat into a ball and show their spikes then remain still until the current captain or their Pikmin leave. In this state they can only be damaged by

Rock Pikmin

, as any other Pikmin will be skewered and die on their spikes, but otherwise pose no threat.

| Weight | Max | Seeds |
| --- | --- | --- |
| × 1 | × 2 | × 1 |

Male Shearwig
Himeagea volaris
Bugs with large, dark, green shells and simple wings. They hide underground until they burrow out when Pikmin and captains approach, then immediately fly into the air. After a few seconds they will swoop at Pikmin to grab and eat them, and eventually return to the ground. They will heal while underground but cannot do so while in the air; additionally, while airborn, they can be killed by a single Pikmin throw, but are not as weak while on the ground or partially submerged.

| Weight | Max | Seeds |
| --- | --- | --- |
| × 1 | × 2 | × 2 |

Queen Shearwig
Himeagea volaris
A boss with the power to command male Shearwigs, the Queen Shearwig is large and purple with a drilling mandible. It hovers in the air, sometimes swooping in to drill at the captain and grab Pikmin, while also calling male Shearwigs to emerge and change at them similarly. Shearwigs under her command are more vulnerable and take less hits to kill, but she can only be attacked once enough Shearwigs are defeated. After losing some health she flies away and summons more, then continues fighting in the same way until she dies.

| Weight | Max | Seeds |
| --- | --- | --- |
| × 5 | × 10 | × 6 |

Mantidon
Preying Mantidon
Pugil pius
A fearsome boss, the Preying Mantidon looks like a large praying mantis, as the name would suggest, and hangs onto the branches of trees and other large plantlife waiting for prey to come underneath it. When a captain or Pikmin approach it will jump downwards and instantly begin skewering targets with its long front legs, then bringing Pikmin up to its mandibles and eat them. Captains must throw Pikmin up around its body to target various small orbs to break off pieces of its body, such as its front legs, to stop it from attacking, until it is completely disabled and begins to run away in panic, wherein the head will be low enough to attack.

| Weight | Max | Seeds |
| --- | --- | --- |
| × 6 | × 14 | × 4 |

Mockiwi

Tangerine Mockiwi
Pseudoactinidia perniciosa
A large, feathery creature with vestigial wings and a large beak. The opposite of the Bulborb, it is only awake during the day, patrolling near its nest while clucking and giving chase when it sees a target. Pikmin that land on its back usually hang on but may also bounce off and go flying. They are weaker than Bulborbs and cannot eat as many at a time or as quickly, but they can move quicker and are more alert when awake.

| Weight | Max | Seeds |
| --- | --- | --- |
| × 8 | × 16 | × 3 |

Crested Mockiwi
Pseudoactinidia pomadus
The Crested Mockiwi has a more purple colouration and special head feathers but otherwise resembles a normal Tangerine Mockiwi. It also has the same behaviour, other than being quicker and having a new attack where it roars and charges forward, knocking any Pikmin holding onto it in all directions.

| Weight | Max | Seeds |
| --- | --- | --- |
| × 8 | × 16 | × 3 |

Elongated Crushbeak
Pseudoactinidia podimacris
A mockiwi relative with extremely long legs, long enough so that the camera can barely see it, and a large beak. It will attempt to slam its head down in front of it in order to grab Pikmin with its beak and eat them. Its knee joints have feathers than Pikmin can latch onto and pick off, eventually irritating it enough to force it to fall to the ground. With its head now vulnerable, Pikmin can charge at it and take it out, although it can still eat from the front. Once dead, its legs fall off, leaving only its round head.

| Weight | Max | Seeds |
| --- | --- | --- |
| × 8 | × 16 | × 3 |

Mollusking

Toady Bloyster
Molluschid minionicus
The Toady Bloyster resembles a slug and has a large gill on its back that is its most vulnerable body part; the rest of its body is very tough and can only barely be hurt, but attacking the gill leads to large amounts of damage quickly. When Pikmin are latched onto its gill it will release ink that has a chance of hitting them and sending them into a panic, and will hit all nearby Pikmin on the ground. It can shoot a branched tentacle in front of it that can eat up to 20 Pikmin at once, one of the most devastating attacks in the game, but it can be easily avoided by focusing on the gill. It will drop only its gill when it dies.

| Weight | Max | Seeds |
| --- | --- | --- |
| × 4 | × 8 | × 10 |

Munchtreen

Vehemoth Phosbat
Papilio noctis
A large moth-like bioluminescent giant with large orange wings and a huge mouth. Still a boss, the Vehemoth Phosbat keeps many of its behaviours from Pikmin 3, including flying around its arena while invisible, sucking up Pikmin, and shaking off dust to poison them. THere is now a single lightbulb in each area it can be found in, which can be activated by a nearby electrode; doing so will stun it, allowing it to be hurt and preventing it from throwing off Pikmin. After recovering, it will head to the electrode and disrupt the connection, allowing it to be stunned again. It will also drop Phosbat Pods that spawn small Phosbats.

| Weight | Max | Seeds |
| --- | --- | --- |
| × 35 | × 50 | × 12 |

Phosbat
Papilio noctis
The child of the Vehemoth Phosbat, it is a relatively weak and useless enemy that serves to distract the Pikmin while they are fighting their parent. They can be defeated by a single Pikmin throw or by swarming them, but that will only lead to the Phosbat Pod releasing another child. The Vehemoth Phosbat has a small chance of accidentally sucking one of them up during its attack, and if it does, it will automatically fall to the ground as if it was stunned normally; usually, however, the Phosbats will simply duck their heads and resist the suction.

| Weight | Max | Seeds |
| --- | --- | --- |
| × -- | × -- | × -- |

Orpede
Segmented Orpede
Sphaera congero
A long, centipede-like creature composed of five to ten different orb segments that can be defeated individually by throwing Pikmin onto them. Defeating one will cause damage to neighbouring orbs, and breaking the last orb will cause a shockwave throughout the creature to kill it, leaving only its head. Its large pincers can grab up to five Pikmin at once and scoop them into its mouth, and as its orbs are destroyed, both its pincers and legs will move faster until they more than double in speed once reduced to just a single orb.

| Weight | Max | Seeds |
| --- | --- | --- |
| × 1 | × 2 | × 3 |

Scarab beetle

Anode Beetle
Scarabum electrodea
The flagship scarab beetle, Anode Beetles are small black beetles decorated with tiny yellow spots on their shells and small antennae. They are always found in groups of 3 or more and stay close together, as their main attack requires synergy; two of them will face away from one another, open their back sides, and then generate a line of electricity between their bodies, electrifying any Pikmin that walk between them for a few seconds. In order to defeat them, they must be flipped upside down to expose their fleshy belly, and then charged.

| Weight | Max | Seeds |
| --- | --- | --- |
| × 2 | × 4 | × 1 |

Arcing Anode Beetle
Scarabum electrodea remotus
The Arcing Anode Beetle is larger than its relative and has an additional ability that the standard Anode Beetle does not: the ability to generate sparks of electricity all by itself, choosing a random point nearby and sending a beam of electrons towards as if there was another Anode Beetle there. They usually appear by themselves and are more dangerous than simple Anode Beetles, but can be killed in much the same way.

| Weight | Max | Seeds |
| --- | --- | --- |
| × 4 | × 8 | × 2 |

Scarpanid

Swooping Snitchbug
Scarpanica kesperens
A legless insect that flies around, grabbing onto Pikmin or Captains and slamming them into the ground. Pikmin will be replanted and returned to leaves, a bigger penalty than in past games, while Captains are simply hurt. They are much more likely to take Captains farther away from their spawn point to throw them, often wasting lots of time. They will also sometimes intentionally throw non-

Blue Pikmin

into water.

| Weight | Max | Seeds |
| --- | --- | --- |
| × 3 | × 6 | × 2 |

Muggonfly
Draco saccusporum
Much like the Dandelfly, this enemy flys through the air like a dragonfly, but its body is almost completely composed of its long, spiky tail. It can be seen wrapping around a Pellet Posy before grabbing onto the Pellet with the tail and ripping it out, before flying away with it. Captains can hit the end of its tail to retrieve the Pellet, sometimes up to size 10, or can hit the body for extra seeds as well as to ensure it will not come back to steal more.

| Weight | Max | Seeds |
| --- | --- | --- |
| × -- | × -- | × -- |

Nectarous Dandelfly
Draco dulcis
It is a harmless enemy that resembles a dragonfly, with a segmented body composed of orbs of nectar, alongside a proboscis on the front of its body. Captains can see it wrap around large flowers, sucking up nectar to fill its body, they fly off; hitting its head makes all of its nectar drop, while anywhere else only makes as much nectar drop as remains below it on the body. Hitting in the head also kills it rather than just dropping nectar, allowing it to be retrieved for seeds but meaning it cannot be harvested from again until it respawns.

| Weight | Max | Seeds |
| --- | --- | --- |
| × 8 | × 18 | × 5 |

Scuttlebug
Mitite
Ixodida rancens
Tiny parasitic bugs that reside in eggs and certain creatures, such as Arachnorbs whose treasures have already been retrieved. They constantly emit odors that send Pikmin into a panic, and scuttle around quickly, almost instantly dispersing most captain's entire squad. They can be defeated by throwing a Pikmin onto their back, causing their body to disintegrate, but they will also burrow away after a few seconds regardless.

| Weight | Max | Seeds |
| --- | --- | --- |
| × -- | × -- | × -- |

Ujadani
Ujadani minima
Miniscule bugs that appear rarely in certain areas and only one specific day cycles, such as once every 15 days. There are often 100s at once in the same area, with each constantly releasing clouds of poison that will kill all but

White Pikmin

. When attacked, they are instantly killed and have a small chance of releasing nectar of any type, thus allowing many sprays to be acquired at once alongside a large increase in Pikmin maturity.

| Weight | Max | Seeds |
| --- | --- | --- |
| × -- | × -- | × -- |

Seedbag
Seedbagger
Saccusporum pellucida
White, translucent creature resembling a sea pig that scuttles across the ground near Onions, often approaching them and sucking up Pikmin seeds into its body. Although it does not directly harm Pikmin, it is still a nuisance, especially as its thick body means it has lots of health and takes a while to defeat in order to regain the seeds it has stolen. Although rare, if it sucks up 200 seeds total (meaning no more Pikmin can be withdrawn from the Onion) it will automatically explode and release all of its seeds.

| Weight | Max | Seeds |
| --- | --- | --- |
| × -- | × -- | × -- |

Shellter
Crammed Wraith
Tumidoculum domesticancerius
A sort of snail that hides in a large, conical shell. It has green bug eyes and long arms that it can use to grab and eat Pikmin. It stays outside of its shell while captains and Pikmin are away, then hides when they approach. A small part of their body pokes out while they hide, and Pikmin can grab onto them and pull them out, then start attacking them. Once they have been defeated, their shell is left behind and can be carried, allowing pathways they are blocking to be accessed.

| Weight | Max | Seeds |
| --- | --- | --- |
| × 15 | × 30 | × 5 |

Olfactory Wraith
Tumidoculum nasi
Similar to the Crammed Wraith but released odors while being pulled out, sending nearby Pikmin into a panic and stopping them from pulling. Thus, they can only be defeated by Pikmin that are immune to smell and can ignore their special hazard.

| Weight | Max | Seeds |
| --- | --- | --- |
| × 15 | × 30 | × 5 |

Skitterling

Desiccated Skitter Leaf
Rus pseudoarbicans brunneis
Disguised as a withered leaf, this small bug lays silent on the ground until Pikmin draw near, then pops up and heads towards them to eat them. A single strike by a Pikmin on its back can take it out, but before then it can eat up to three Pikmin at once. They are afraid of captains and will not respond to them at all, making them the ideal candidate to deal with Desiccated Skitter Leaves.

| Weight | Max | Seeds |
| --- | --- | --- |
| × 1 | × 2 | × 1 |

Skitter Leaf
Rus pseudoarbicans
Unlike their cousin the Desiccated Skitter Leaves, normal Skitter Leaves are not dangerous in the slightest, being unable to eat Pikmin at all. They simply scurry when discovered, causing idle Pikmin to try and chase them, possibly delaying retrieval of objects or leading them into hazards. They can also be defeated with a single strike on the back by any Pikmin type, and will not respond to captains, only Pikmin.

| Weight | Max | Seeds |
| --- | --- | --- |
| × 1 | × 2 | × 1 |

Skeeterskate
Rus classicus
The aquatic relative of the other Skitterlings, the Skeeterskate balances on the water with its three feet, taking potshots at other creatures (including Pikmin) of water with its nozzlenose. It can be killed in one shot like other Skitterlings by throwing a single Pikmin at it, although Pikmin that are not immune to water might drown in the process. They can also be killed by beaching them through various methods, instantly collapsing into dust and not leaving behind a body. Although their water is annoying, they cannot eat Pikmin.

| Weight | Max | Seeds |
| --- | --- | --- |
| × 1 | × 2 | × 1 |

Slooch

Pyroclasmic Slooch
Limax igneus
A large sug creature that leaves behind a trail of burning oil, burning any Pikmin that come across it; its body also burns constantly unless doused in water. It has two antennae near the top of its body and stripes of yellow like that of lava. Its main attack is flicking its tongue in front of it, eating a few Pikmin at once after a long moment of chewing. The fire it leaves behind can easily burn Pikmin returning objects to home base as they will not try to avoid it actively.

| Weight | Max | Seeds |
| --- | --- | --- |
| × 3 | × 6 | × 1 |

Terminus Slooch
Limax gelus
Much the same as its relative, the Pyroclasmic Slooch, the Terminus Slooch leaves behind frozen oil that will trip any Pikmin that walk over it unless they are invulnerable to ice. Their body is also coated in a freezing material that will cause any Pikmin that touch it to turn to ice, while their tongue attack is slightly faster than their relative. Leading them to water will freeze their entire body into ice and make them immobile, and a

Rock Pikmin

can then be used to instantly shatter them.

| Weight | Max | Seeds |
| --- | --- | --- |
| × 3 | × 6 | × 1 |

Snavian

Burrowing Snagret
Shiropedes anacondii
A snake-like creature with a large, avian head. It will remain hidden underground until it notices Pikmin, at which point it will burrow outwards and begin pecking up one or two at a time. Once it grabs around 10 Pikmin, it will begin to chew them up and kill them, then burrow back into the ground. Its hind is covered in scales and is almost impenetrable, so damage is more easily dealt by throwing Pikmin at its exposed head.

Winged Pikmin

can work together to pull it out of the ground, revealing its single leg. It sometimes stabs its head into the ground, opening itself up for attacks but also damaging captains.

| Weight | Max | Seeds |
| --- | --- | --- |
| × 15 | × 30 | × 6 |

Sputtlefish

Sputtlefish
Saepiae atramento
The Sputtlefish is a small aquatic creature with leaf-like apendages and flower-like tentacles. Upon seeing a Pikmin, they will move towards them and begin to suck them up slowly; if attacked, they will release a cloud of ink that will cause Pikmin to panic and run away. If a captain calls the inked Pikmin, they will return to the squad. They can be swarmed by

Blue Pikmin

while almost any other type will struggle to do anything against them.

| Weight | Max | Seeds |
| --- | --- | --- |
| × 4 | × 8 | × 2 |

Umbloda

Medusal Slurker
Chrysaora saum
The Umbloda family captures Pikmin with their large uvulas and slowly apply elemental transformation effects to them, usually killing them. They can also capture other items within them, both spawning with them and picking them up dynamically. It is the only enemy in the game that can apply the Petrification Effect, otherwise being exclusive to the Super Bitter Spray. It will petrify any Pikmin it consumes after a while, and only

Rock Pikmin

are immune. It can hold up to 15 Pikmin at once, with items counting as 5 Pikmin.

| Weight | Max | Seeds |
| --- | --- | --- |
| × 5 | × 10 | × 4 |

Arctic Slurker
Chrysaora congelatio
It is the largest of the Umblodas and applies the Freezing Effect to Pikmin within. It is quite hard to fight, as whistling near its body threatens to kill the frozen Pikmin. It also has an attack it performs where it heads to a source of water, ingests large amounts, and then ejects frozen cubes of ice at the Captains and Pikmin, causing crushing damage and sending them backwards. It can hold up to 25 Pikmin at once.

| Weight | Max | Seeds |
| --- | --- | --- |
| × 5 | × 10 | × 4 |

Luring Slurker
Chrysaora lengens
Unlike the other mmembers of the Umbloda family, Luring Slurkers cannot kill Pikmin, leaving them inside their bodies until the Captains leave the planet. It usually drops down from the ceiling of caves and grabs a few Pikmin before running away, only to do it again later. It is very difficult to kill and retrieve the Pikmin, but poses no direct threat to them, instead being a nuisance when fighting other enemies. It can hold up to 10 Pikmin at once.

| Weight | Max | Seeds |
| --- | --- | --- |
| × 1 | × 2 | × 1 |

Clicking Slurker
Uvulans descendii
Clicking Slurkers attack to ceilings or branches with a short web of tentacles and hang their long tongue downwards, never moving. Pikmin that get stuck on their tongue are carried upwards and then caught inside its body, where they are subject to burning attacks.

Red Pikmin

must be used to defeat them, as they can survive the fire and attack from inside. Afterwards, the tongue remains and can be used by Pikmin to climb upwards. They make a distinctive clicking sound while burning, and can hold up to 5 Pikmin at once.

| Weight | Max | Seeds |
| --- | --- | --- |
| × 2 | × 5 | × 2 |

Waddlepus

Waddlepus
Polypus bullitus
The Waddlepus is a large enemy usually encountered near bodies of water that resembles an octopus or starfish. They are asleep during the day until approached by a captain or Pikmin at which point they will awake and begin to inflate with air or water, and then release it from their mouth in the form of bubbles. They can also release bubbles out of the pores on their back to remove Pikmin attacking their hindside. In either case, the bubbles will capture Pikmin and cause them to float upwards, slowly killing Pikmin that are not immune to water damage. Winged Pikmin can fly upwards and pop bubbles if charged.

| Weight | Max | Seeds |
| --- | --- | --- |
| × 7 | × 15 | × 4 |

Boiling Waddlepus
Polypus bullitus ulcus
Boiling Waddlepusses are similar to their cousins the Waddlepus, other than their red colouration and the fact that their backside is constantly steaming hot; any other type of Pikmin will instantly catch on fire when brought near it or when exposed to its bubbles. Only

Red Pikmin

can do effective damage on it, although

Rock Pikmin

will damage it before erupting in flame, while Winged Pikmin can pop bubbles but will also be burnt. It has less health than the normal Waddlepus, and loses its boiling properties when submerged in normal water.

| Weight | Max | Seeds |
| --- | --- | --- |
| × 7 | × 15 | × 4 |

Whiskerpillar
Ravenous Whiskerpillar
Lepidoptera pluckieus
Ravenous Whiskerpillars resemble caterpillars with long, spiky facial hair. They congregate around Burgeoning Spiderworts and then climb them, knocking off berries before jumping down to eat them. They will fight any Pikmin also on the Burgeoning Spiderwort and may knock them off, but cannot kill them. When a captain draws near they will flee into nearby vegetation.

| Weight | Max | Seeds |
| --- | --- | --- |
| × 1 | × 1 | × 1 |

Patient Whiskerfly
Lepidoptera pluckieus
The mature form of the Ravenous Whiskerpillar, the Patient Whiskerfly has grown wings and a long probiscous that is uses to feed from the Burgeoning Spiderwort. They will flee when captains or Pikmin approach. Once they absorb nectar from the Burgeoning Spiderwort for a sufficient amount of time, they may lay small eggs that will hatch into Whiskerpillars; as a result, it is usually best to get rid of them to prevent Whiskerpillars from spawning and preventing Pikmin from effectively harvesting spray berries.

| Weight | Max | Seeds |
| --- | --- | --- |
| × 1 | × 1 | × 2 |
Ship Parts
Name
Information
Upgrades

Rocket Fist
Originally the Brute Knuckles, this upgrades increases the captain's ability to punch to deal damage, allowing them to perform two successive punch combos that deal much more damage and have a wider hitbox.

| Weight | Max |
| --- | --- |
| × 15 | × 25 |

× 500
50%+ Damage

× 750
More Range

× 1400
Additional Attack

"We were able to integrate this large statue of a knuckle into our suits' defensive capabilities, giving us a much longer range with our melee attacks. It frankly seems a bit distasteful to destroy so much of the local fauna with our own bodies, at least compared to the Pikmin; after all, we are only leading them to do what they would do anyways, right? Certainly they are not invasive organisms...."


— Captain Eli


Rush Boots
Originally the Repugnant Appendage, this upgrades increases the speed of captains and their squad of Pikmin by 40%. Because Pikmin's speeds are also increased, they will not fall behind due to the captain's heightened velocity.

| Weight | Max |
| --- | --- |
| × 20 | × 30 |

× 500
10%+ Speed

× 750
10%+ Pikmin Speed

× 1000
Wind Resistance

"The Pikmin were not enthused with the smell of the treasure we used to craft this upgrade. Regardless, we brought it back to base and used it to augment our own, much smaller boots, allowing us to walk briskly like a sort of marathon runner despite our lack of... advanced physical training. It brings to mind images of whatever giants must have worn this shoe and how they must have looked, grazing across the planet with long, heavy steps."


— Captain Eli


Mega Speaker
Originally the Mega Tweeter, this upgrade allows captain's whistles to spread much quicker and to a radius more than 20% larger and higher than before, letting them call back Pikmin at a much more efficient rate.

| Weight | Max |
| --- | --- |
| × 20 | × 30 |

× 400
+10% Growth Speed

× 550
+10% Range

× 2000
Plucks Pikmin

"The dreaded noise made by this contraption does not lay any softer now on my ears than it did when I was with Louie, but it at least allows us to call back the Pikmin at incredible rates. I often wonder if they do not always hear us regardless of where we sound off our whistles, and somehow have a greater knowledge of our intentions, only coming to our sides when we try to command it. Thus, what does this invention truly do?"


— Captain Olimar


Dodge Whistle
The Dodge Whistle allows captains to call for their entire squad to dodge directionally either straight left or right or, if targetting an enemy, around it in a circular fashion. This lets captains make quick dodges versus enemy attacks and move into areas they normally could not enter.

| Weight | Max |
| --- | --- |
| × 10 | × 20 |

× 400
10%+ Dodge Speed

× 550
10%+ Dodge Distance

× 1200
Dodging Stuns Enemies

"I was worried we would have to somehow hold this from within our suits, but it was luckily integrated into our main whistle framework. Why do we have that, anyways? Do explorers usually find small creatures that respond only to whistle noises? The further I think, the most confused I get! At least we can now dodge to the left and right, bringing back the sense of young age where I was quite the athletic young Hocotatian."


— Captain Olimar


Metal Suit Z
Originally the Justice Alloy, this upgrade increases the integrity of captain's suits, allowing them to withstand more damage from all sorts of enemy attacks.

| Weight | Max |
| --- | --- |
| × 10 | × 20 |

× 450
10% Less Damage

× 750
10% Less Damage

× 1200
Less Stun Time

"This rather uncomfortable getup provides us acute protection from biological attacks such as biting, scratching, kicking, impaling, stabbing, flailing, bumping, too-enthusiastic-hugging, punching, thumping, squashing, crushing, scrubbing, stubbing, clubbing, etc.."


— Captain Eli


Anti-Electrifier
Originally the Dream Material, this upgrades makes captains immune to electricity and electrified attacks. It is important as, during certain bouts of weather, bolts of lightning can come from the sky; at first, this only makes captains immune, but eventually it stops them for being hit at all, protecting nearby Pikmin.

| Weight | Max |
| --- | --- |
| × 10 | × 20 |

× 400
10% Pikmin Electricity Protection

× 550
Heal Health From Electricity

× 1200
Don't Attract Lightning

"I was tired of being zapped by the odd contraptions around the planet, and would have nearly invented this myself if we hadn't stumbled upon it first. It protects us from various electric attacks, which are bizarrely common here on PNF-404. Perhaps when I return home I shall outfit my abode with an electrical defense system, and hope that I do not zap myself more often with it than any hypothetical home invaders."


— Captain Olimar


Scorch Guard
Originally the Forged Courage, this upgrades increases captain's resistance to fire hazards and flame-based attacks, as well as hot areas. Although it is optional, many of the later areas have latent heat that can cause slow damage to captains that do not have this upgrade, making it very important. Later upgrades unlock its ability to protect Pikmin from this latent heat as well.

| Weight | Max |
| --- | --- |
| × 10 | × 20 |

× 200
10% Pikmin Fire Protection

× 300
Heal Health From Fire

× 500
Immunity To Heat

"Luckily, this piece of equipment defends both the insides and outsides of our suits from exposure to high temperature. I believe that, with enough Sparklium, we could further upgrade our suits to withstand greater flames than can already be deflected by the Scorch Guard. We will have to experiment with that..."


— Captain Eli


Radar
Originally the Whimsical Radar, this upgrade unlocks the Radar ability that has been present in every game. By opening up the map, the player can see every Pikmin on the map, as well as recently seen enemies, certain treasures and Ship Parts, and key areas. Markers can also be placed down on the map to denote important locations for later use.

| Weight | Max |
| --- | --- |
| × 20 | × 40 |

× 500
More Treasure Hints

× 550
Longer Enemy Shown Range

× 1200
Unlocks "Go Here"


"One of the first upgrades we recovered from our crashed ship, and lucky that. Ever since my first adventure, radar technology has improved technology. Not only does it allow us to locate Pikmin and obstacles across the map, it even gives us hints to wherever treasures and other Ship Parts may lie! Lets just hope its more accurate than my GPS at home."


— Captain Olimar


Low Orbit Engine
Also known as the Main Engine in Pikmin, this Ship Part unlocks the ability to enter low orbit with the Ship and Onions and thus relocated to another area. It is one of the most important upgrades in the game and can be unlocked almost immediately, although it is technically optional. It unlocks the "Return To Ship" option in the pause menu as well as the ability to enter orbit while at the ship, as well as the counter at the top right listing how many Pikmin are currently in danger of being lost when orbit is entered.

| Weight | Max |
| --- | --- |
| × 20 | × 40 |

× 100
Move To New Position When Returning

"Ah, memories of recovering this important engine on my first excursion to PNF-404. Just like back then, we found this almost as soon as we landed, allowing us to reenter orbit and avoid the terrifying night of this planet. I shudder to think of the horrible things I made have encountered if I hadn't found the Main Engine so soon on that fateful day that I first encountered the Pikmin!"


— Captain Olimar


Lift-Off Gear
Although originally the Eternal Fuel Dynamo and used on the S.S. Dolphin, this ship part is now used to unlock the ability to use the jetpack while exploring by pressing . Any Pikmin are left on the ground and attempt to follow beneath the captain while they are using the jetpack.

| Weight | Max |
| --- | --- |
| × 40 | × 60 |

× 400
10%+ Jetpack Speed

× 550
10%+ Jetpack Height

× 1700
Pikmin Latch Onto Jetpack

"Jetpacks have become an invaluable part of every explorer's kit, and so we brought alongside Lift-Off Gear for our trip to PNF-404. Unfortunately it was dislodged in our crash landing, but our swift recovery of it has enabled us to regain our ability to fly close to the ground. No longer am I jealous of the birds in the sky, taunting us with their beautiful wings and lack of groundedness."


— Captain Eli


Touchdown Protector
Originally the Nova Blaster, this upgrade enables the Ship to shoot at any enemies present in the nearby area when touching down from low-orbit, dealing large amounts of damage, possibly killing them, and leaving their body behind to be retrieved easily by Pikmin. It is most useful at night, where enemies are likely already present near the ship, as it will sizably reduce the amount of enemies that must be fought.

| Weight | Max |
| --- | --- |
| × 30 | × 50 |

× 500
Additional Shots

× 750
Additional Damage

× 1300
Leaves Behind Bodies

"Light Raygun technology has seen stunning developments in the past years; prior to recent growths in the field, the concept of a massive spacegun was untenable. Still, that didn't stop lying salesmen from peddling spaceguns has the ship part of the future. Soon, you will need these to fend off space pirates from across the galaxy; the modern space trader will soon become the intergalactic bounty hunter! Needless to say, these guns didn't actually work. Luckily, ours does, and it will protect us as we touch down from dangerous creatures nearby."


— Captain Eli


Unending Protection
Originally the Guard Satellite, this upgrade is the counterpart to the Touchdown Protector, automatically shooting at enemies that approach the Ship and Master Onion regardless of the current time. This protects the current landing site from enemies and ensures that Pikmin cannot be attacked while idleing back at base.

| Weight | Max |
| --- | --- |
| × 20 | × 40 |

× 500
Additional Shots Before Recharge

× 750
Additional Damage

× 1400
Greater Ship Safety Area

"I had a terrible dream last night... three Pikmin carrying a Pellet back to base, standing still under their Onion, when a Spotty Bulbear approaches... Eli and I far away, unable to stop the catastrophe. No! I must do something... well, now I have. I led the squad to recover the treasure allowing us to install the Unending Protection protocol, stopping any creature that dares enter our peaceful base."


— Captain Olimar

Minerals
Name
Information

Petrified Heart

| Count | Weight | Max | Worth |
| --- | --- | --- | --- |
| 2 | × 10 | × 20 | × 200 |

"I am reminded of my family as I peer into the beautiful colour and refracted light of this small crystal; its heart shape like the love I hold for them, the colour like the burning passion for which I work to keep them safe... soon this last trip will be over and I can return to them one last time."


— Captain Olimar


Eternal Emerald Eye

| Count | Weight | Max | Worth |
| --- | --- | --- | --- |
| 1 | × 15 | × 30 | × 400 |

"Routine sample analysis returns a 99% probability that the mineral found within the "eye" of this treasure is emerald, a gem that seems to form much more commonly on PNF-404 than on Hocotate. Current hypotheses show that the increased release of gas in hydrothermal vents near the more prevalent oceans of PNF-404 are the cause of this difference. As one without much of an eye for these precious gems, it doesn't make much difference to me."


— Captain Eli


Regal Diamond

| Count | Weight | Max | Worth |
| --- | --- | --- | --- |
| 1 | × 10 | × 20 | × 1000 |

"Although the density of diamond seems to be quite similar between PNF-404 and our origin planet, they are nonetheless valuable as treasures and, despite all odds, seemingly rather common on the surface here. Just as everything else does, this oddity appears to point towards some sort of higher consiousness present around us that has the same vested interest in unearthing diamonds, perhaps motivated by their beautiful shine or rarity just as we are. How interesting that every sentient lifeform across the galaxy shares the same lingering for shiny objects."


— Captain Eli


Azure Regal Diamond

| Count | Weight | Max | Worth |
| --- | --- | --- | --- |
| 1 | × 10 | × 20 | × 1100 |

"I've read studies that seem to suggest that the odd colouring on certain diamonds, such as this sample, come from higher concentrations of different elements; a blue diamond simply contains more boron that expected, giving it a slight tint. Given the higher value back on Hocotate for these miscoloured rarities, I have begun to wonder if we could artificially alter their colour through injection of boron..."


— Captain Eli


Ivory Regal Diamond

| Count | Weight | Max | Worth |
| --- | --- | --- | --- |
| 1 | × 10 | × 20 | × 1100 |

"There is a cruel irony everywhere here on this dreaded planet, and the Ivory Regal Diamond we have found only expounds on them. I have grown tired of treasure hunting and jaded by greed, but my one hope was to find a perfect red diamond to sneak home to my wife. It would justify this entire experience, just to see the look on her face... and yet, from everything we've found, there is no sign of it. Green, yellow, blue, but no red. It is as if the planet is mocking me..."


— Captain Olimar


Verdant Regal Diamond

| Count | Weight | Max | Worth |
| --- | --- | --- | --- |
| 1 | × 10 | × 20 | × 1100 |

"Another example of the strange colouration arising during the natural formation of these diamonds: radiation causes electrons tbe trapped within the surface, reflecting green light more effectively and giving this treasure its distinctive tint. All of the factors, both geological and organic, that have arisen to allow us to come to this planet, explore it, and find such beauties are too grand to comprehend for a small Hocotatian such as I; perhaps I shall leave it for the philosophers to ponder."


— Captain Eli


Tear Stone

| Count | Weight | Max | Worth |
| --- | --- | --- | --- |
| 3 | × 5 | × 10 | × 200 |

"I saw a large raindrop fall onto a Pikmin's head yesterday, sending it into a panic. Rather than assist their companion, all of the Pikmin around it simply stood there, unbothered by its panic. Given the Pikmin's pack strategy proclivities, I wonder if there was not some cosmic meaning to it; perhaps, if one's life is taken by a tear drop from the heavens, they were destined to go? No, I doubt the Pikmin hold some deep and metaphorical sensibilities."


— Captain Olimar


Blood Stone

| Count | Weight | Max | Worth |
| --- | --- | --- | --- |
| 2 | × 5 | × 10 | × 200 |

"The striking similarities between this stone and the "Tear Stone" identified by Captain Olimar led me to give this its otherwise peculiar title."


— Captain Eli


Princess Pearl

| Count | Weight | Max | Worth |
| --- | --- | --- | --- |
| 7 | × 3 | × 7 | × 50 |

"I only remember seeing one of these pearls on my original trip with Louie so long ago, failing to imbue me with any deep sense of appreciation like the other precious stones we found did. For me, it was just another treasure to grab, losing so many Pikmin lives in the process. Now that Eli and I have found so many strewn across the surface, I feel that my feelings then were justified."


— Captain Olimar


Crystal Clover

| Count | Weight | Max | Worth |
| --- | --- | --- | --- |
| 2 | × 20 | × 40 | × 500 |

"We debated separating the brooch and the emerald within, hoping that the two would be more valuable apart than together, but Captain Olimar decided against it in the end. It makes me wonder if he wasn't painfully reminder of him and his old exploration partner being ripped apart over and over in their adventures..."


— Captain Eli


Essence of Rage

| Count | Weight | Max | Worth |
| --- | --- | --- | --- |
| 1 | × 25 | × 45 | × 1000 |

"Despite sales claims, this hardly serves to make me warmer, nor to make me any more angry. I have suggested we begin giving more serious and literal names to what we find; since then, Captain Olimar's names have only grown more sentimental."


— Captain Eli


Essence of Despair

| Count | Weight | Max | Worth |
| --- | --- | --- | --- |
| 1 | × 25 | × 45 | × 1000 |

"After seeing this treasure up close, I am reminded of the gems I once held dear, the Sagittarius and Libra that my children gave to me before I left on my doomed vacation. To remember those times again... now, it feels like it was all worth it. But then? I was scared for my life. Would I ever get home to my family? Eventually I did, but eventually, adventure called it. It seems I never learned..."


— Captain Olimar


Essence of True Love

| Count | Weight | Max | Worth |
| --- | --- | --- | --- |
| 1 | × 25 | × 45 | × 1000 |

"Reminiscent of some sort of rectangular cookie or butter biscuit. Please do not attempt to eat the treasure; you might lose your teeth, our most important mineral."


— Captain Eli


Essence of Desire

| Count | Weight | Max | Worth |
| --- | --- | --- | --- |
| 1 | × 25 | × 45 | × 1000 |

"The sign of galactic dreams, interstellar ambitions, a neverending search for discoveries and treasure... a symbol of everything we ever have and ever will aspire to be or do. The Essence of Desire represents all of my expeditions and, above all, each and every one of my mistakes. But at least the amethyst within is rather pretty."


— Captain Olimar


Joyful Jewel

| Count | Weight | Max | Worth |
| --- | --- | --- | --- |
| 1 | × 15 | × 30 | × 400 |

"I hesitated to collect this, remembering a time in the past where my companion and I wasted hours filled with pain just to bring back a similar looking but worthless plastic ring. Captain Eli, however, convinced me otherwise, and our hopeful quest rewarded us with this truly genuine beauty. In honour of this, I have named it after the original sham, albeit with a more... positive spin."


— Captain Olimar


Pink Companion

| Count | Weight | Max | Worth |
| --- | --- | --- | --- |
| 1 | × 15 | × 30 | × 400 |

"Captain Olimar was adamant that we neglect to pick up this interesting piece of jewelry, convined that it would be made out of some sort of oil synthite. Of course, I convinced him to bring it back regardless, and it turned out to be made of perfectly real gold and ruby. I wish he was not so superstitious!"


— Captain Eli


Frosty Bauble

| Count | Weight | Max | Worth |
| --- | --- | --- | --- |
| 2 | × 15 | × 30 | × 400 |

"These circular designs are so troublesome to return to the ship with; I struggle to watch the Pikmin try and huddle around, grabbing onto the thin air in the middle. It only makes me imagine what sort of giants would need such a behemoth ring, and where they would possibly wear it..."


— Captain Olimar


Lustrous Element

| Count | Weight | Max | Worth |
| --- | --- | --- | --- |
| 3 | × 5 | × 10 | × 300 |

"Contrary to previous opinions, this large object is merely made of gold, not a more interesting composition of elements as previously thought. Although this is disappointing to me, it seems that many would rather have a large plate of gold than an incredible scientific discovery."


— Captain Eli


Mirrored Element

| Count | Weight | Max | Worth |
| --- | --- | --- | --- |
| 5 | × 5 | × 10 | × 250 |

"Captain Eli is entertaining a hypothesis that this is supposed to be some sort of large coin, much like the Pokos back home, but I cannot fathom why someone would imprint such art on a coin that is meant to be traded over and over. Surely, at some point, the design would wear away? Or does it represent the eternal entropy of the world, the loss of creativity to the void of forever? Or maybe it makes people feel better about selling away their possessions for money? So many questions remain!"


— Captain Olimar


Quartz King

| Count | Weight | Max | Worth |
| --- | --- | --- | --- |
| 2 | × 65 | × 85 | × 400 |

"

The

Rock Pikmin

we have found are very skilled are excavating treasures and other objects from within large hunks of crystal, but their shells did nothing against this item. Early analysis shows no differences between it and the other crystals on the surface of PNF-404, leaving yet another mystery. For now, we have recovered it for further study.

"

— Captain Eli


Unknown Merit

| Count | Weight | Max | Worth |
| --- | --- | --- | --- |
| 6 | × 3 | × 6 | × 50 |

"Possibly a wheel for some sort of large vehicle."


— Captain Eli


Golden Sunseed

| Count | Weight | Max | Worth |
| --- | --- | --- | --- |
| 1 | × 6 | × 10 | × 150 |

"I was ready to sink my teeth into what seemed a scumptious, fruity treat, before realizing it was coated in not-so-tasty gold. At any moment, any of my ambitions may be torn away from me yet again on this dreaded planet. Curse the gilding gods!"


— Captain Olimar


Golden Grenade

| Count | Weight | Max | Worth |
| --- | --- | --- | --- |
| 1 | × 1 | × 2 | × 100 |

"Its only explosive property is the alleged taste of the similar Cupid's Grenade that we have yet to encounter on our current trip. According to Captain Olimar, it was 'like a bomb on the taste buds.' I would prefer to use a more objective descriptor to describe this treasure, such as this: 'inedible.'"


— Captain Eli


Attitude Adjuster

| Count | Weight | Max | Worth |
| --- | --- | --- | --- |
| 1 | × 15 | × 30 | × 500 |

"Despite appearances, the ratio of size between the diamond and the ring provokes no structural problems. If only we knew of the enngineering required to produce such a feat..."


— Captain Eli


Metal Bagel

| Count | Weight | Max | Worth |
| --- | --- | --- | --- |
| 5 | × 3 | × 6 | × 20 |

"My clever naming of this sizable object does not betray the fact that I, really, know that nuts are. My ship is made completely with nuts! Of course I knew that they weren't found only on PNF-404! And I definitely am not only writing this after Captain Eli has enlightened me on some key facts..."


— Captain Olimar


Metal Vine

| Count | Weight | Max | Worth |
| --- | --- | --- | --- |
| 7 | × 3 | × 6 | × 10 |

"A large screw of little value."


— Captain Eli


Conducting Bar

| Count | Weight | Max | Worth |
| --- | --- | --- | --- |
| 3 | × 80 | × 100 | × 100 |

"In physics class on Hocotate, we would learn for hours about conducting bars being moved through magnetic forces. Never did I imagine that I would see such hypotheticals come to life the way I am now. I wonder if I can perform experiments on it while we have downtime?"


— Captain Eli


Immeasurable Ingot

| Count | Weight | Max | Worth |
| --- | --- | --- | --- |
| 2 | × 80 | × 100 | × 250 |

"The Pikmin surprised us yet again by carrying these incredibly heavy ingots of what seem to be gold or some other valuable material. It is surely worth a great deal of Pokos, although I doubt the Pikmin care about that, if they could even fathom such a concept as currency. To them, is a Pellet not more valuable than a useless ingot?"


— Captain Olimar


Reflective Carpet

| Count | Weight | Max | Worth |
| --- | --- | --- | --- |
| 1 | × 25 | × 50 | × 600 |

"Staring into this stone makes me think of my first nights in space, learning to travel the cosmos as a young pilot. I had no idea the course my life would take, and how my traversing the galaxies would lead to such incredible discoveries. Now, my last expeditions have led me here, to see yet again that destined starry night..."


— Captain Olimar


Heart of Darkness

| Count | Weight | Max | Worth |
| --- | --- | --- | --- |
| 2 | × 20 | × 40 | × 500 |

"Captain Olimar claims that this stone resembles a heart shape, but I can barely see it. Frankly, I am embarassed to say what I believe it looks like most."


— Captain Eli


Conducting Bar Lookalike

| Count | Weight | Max | Worth |
| --- | --- | --- | --- |
| 1 | × 80 | × 100 | × 100 |

"I could have sworn this was yet another Conducting Bar when we returned it to the ship, but it claimed it was something else entirely. Apparently, its an interesting element: platinum. I am more of a biologist myself, but all of the different types of minerals we have seen so far have thoroughly interested me."


— Captain Olimar


Worthless Gem

| Count | Weight | Max | Worth |
| --- | --- | --- | --- |
| 2 | × 25 | × 50 | × 10 |

"By all means, this gemstone is almost completely worthless, and the ship's appraiser application seems to agree. Its ugly tint, odd shape, and uninteresting physical make-up give no reason to value it any higher than a clod of dirt. Frankly, I am disappointed we even stopped to retrieve it."


— Captain Eli


Incredible Device

| Count | Weight | Max | Worth |
| --- | --- | --- | --- |
| 1 | × 15 | × 30 | × 1000 |

"We believed this to, at first, be some sort of intricate ring, but its design is so complex and detailed that I refuse to ascribe it such a lowly purpose. It MUST be something greater - a cultural artifact inscribed with an ancient language, or a doomsday macine of sorts. I have ordered the ship to treat it with the greatest carefulness."


— Captain Olimar


Chaos Embodiment

| Count | Weight | Max | Worth |
| --- | --- | --- | --- |
| 1 | × 35 | × 50 | × 300 |

"Sometimes, I find disorder in the universe to be empowering. Looking at this stone, I see all of the random forces that could have destroyed life so long ago, but instead seemed to create beauty. Why does life continue going on around PNF-404 while such dangers are always present; flame jets, poisonous gas, even electricity, all seem at odds with existence. Yet, the living push on."


— Captain Eli


Obstacle Course

| Count | Weight | Max | Worth |
| --- | --- | --- | --- |
| 1 | × 50 | × 65 | × 500 |

"A beautiful image came to my mind as we retrieved this - Pikmin hopping and skipping across its surface, like a game of parkour, avoiding the spikes coming out. Then I remembered the incredible tasks they accomplish every day and decided that they have had enough thrills for now."


— Captain Olimar