Pianta is not from Fantendo. However, this article may include related fan ideas.

These external sources may have official, more accurate information:

This article is free to edit. Please follow the article standards and respect good-faith contributions.
"You saved me! Thanks a bundle!"


— Pianta, New Super Mario Sunshine
Piantas are a peaceful species that inhabits Isle Delfino with the Nokis, Yoshis and Tanookis, although they appear to be the dominant race. On the Islands they are a peaceful race however in mainland Mushroom Kingdom they have affiliations with the Mafia. Their most notable member is their leader, Piantok.
Game Appearances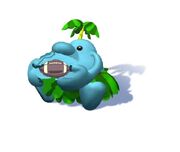 A Hockey Player
Pianta appears playable in Super Mario MHL.
Back in Isle Delfino
They make a return in the remake of the first game they appeared in, New Super Mario Sunshine. They can be trapped in places, selling things or just hanging around. If you save them you can get a 1-Up Mushroom, Shine Token or (rarely) a Shine Sprite.
Island Dwellers
Piantas will be appearing in the game Super Mario Wii U. Notable members will include the Doot Doot Sisters and Don Pianta. However, in most of the levels male and female Piantas can be seen in the background waving. There will be one time when Mario or Luigi gets hurled into the air. The bros. can also talk to the species. They will say lines like, "Mmmmm... fruit," or, "What a pretty day." Mario and Luigi can talk to the Doot Doot Sisters, and Don Pianta appears as a miniboss.
Mariokart Wii: Xtreme Road Racing
They appear in Mariokart Wii: Xtreme Road Racing, but this time are called "plant-o"
Super Mario 64 Deluxe
A group of Piantas appears in Super Mario 64 Deluxe as NPCs, but however, you can unlock a Pianta as a playable character by entering a cheat code using the controls, the playable Pianta can make a super ground pound.
In the game, the playable Pianta is voiced by Dwayne Johnson, which now bears huge resemblance to Maui a character from Disney's 2016 Animated Film Moana, since Maui and Pianta are now voiced by the same person, both wear hula skirts, both are heavyweight and live in a tropical island.
Mario Tennis: Heroes Vs Villains
Pianta appears as a playable character in Mario Tennis: Heroes Vs Villains. It's forwards/backward trick shot is Super Sprint where it puts its arms behind it and sprints forward and its side trick shot is Hula Dance where it hula dances the direction you pushed. Pianta's Special Shot is Fruitful Launch where a bunch of fruit rains from the sky carrying the Pianta in the air. Pianta's villain is Monty Mole and it's Villain Special Shot is Chuckster where it picks up Monty Mole and chunks him far.
Pianta is a playable character in Mario Super Sluggers HD, a remake of Mario Super Sluggers.
A Pianta, specifically a Chuckster from Super Mario Sunshine appears as an Assist Trophy in game. When summoned, the Chuckster will grab opponents at random and throw them off the stage. Opponents at higher damage percentages will be insta-KO'd. Various Piantas also appear as Spirits and background characters in various stages such as Delfino Plaza and Ricco Harbor.
Gallery