Phil Buckitt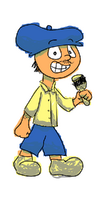 Phil holding a paintbrush.
GENERAL INFO

GENDER
♂ Male
SPECIES
Human
Avid artist
Phil Buckitt
is a quirky young adult who likes socializing, philosophy and coffee.
Personality
Phil Buckitt lives on this boundary between liveliness and being chill. He gives off energetic vibes without ever getting too peppy. He has come to terms with the unfairnesses of life before, but never lets them get through to him, instead using them for intermittent quips of observational comedy.
Phil's salient interest is art. When he isn't drawing or painting professionally, Phil can often be found doodling on napkins and the like. He frequents the museum for inspiration and intellectual sustenance, never dismissing a piece based on style or genre. Phil used to pursue writing poetry and making computer graphics, but "that never panned out".
Appearances
Phil has not yet appeared in any media. He is, however, slated to debut in Nintendo vs. Fantendo: Iconic Warriors.
Gallery
Trivia
Phil's name and personality were based on the "fill bucket" tool in image editing software.
His nose was added to the character design at the last minute.
Community content is available under
CC-BY-SA
unless otherwise noted.