This article is part of the Medieverse. Surely you're not looking for the original Pesh?
Pesh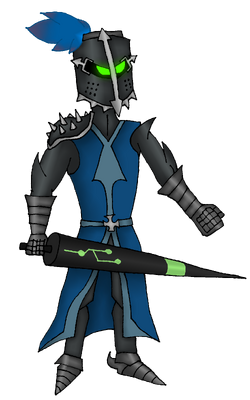 GENERAL INFO

GENDER
♂ Male
SPECIES
Human
CURRENT STATUS
Alive
AGE
40
BIRTHPLACE
Orientis
PERSONAL INFO

OCCUPATION(S)
King of Regno
MISCELLANEOUS INFO

SERIES
Medieverse
CANON APPEARANCES

TBA
Pesh, often called the Black Knight, is a character in the Medieverse who takes a major role in the story.
History
Not much is known about the past of Pesh, the earliest record of what is known about him is when he was appointed as the kingsguard of Io in Regno. Nobody had ever seen him training or working as a soldier in the army, he just suddenly appeared. He served Io loyally. He killed Fera's father, another knight, for teaching Fera how to fight. When Cheryl took the throne, he was exiled from Septent. He changed his appearance and became known as the fearsome Black Knight.
Physical description
Personality
Ever since he appeared in Septent, Pesh always seems to have been a rotten, bitter person from the inside and outside. He is despised by many, and he despises everyone back. Nobody has ever seen him smile and even wonder if there is a heart inside of him. When something happens, his first intuition is to use violence, often resulting in some near death, or just dead. Strangely he does seem to care for animals, and would hate to see one get hurt, it being a trigger of him when it happens.
Abilities
Pesh is one of the strongest warriors in the kingdom of Regno. His strength is only rivaled by that of Fera, who seeks to avenge her dad against him. Pesh has a thick armor that protects him, and wields his signature lance, which is covered in the dried blood of his victims. He uses brute strength, but lacks tactic. His muscles are so strong however that it is hard to pierce through it and hit something fatal, him usually feeling nothing, having a high pain limit. He is said to be so strong that he can easily rip someone in half with his bare hands even.
Relationships
Cheryl
Eric
Fera
Trivia