Pearl did not originate from fanon, and more information can be found on their respective wiki(s). You may read more about her on the following wiki(s):
Pearl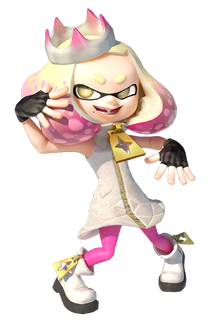 Pearl's basic appearance
GENERAL INFO

NICKNAME(S)
GENDER

♀

Female
SPECIES
Inkling
CURRENT STATUS
Alive
AGE
21
BIRTH LOCATION
Inkopolis
ETHNICITY
White
ALIGNMENT
Good
PERSONAL INFO

RELATIONSHIPS
CLASS
Singer
MISCELLANEOUS INFO

CANON APPEARANCES
Pearl is an Inkling character who first appeared in Splatoon 2. Along with Marina, she is a member of Off the Hook and serves as a singer for the duo. The two of them have similar roles to the Squid Sisters of the first game, even hosting their own news segment and leading Splatfests. Like Callie, her signature color is pink.
Pearl has grown up in a rich family, and has likely been spoiled in her childhood, which can be reflected to her Japanese name, Hime, which means "princess".
Appearance
Pearl has short white hair with dyed pink tips. She also wears a white crown on her head that is pink at the top. Her eyes are connected like most Inklings, and they have a golden color. She wears black fingerless gloves and has a white sleeveless dress with a zipper that is pulled all the way up. Pearl also has pink leggings and white boots that, like her dress, have zippers that are pulled up. She also holds a microphone while singing.
Personality
Pearl's personality seems to mimic that of a stereotypical rapper, sometimes being relaxed and other times seeming like she's trying to be fashionable. She is more laid back than her partner Marina.
Gallery
Splatfest Images
Names in other languages
Language
Name
Meaning
Japanese
ヒメ
Hime
Princess; from Hime-ika (Japanese for Northern pygmy squid)
Spanish
Perla
Pearl
Dutch
Lorelei
Named after the Lorelei, a sort of Siren whose beauty and song unwittingly distracted shipmen, causing them to crash their ships.
German
Perla
Pearl
Italian
Alga
Seaweed
Russian
Жемчик
Zhemchik
From жемчуг zhemchug, pearl
Navigation Templates
Playable Characters
Assist Characters
Obstacles
Other Characters
Alolan Grimer · Amul · Ann Takamaki · Big Urchin · Blizzy · Bravoman · Buzz-Buzz · Cutiefly · Don-chan · Dragoneel · Fierce Deity · Gil · Happy Mask Salesman · Judge · King · Kissy · K.K. Slider · Litwick · Lloyd · Mappy · Mareanie · Mii · Missile · Morgana · Perry · Pidgit · Pooka · Rabbid Luigi · Rabbid Yoshi · Red Baron · Ribbon · Rowlet · Runner · Ryuji Sakamoto · Sandy · Smasher · Rusty Slugger · Servbot · Sima Zhao · Swanna · Tarosuke · Timmy Nook · Toadsworth · Tommy Nook · Tron Bonne · Valkyrie · Wonder Momo · Ziggy
Collectibles

Trophies

Stickers

Boolossus · Boo Mario · Bowser · Captain Toad · Cat Peach · Chain Chomp · Cloud Mario · Fire Mario · F.L.U.D.D. · Koopa Clown Car · Mega Mushroom · Mario · Penguin Mario · Peach · Propeller Mario · Rock Mario · Toad · Toadette · Waluigi
Birdo · Boo Buddies · Blooper · E. Gadd · Fuzzy · Metal Form · Waluigi · Whomp

Candy Kong · Lord Fredrik

9-Volt · Fauster

Ball and Chain · Deku Leaf · Majora's Mask · Mipha

Abra · Drifloon · Spinarak

Katrina · Mr. Resetti

Adam Malkovich · Arachnus

Nightmare · Noddy · Prank

Mr. Chicken

Back Shield · Centurion · Eggplant Wizard

Disco Kid · Doc Louis · Donkey Kong · Giga Mac · Glass Joe · King Hippo · Little Mac · Von Kaiser

Blue Falcon · Captain Falcon · Pico · Rick Wheeler · Wild Goose

Louie

Pyra

Franklin Badge · Negative Man

Apollo Justice · Franziska von Karma · Miles Edgeworth · Larry Butz · Judge · Phoenix Wright

Dr. Wright · Hammer Slam Bowser
Devil · Dr. Wright · F-Type · Rusty Slugger · Zethia
Community content is available under
CC-BY-SA
unless otherwise noted.