Pashie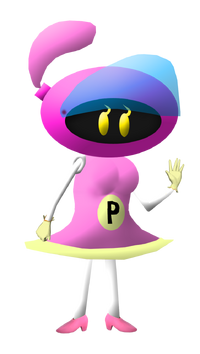 Pashie, girlfriend of Pesh.
GENERAL INFO

AGE
22
BIRTHDAY
August 31, 1989
ZODIAC
♍ Virgo
BIRTHPLACE
Pushopolis
PERSONAL INFO

CLASS
Hero, Sidekick
WEAPONS
Whip
Pashie is the girlfriend of Pesh. She is very attractive and resides as well in Pushopolis. Her house is next to Pesh's. She likes to go shopping and has her own female Pushy, where she sometimes "surfs" on.
Elena Vil Oldton took up the name after the events of Pusher's Pile Oxide, which was a soft reboot of the series. It is unknown if there was another Pashie before her or if she is actually the first one in the post-shattered universe.
Appearences
Multiplayer in a Puzzle
Pashie debuted already in the first game of the Pusher's Pile series, which just was named Pusher's Pile. However, she was only found in the Multiplayer Mode, as a playable default character.
Tag-Team with Pesh
Pashie appears again in the sequel-spinoff, Pusher's Pals, where she again controlled her Female Pushy. This time, the Player controls both Pesh and Pashie, making is a surprising spinoff.
Elena/Pashie was revealed for Fantendo Smash Bros. Victory on 5/18/17. She is a transformation character and technically has two movesets, although her down special is shared between both movesets. In Elena mode, she can attack with gadgets and Razzies while Pashie Mode uses a whip and a Pushy to battle.
Gallery
Community content is available under
CC-BY-SA
unless otherwise noted.