Parry the Parallel Bird is not from Fantendo. However, this article may include related fan ideas.

These external sources may have official, more accurate information:

This article is free to edit. Please follow the article standards and respect good-faith contributions.
Parry the Parallel Bird
平行鳥パリー Heikō tori no parī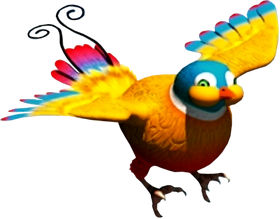 Parry as he appears in Donkey Kong Country 3: Dixie Kong's Double Trouble!
GENERAL INFO

GENDER
♂ Male
SPECIES
Bird
ALIGNMENT
Good
PERSONAL INFO

RELATIONSHIPS
CLASS

Animal Friend

ABILITIES

Mimicking movements
MISCELLANEOUS INFO

CANON APPEARANCES

Donkey Kong Country 3: Dixie Kong's Double Trouble!

Parry the Parallel Bird is an Animal Friend that appears in the Donkey Kong series. He is a small, yellow bird resembling a real-life quetzal, and is an ally to the Kongs.
Parry's only appearance as an Animal Friend is in Donkey Kong Country 3: Dixie Kong's Double Trouble!. Similar to Squawks the Parrot and Clapper the Seal from the other games, he isn't a traditional Animal Friend and isn't mountable. Hence his name "Parallel Bird", Parry will mimic the Kongs' movements. Parry can be utilized to get out-of-reach items, such as Bananas or Extra Life Balloons. However, Parry is extremely vulnerable, as he cannot defeat any enemy nor can be be hit by one. If the Kongs successfully navigate Parry through a section of a level, they will be rewarded by helpful items such as a blue Extra Life Balloon or even a Bonus Level.
Appearances
Parry appears in Nova Road Racers as a spirit. His original racer is Meta Knight with the Wind element, who has very high speed and drift stats, but very little boost and even less strength stats. When equipped, he provides the Wind Trail ability, allowing the user to leave an elemental wind trail behind that causes most drivers to slow down. However, drivers with the Light element are unaffected.
Gallery