Anath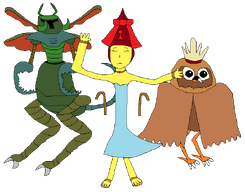 Hero Number
056
Availability
Paid
Paradigm Shift
God of Worship
Anath is a playable hero in the fighting game Paradigm. She is available as a paid character, and is the 56th character in the roster.
Background
4000 B.C., Anath was born in Heaven, a ruthless and cruel war goddess, and a virgin who is the sister of Hadad. When she was banished into Ancient Egypt by God himself for her despicable act, her only goal is revenge. So she traveled into Hell and ask Satan if he can give his demonic powers to her, in which he accepts in exchange with a mysterious helmet that when things go wrong like being good will cause her to become corrupted by goodness. She summoned lots of demons and conquer Ancient Egypt. 1500 Years had passed, and Anath became bored until a mysterious portal known as the Paradigm came out. Much of her curiosity, she entered, believing that she will conquer another world and rule it, only to find some competitors battling each other, which made her so suprised that she wants to join.
Description
Anath wears some kind of mysterious helmet depicted with a key-like symbol, wears a light blue dress, and a necklace.
Gameplay
Anath is a summon-type character, while she had a limit of two demons (or three if you count her Parasigm Shift), she will summon two small crooks to attack her enemy. She is known to have the lowest health in the game and her Special Abilities involves summoning.
Quick Attack
Heavy Attack
God of Mummification
Anath summons two crooks and swings multiple times like wields a lightsaber.
Goddes of Hunting
Anath spins with her crooks in a circle multiple times.
Special Ability 1
Special Abiity 2
King of Locusts
Anath casts a symbol of a locust, and summons Abaddon, the king of locusts from the Hebrew Bible. Pressing the left shoulder again will cause him to summon 4 to 8 locusts at a time and flies towards the enemy, slowly taking their health for 3 to 6 seconds. After 10 seconds, he turns into multi-million locusts and flies in the symbol back when they where summoned.

It has a 15 second cooldown

Prince of Hell
Anath casts a symbol of a owl's head and summons Stolas, the great prince of hell. Here, Stolas acts as both a shield, who can protect himself from projectiles, and as a counter, who whenever tries to hit her, he will counterattack by shooting a fireball from his beak. He can also summon a flying demon in rare times to attack his enemies. Just like with Abadon, he will return back tot he symbol after 10 seconds are passed and wait for 15 seconds to summon him again.
Paradigm Shift
God of Worship

Anath summons the Crook and Flail to cast a giant symbol of a goat, which summons the controversal Baphomet while Anath dissapears into the ground. For 20 seconds, you take control of the beast. Pressing  will summon a group of mini demons with pitchforks to attack his enemies. Pressing will peform three to four strong punches. Pressing both and at the same time will casts a symbol, in which Satan himself appears only his arm, delivering a fist to his opponent. After 20 seconds, Baphomet returns into the symbol and Anath reappears.
Skins
Quotes
General
Upon joining a match
Upon joining a match
Abilities
Upon using King of Locusts
Upon using Prince of Hell
Upon using God of Worship
Trivia
Anath is based on the Semitic Goddess of the same name, but this version has a different backstory than in the mythology.
Abaddon is depicted as a armored green robot with the arms, lower body, and legs of a mantis, while Stolas is depicted indentically to his Castlevania counterpart, but with changes, such as losing his second and third pair of wings, and the crown is much smaller to make it closer to his origin source.
While she looks like she is speaking gibberish, she actually speaks with a ancient angelic language called Enochian, which is a language created by John Dee and Edward Kelley after they recieved message from what they believed to be angels speaking with a similar language.
Community content is available under
CC-BY-SA
unless otherwise noted.