Paper Mario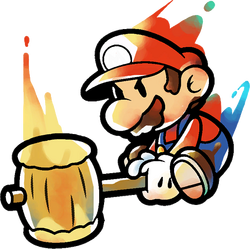 Edited concept art for Paper Mario Color Splash.
GENERAL INFO

GENDER
♂ Male
SPECIES
Paper Human
BIRTH LOCATION
Toad Town
MISCELLANEOUS INFO

CANON APPEARANCES

Paper Mario

Paper Mario: Color Splash
Paper Mario
is the paper form of
Mario
that is the main protagonist and playable character of the
Paper Mario
series, a spinoff of the
Super Mario
franchise. Paper Mario is usually on a quest which typically involves rescuing
Princess Peach
.
Paper Mario appears in six canon games: Paper Mario for the Nintendo 64, Paper Mario: The Thousand-Year Door for the GameCube, Super Paper Mario for the Wii, Paper Mario: Sticker Star and Mario & Luigi: Paper Jam for the Nintendo 3DS, and ​Paper Mario: Color Splash for the Wii U.
Appearances
Paper Mario makes a quick cameo in the Nintendo Wii game Kolorado's Kwest. He is seen only quickly eating a meal with Princess Peach in the castle.
Paper Mario appears as one of the playable characters in Super Mario MHL: Series 2 as one of the only two paper characters along with Kolorado.
Paper Mario appears as a hidden fighter in Super Smash Bros. Duel. he can be unlocked by playing 1040 duels, or by using Mario 20 times in duels.
There is an Paper Mushroom powerup in New Super Mario Bros: The Underground that turns the characters into Paper, and they look like characters from the Paper Mario series. Paper Mario himself is also playable.
In Paper Luigi: The Thousand-Year Compass, Luigi will occasionally come across Mario (in paper form) while he is in Rogueport. Talking to his partners will let you hear of what he's been up to.
Mario is helping Proffessor Discuv R. to find the lost city of Papyrusa, along with Goombecky, Booloon and more. Mario meets lots of new characters including, a very special Star Sprite.
Mario remains the protagonist of the series, returning to Flipside to face a new threat.
Gallery
Navigation Templates
Playable Characters
Assist Characters
Obstacles
Other Characters
Alolan Grimer · Amul · Ann Takamaki · Big Urchin · Blizzy · Bravoman · Buzz-Buzz · Cutiefly · Don-chan · Dragoneel · Fierce Deity · Gil · Happy Mask Salesman · Judge · King · Kissy · K.K. Slider · Litwick · Lloyd · Mappy · Mareanie · Mii · Missile · Morgana · Perry · Pidgit · Pooka · Rabbid Luigi · Rabbid Yoshi · Red Baron · Ribbon · Rowlet · Runner · Ryuji Sakamoto · Sandy · Smasher · Rusty Slugger · Servbot · Sima Zhao · Swanna · Tarosuke · Timmy Nook · Toadsworth · Tommy Nook · Tron Bonne · Valkyrie · Wonder Momo · Ziggy
Collectibles

Trophies

Stickers

Boolossus · Boo Mario · Bowser · Captain Toad · Cat Peach · Chain Chomp · Cloud Mario · Fire Mario · F.L.U.D.D. · Koopa Clown Car · Mega Mushroom · Mario · Penguin Mario · Peach · Propeller Mario · Rock Mario · Toad · Toadette · Waluigi
Birdo · Boo Buddies · Blooper · E. Gadd · Fuzzy · Metal Form · Waluigi · Whomp

Candy Kong · Lord Fredrik

9-Volt · Fauster

Ball and Chain · Deku Leaf · Majora's Mask · Mipha

Abra · Drifloon · Spinarak

Katrina · Mr. Resetti

Adam Malkovich · Arachnus

Nightmare · Noddy · Prank

Mr. Chicken

Back Shield · Centurion · Eggplant Wizard

Disco Kid · Doc Louis · Donkey Kong · Giga Mac · Glass Joe · King Hippo · Little Mac · Von Kaiser

Blue Falcon · Captain Falcon · Pico · Rick Wheeler · Wild Goose

Louie

Pyra

Franklin Badge · Negative Man

Apollo Justice · Franziska von Karma · Miles Edgeworth · Larry Butz · Judge · Phoenix Wright

Dr. Wright · Hammer Slam Bowser
Devil · Dr. Wright · F-Type · Rusty Slugger · Zethia
Community content is available under
CC-BY-SA
unless otherwise noted.