This article is about Paper Mario, the character. If you were instead looking for his games, see Paper Mario (series), Category:Paper Mario (series), or Category:Paper Mario Games.
Paper Mario is not from Fantendo. However, this article may include related fan ideas.

These external sources may have official, more accurate information:

This character's article is free to edit. Please follow the article standards and respect good-faith contributions.

Paper Mario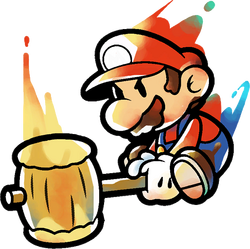 Edited concept art for Paper Mario Color Splash.
GENERAL INFO

GENDER
♂ Male
SPECIES
Paper Human
BIRTHPLACE
Toad Town
MISCELLANEOUS INFO

CANON APPEARANCES
Paper Mario is the paper form of Mario that is the main protagonist and playable character of the Paper Mario series, a spinoff of the Super Mario franchise. Paper Mario is usually on a quest which typically involves rescuing Princess Peach. Paper Mario appears in seven non-fanon games: Paper Mario for the Nintendo 64, Paper Mario: The Thousand-Year Door for the GameCube, Super Paper Mario for the Wii, Paper Mario: Sticker Star and Mario & Luigi: Paper Jam for the Nintendo 3DS, ​Paper Mario: Color Splash for the Wii U, and Paper Mario: The Origami King for the Nintendo Switch
Fanon appearances
Paper Mario makes a quick cameo in the Nintendo Wii game Kolorado's Kwest. He is seen only quickly eating a meal with Princess Peach in the castle.
Paper Mario appears as one of the playable characters in Super Mario MHL: Series 2 as one of the only two paper characters along with Kolorado.
Paper Mario appears as a hidden fighter in Super Smash Bros. Duel. he can be unlocked by playing 1040 duels, or by using Mario 20 times in duels.
There is an Paper Mushroom powerup in New Super Mario Bros: The Underground that turns the characters into Paper, and they look like characters from the Paper Mario series. Paper Mario himself is also playable.
In Paper Luigi: The Thousand-Year Compass, Luigi will occasionally come across Mario (in paper form) while he is in Rogueport. Talking to his partners will let you hear of what he's been up to.
Mario is helping Proffessor Discuv R. to find the lost city of Papyrusa, along with Goombecky, Booloon and more. Mario meets lots of new characters including, a very special Star Sprite.
Mario remains the protagonist of the series, returning to Flipside to face a new threat.
Gallery