---
ATTENTION!
This is MY fangame. DON'T adding new partners/characters, BUT new places! thank you!
---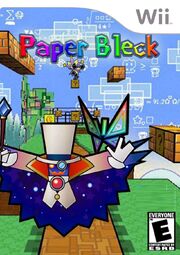 Paper Bleck is an RPG game for the Wii, starring Count Bleck with Tippi, to find the Obvisious Amulet, so he can give it to children in Africa, so they can go to school. But Dimentio wants the Amulet too, so he can destroy the world! Shall he find the amulet to save the world AND the Children?
Characters
These characters can you play as.
Partners
Bleck finds a partner per chapter. They will join the party.
Gameplay
This game has 3 controller modes:
Use the Wii Remote. It must 90° to left.
Use the Classic Controller
Use the Wii Remote AND the Nunchuck.
Use the Gamecube controler
Also, in the first and second PM's, if you battle an enemy, the battle starts on an set.
Minigames
Paper Bleck has also minigames:
Multiplayer
2-4 players can play Paper Bleck (unlocked after creating 2 files). It has 3 modes:
Battle (Already) - Battle with On-yourself mode or Tag-team mode
Minigames (Unlocked after have one minigame) - The one who at last remains or at first reach or complete, won.
Co-op (Unlocked after completing a file) - Starts an new game, but 2 players can now play the adventure.
NPC's