Lady Palutena
パルテナ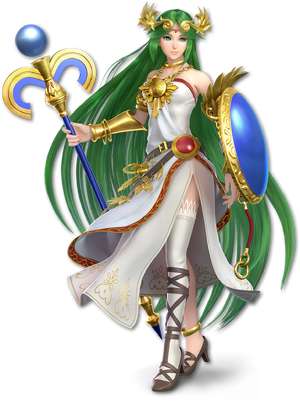 Goddess of Light
GENERAL INFO

GENDER

♀

Female
BIRTH LOCATION
Angel Land
PERSONAL INFO

CLASS
Heroine
WEAPONS
Power Blade and Orb Staff
MISCELLANEOUS INFO

CANON APPEARANCES

Kid Icarus

Kid Icarus Uprising

VOICE ACTOR(S)

Aya Hisakawa (Japanese)
Brandy Kopp (English)
Lady Palutena
is a main character in the
Kid Icarus series
and is the Goddess of Light, rightful ruler of Angel Land, and patron deity of
Pit
. She is kindhearted and benevolent, as opposed to the cruel and malevolent Medusa. Despite being a divine goddess, Palutena also seems to be somewhat of a damsel-in-distress, as she was kidnapped and held captive by Medusa, and needed Pit to rescue her. She has long green hair and is equiped with a staff.
She also appears as a supporting character in the Fantendoverse in both the pre-Shattered and post-Shattered continuities. While not originating from the Fantendoverse from either continuity, she still makes frequent visits mainly because of her son Strafe and her sister White Goddess. More information about her Fantendoverse appearances are available on this page.
Personality
Palutena is a "pure-hearted and kind" goddess who puts her people before her own welfare. Depicted as kind and wise, she is shown to care much about the human race and her personal army, and will go to great lengths keep them safe from harm.
Despite her mature appearance, she has been shown to possess a playful and mischievous side. Palutena often teases Pit, and even purposely places him in dangerous situations in order to complete his missions. She also has a habit of saying common phrases incorrectly and using complex vocabulary that confuses Pit. Despite this, she gets along swimmingly with the angel and banters with him throughout their adventure.
She is shown to be intelligent and knowledgeable, as she helps Pit identify weak points for his foes, and gives him hints for overcoming obstacles. In fact, her information is so useful to Pit that Hades sometimes calls her "Professor Palutena" or "Know-It-All Palutena" during the events of Kid Icarus: Uprising.
Appearances
Like in Brawl, she appears as an unplayable character. Despite her role in The King of Stories, she also appears as a Trophy, Final Smash and many of Pit's attacks in the game are named after her.
Palutena appears in Super Duper Smash Bros. as an unlockable character.
She appears to be a supporting character she helps you defeat Hades. She appears as a boss for Mario, Pit and Bowser. She helps you find the villian in Chapter 20 -31. She is a minor character.
In this game, she is kidnapped and taken to a place know as Dark Realm, so her Guards say to Pit to save her.
Palutena appears as a playable character in this game.
Palutena is one of the default characters in the game.
amiibo
| | | |
| --- | --- | --- |
| | An amiibo figure of Palutena exists! For more info about this amiibo, see this page. | |
Gallery
Navigation Templates
Playable Characters
Assist Characters
Obstacles
Other Characters
Alolan Grimer · Amul · Ann Takamaki · Big Urchin · Blizzy · Bravoman · Buzz-Buzz · Cutiefly · Don-chan · Dragoneel · Fierce Deity · Gil · Happy Mask Salesman · Judge · King · Kissy · K.K. Slider · Litwick · Lloyd · Mappy · Mareanie · Mii · Missile · Morgana · Perry · Pidgit · Pooka · Rabbid Luigi · Rabbid Yoshi · Red Baron · Ribbon · Rowlet · Runner · Ryuji Sakamoto · Sandy · Smasher · Rusty Slugger · Servbot · Sima Zhao · Swanna · Tarosuke · Timmy Nook · Toadsworth · Tommy Nook · Tron Bonne · Valkyrie · Wonder Momo · Ziggy
Collectibles

Trophies

Stickers

Boolossus · Boo Mario · Bowser · Captain Toad · Cat Peach · Chain Chomp · Cloud Mario · Fire Mario · F.L.U.D.D. · Koopa Clown Car · Mega Mushroom · Mario · Penguin Mario · Peach · Propeller Mario · Rock Mario · Toad · Toadette · Waluigi
Birdo · Boo Buddies · Blooper · E. Gadd · Fuzzy · Metal Form · Waluigi · Whomp

Candy Kong · Lord Fredrik

9-Volt · Fauster

Ball and Chain · Deku Leaf · Majora's Mask · Mipha

Abra · Drifloon · Spinarak

Katrina · Mr. Resetti

Adam Malkovich · Arachnus

Nightmare · Noddy · Prank

Mr. Chicken

Back Shield · Centurion · Eggplant Wizard

Disco Kid · Doc Louis · Donkey Kong · Giga Mac · Glass Joe · King Hippo · Little Mac · Von Kaiser

Blue Falcon · Captain Falcon · Pico · Rick Wheeler · Wild Goose

Louie

Pyra

Franklin Badge · Negative Man

Apollo Justice · Franziska von Karma · Miles Edgeworth · Larry Butz · Judge · Phoenix Wright

Dr. Wright · Hammer Slam Bowser
Devil · Dr. Wright · F-Type · Rusty Slugger · Zethia
Community content is available under
CC-BY-SA
unless otherwise noted.