The Nintendo DX is a Console released by Nintendo in 2023.
Features
The Nintendo DX keeps the Switch's Hybrid play style, but refines it. It adds more graphic capabilities and has a different overall design. It can play all Switch games, and also has a virtual console with every Nintendo system on it. The Nintendo DX also features a camera that is used in some games, and supports multiple types of controllers, including the new DX Pro-Con, the main controller of the DX. In addition, an EShop is available, with its own funky music. The Photo Channel from the Wii also makes a comeback, along with the Weather and News Channels.
Games
Launch titles on the system include Mario Strikers Overdrive and Mario's Pokemon Problems, which were revealed in a Direct along with the system. More launch titles are yet to be revealed, but it is confirmed that there are more. In addition, a virtual console was announced, featuring Super Mario Bros, The Legend Of Zelda, Kirby Super Star, Super Metroid, Donkey Kong 64, Super Smash Bros Melee, Mario Kart Wii, and Mario Party DS at launch, with more to come.
System Menu and Hardware
The Nintendo DX has capabilities on par with the Xbox Series X and the PlayStation 5. The System Menu, which is called the DX Hub, features all of your games, a News tab for Nintendo DX related things, as well as general news and weather reports. In addition, the photo channel and the DX EShop are also accessible through here. Built into the DX Hub is a Miiverse Style social network. Along with that is a fully featured Internet Browser, Netflix, YouTube, and Hulu. The Nintendo DX will also have more features added in the future.
Design and Controllers
The Nintendo DX looks like a Nintendo Switch, but with a camera, and different controller setup, as you are able to separate the DX Pro Con into 2 separate controllers to simulate the original Switch experience. The Nintendo DX also has full support for GameCube Controllers, Wii Remotes, and Joy Cons.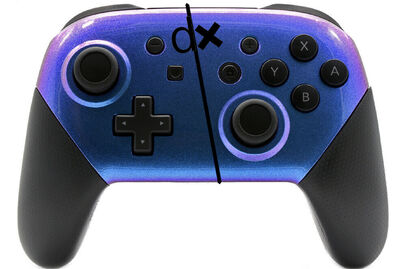 The DX Pro-Con is a Pro Controller, but with higher quality control and it can split into 2 parts and attach to the DX for handheld mode.
Community content is available under
CC-BY-SA
unless otherwise noted.