For OptimusPrime27's, go to Nintendo 65 (OptimusPrime27)
the Nintendo 65,  stylized as NINTENDO65 and abbreviated as N65, is Nintendo's fourth home video game console for the international market. Named for its similarities to the Nintendo 64, It was released June 2006 in Japan, September 2006 in North America and Brazil, March 2007 in Europe and Australia, and September 2007 in France. It is the last major home console to use the cartridge as its primary storage format until Nintendo's eighth console, the Nintendo Switch, released in 2017.
Codenamed "Nintendo 64 Classic", the Nintendo 65 design was mostly complete by 2005, but to work on it more, it was made to be released in 2006.
The release of the N65 made Sega create a new console called Sega Nightscape, an hybrid of an Dreamcast and Sega Saturn. The suggested retail price at its United States launch was US$78.88, and 32.93 million units were sold worldwide. The console was released in a range of colors and designs over its lifetime. In 2015, IGN named it the 8th greatest video game console of all time.
Graphics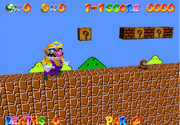 The Nintendo 65 takes the graphics of the Nintendo 64, in favor of acting like an fixed and enchaned Nintendo 64.
Games
This is an public section, so you can add Nintendo 65 for gosh's sake.
Ports
Nintendo
Other companies (non-bootlegs)
Sonic the Hedgehog 65  (SEGA)
Ultra Mario 65 (ATARI)
Ultra Mario Party (ATARI)
ERROR World (ATARI)
ERROR Land (Atari
Bootlegs
Community content is available under
CC-BY-SA
unless otherwise noted.