~ Welcome to my page! ~
Hello,

<insert your name here>

, just wanted to let you know this is Hoola's page, which I am proud to inform you is entitled Nimvesa. If you notice a grammar mistake, please fix the problema, otherwise leave it be, and most importantly, I hope you enjoy the page! Also, I always enjoy comments, especially if they contain constructive criticism, so consider leaving one. If you want to, though, you can view some of my other pages here.
Nimvesa
リリースター (Lily-Star)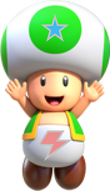 Nimvesa, the shy and joyful toad.
GENERAL INFO

GENDER

♀

Female
SPECIES
Toad
CURRENT STATUS
Active
HEIGHT
3' 2''
WEIGHT
28 lb. lbs
BIRTHPLACE
Mushroom Kingdom
PERSONAL INFO

RELATIONSHIPS
CLASS
Unknown
WEAPONS
using her badges for specific abilities
Nimvesa is a young toad who assists Mario on his journey throughout the kingdoms in Super Mario's Split Kingdoms. She is the first helper Mario gains, and she wears two badges, one of which is on her permanently. She gives Mario the ability to double jump.
Personality
She was bullied as a very young toad as she had somehow been born with the lightning bolt badge on her for permanence. She is quite fearful and lacks confidence at the beginning of the game, but by the end of the game, she has incredible courage and is completely confident in herself. Rumor says that she went on to become a renowned paraglider after her adventure with Mario.
Abilities
She can double jump, transferring it to Mario at the beginning of the game. Throughout the game, she occasionally demonstrates that she has a simplified version of reading minds.
Appearances
TBA
TBA
TBA
Nimvesa appears as an advanced support spirit who grants Electric Floor Immunity.
Gallery
Trivia
She was originally named Nimbi but changed due to another character being named Nimbi.
After the original render was designed, other users who created artwork for her decided to slightly remodel her a bit.
Community content is available under
CC-BY-SA
unless otherwise noted.