The character Nicole the Holo-Lynx did not originate from fanon, and more information can be found on their respective wiki(s). You may read more about it on the following wiki(s):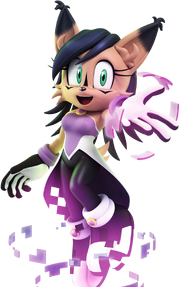 Nicole the Holo-Lynx
is one of the main characters in the
Sonic the Hedgehog
comic series and its spin-offs published by Archie Comics. She is an artificial intelligence created by Dr. Ellidy which was entrusted to
Sally Acorn
as a portable hand-held computer, and has since become both Sally's loyal friend and a trusted member of the New Freedom Fighters. She is incredibly versatile and able to interact with and manipulate most machinery and computer systems due to her advanced technology and is capable of mental and emotional growth. Due to the latter, she has gradually become more and more lifelike in demeanor during her time interacting with the Freedom Fighters. With the help of a Power Ring, she is able to create a complex holographically simulated body-based on that of a mobian lynx projected from her hand-held.
Appearance
As a computer unit, Nicole's design is slightly inconsistent. In general terms, her hand-held is relatively compact, grey in color, and features a flip-top, a screen, two buttons and a small keypad. However, the number of keys, size and general positioning of the unit varies from artist to artist. The unit also has an attachable hook on the top screen where a Power Ring can be inserted.
Nicole's simulated body takes the form of a brown mobian lynx; the ends of her ears are black, and her face features a stripe along the bridge of her nose as well as one under each eye. Her eyes are green and she has medium-long black hair with splits at the ends that she wears down. For attire, she wears a shoulder-less, sleeveless and purple dress with split tails, decorated with a small broach. She has black pants, white gloves, and shoes, the gloves featuring round gold cuffs while the shoes had silver cuffs and toes.
Artworks