Ness is not from Fantendo. However, this article may include related fan ideas.

These external sources may have official, more accurate information:

This article is free to edit. Please follow the article standards and respect good-faith contributions.
Ness
ネス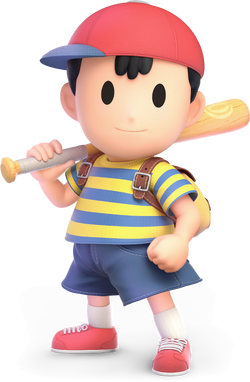 GENERAL INFO

GENDER
♂ Male
SPECIES
Human
AGE
13
BIRTHPLACE

Onett

ALIGNMENT
Good
PERSONAL INFO

FAMILY

Unnamed parents
Tracy (sister)

RELATIONSHIPS
WEAPONS
Yo-yo
Cracked Bat
MISCELLANEOUS INFO

CANON APPEARANCES
VOICE ACTOR(S)

Makiko Ōmoto
Ness is the 13 year-old protagonist of Earthbound from the EarthBound series. Ness has the gift of PSI, powerful psychic powers, which he's acquired since he was at a very young age. Ness also currently lives in Onett, his hometown, and he began his perilous, life-changing journey there long ago when a meteor struck the hills near his hometown and he went to investigate, as well as find his irritating neighbor Porky's little brother Picky. Out of the meteor came Buzz Buzz, who told Ness of the impending attack of the malevolent alien Giygas, and Ness then set out to stop the invasion and save his world, not without the help of fellow party members Paula, Poo, and Jeff Andonuts.
Game Appearances
A Non-chibi Version of Ness appears on Earthbound Fighter and Sports.
Ness has appeared in every installment of the Super Smash Bros. series to date. His voice actor in all four Super Smash Bros. games has been Makiko Ōmoto, who also voices Kirby. As Kirby gets new lines for every single Smash game, so does Ness.
Many of Ness' moves in the Super Smash Bros. series are moves he did not actually learn in Earthbound/Mother 2. PSI Magnet, PK Fire and PK Thunder were originally used by his partner Paula Polestar in the game. A possible explanation for this discrepancy is offered in the sequel to this game, Super Smash Bros. Melee, which states that Paula may have taught him these techniques.
Ness is a returning veteran in Super Smash Brothers Ultimate Fighters. He confirmed to appear on May 29, 2018 alongside the rest of the original 4 unlockable characters.
| Type | Name | Type | Name |
| --- | --- | --- | --- |
| Universe | Earthbound/Mother | Full Name | Ness |
| Home Stage | Onnet | Main Track | Earthbound Theme |
| Alt. Track | Snowman | Neutral Special | Pk Flash |
| Side Special | FK Fire | UP Special | Pk Thunder |
| Down Special | PSI Magnet | Final Smash | Pk Starstorm |
| On Screen Appearance | Same as SSB4 | Boxing Ring Name | The PSI Powerhouse |
| Number of Palettes | 12 | Availability | Starter |
Ness appears as a Hidden Character.
Ness makes a cameo appearance as part of Pit's Solo Unit attack.
amiibo
| | | |
| --- | --- | --- |
| | An amiibo figure of Ness exists! For more info about this amiibo, see this page. | |
Gallery
Navigation Templates
Template:ESSBNav