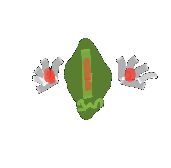 The Neon type is one of the many fanon types made for the Pokémon franchise, appearing as a new type in games (but there's a lot so like I'm going to list.) It's strong against any type related to Ultra Beasts, & It's similar in variety to Lunar but it's different in a few ways.
Most characters from this type are transparent and/or glowing in color, obviously less dark than Lunar types this way, for one.
Known Neon Types
#
Pokémon
Type

457

Water
Neon

830

Neon
Ghost

831

Neon
Time

832

Neon
Myth
Please note that these only apply to certain Pokémon games.
Aesthetics
Most Light and Gas types might switch with Neon (in case you don't get it, you know those strange particles in glow rods that make the neon glow? It's like that.)
Strengths and weaknesses
Offensive

Defensive

Power
Types
 
Power
Types

2×

None

½×

None

½×

None

2×

None

0×

None

0×

None
Notable
Also TBA
Pokémon Types
Official Types
Fanon Types
Community content is available under
CC-BY-SA
unless otherwise noted.