Naluigi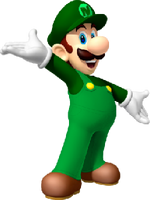 Naluigi
GENERAL INFO

GENDER
♂ Male
SPECIES
Human
BIRTHDAY
Unknown
ZODIAC
Unknown
BIRTHPLACE
Mushroom Kingdom
PERSONAL INFO

RELATIONSHIPS
CLASS
Plumber
Hero
WEAPONS
Green Fireball, Hammer, Poltergust 6000
MISCELLANEOUS INFO

CANON APPEARANCES

Super Mario Madness (2012)Super Naluigi Bros. (2017)
This is a very old description of this character and there are many things I would change if I updated this, so cringe at it all you want, because I sort of regret making this page in the first place. I can make much better FCs now compared to this, I was very young when I made this. -NaluigiRocks
Naluigi is Mario and Luigi's long lost brother. He was taken by Kamek while he was a baby on Yoshi's island, but he managed to escape a few years later. Although they were very young, when Luigi saw him years later while going on an adventure. Luigi remembered Naluigi faintly and vice versa. Luigi then told Mario. Soon they went on more adventures, but at some point, in a unknown way, they lost each other again. They didn't see each other for a long time after that.
Mario, Luigi and Naluigi somehow, eventually, met again in Super Mario Madness. Once they finished the last World, they went their own ways and once again they did not see each other for a matter of time. Sooner or later, they got reunited in Super Naluigi Bros.
Personality
Even though Naluigi is Luigi's long-lost bro he isn't a coward. He is almost always ready for an adventure or a fight. He is very social as he has many friends. He seems to like to be alone though, constantly parting with his brothers. This is because he wants to "keep his title" of long-lost bro. One of his main friends is Greentail, Naluigi and Greentail are seen hanging out often and sometimes go on adventures with each other. When he is with Luigi, he's usually tries to have fun with him and always tries to get something good out of a situation. He is sometimes competitive with Mario and Luigi and sometimes tries to race them or have a friendly battle. When he's with Mario he usually tries to be serious but sometimes he just gets bored and tries to do something fun. He always tries to help his friends when they need help, but sometimes he fails and gets them into more trouble, but most of the time he succeeds in helping them.
Game Appearances
Naluigi appears in Super Mario Madness as an unlockable character. He has the power to throw green fireballs in the game.
Naluigi is the main character of this game. He is a starter of course alongside Luigi.
Naluigi is a starter character in this game and is an overall balanced character. His moveset mainly involves his hammer.
Gallery
Community content is available under
CC-BY-SA
unless otherwise noted.