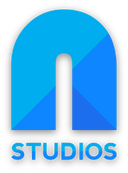 N Studios is a game development company created by Dk64rules (t∣b∣c). The company was founded in January 2013 as a re-branding of former company NextGen Solo. In 2015, the company closed for a short while, before opening up again with the beginning of development on the game Olive.
2018-2019
| | |
| --- | --- |
| | The LXIV Saga is a re-imagining of the first Voidverse entry, The Sixty Four Saga. When a sheltered but surprisingly energetic girl becomes the unlikely roommate of an outgoing boy and his timid reclusive friend, the three of their lives change forever. |
2016
| | |
| --- | --- |
| Magikal Song | Magikal Song is an 2D action game starring a young girl who is visited by a being named Compose to assist him in finding the song to unite the universe. |
| | Olive is an 3D turn-based action RPG centered around a teenage girl with mysterious origins and the ability to call upon a long-forgotten power to save the land of Pangaia. |
| | Painterly: Life is a direct sequel to Painterly: Signature Edition. |
| | Painterly: Signature Edition is a remake of the 2013 N Studios hit 3D platformer, Painterly. The Signature Edition includes updated visuals and story. |
2013
| | |
| --- | --- |
| | Painterly is a 3D platform game with a charming story and art style. Forte must save his sister Painting Sprite, Melody, from the clutches of a mysterious man named Morsai. |
| | Voidverse is a series of stories centered around different heroes called Light Personas battling the evil lineage of Void Personas. |
Delayed and/or Cancelled
| | |
| --- | --- |
| | Ascend is an action-adventure game similar to The Legend of Zelda in which a boy named Timair must save his world from the evil sorceress, Juliea. |
| | Painterly 2 is a direct sequel to Painterly. In this adventure, Forte, Melody, and Akaye traverse Painterly Island (the world of Akaye's creations) to stop the evil sorcerer Aegis and his invading army of shadows. |
| | Light is an episodic story arc-based story revolving around one teenager and her struggle with controlling a mysterious and extraordinary power, while her world slowly turns upside-down around her, and everything she has known and believed is to be tested. |
Trivia
N Studios' technical acronym, NS, is the same as its predecessor company, NextGen Solo. Because N Studios' name is short, however, the acronym is rarely used.
Community content is available under
CC-BY-SA
unless otherwise noted.