NES Mario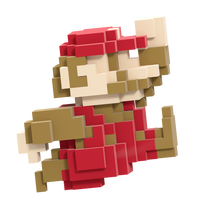 NES Mario, mysterious pixel hero.
Render by Nibroc-Rock.
GENERAL INFO

GENDER
♂ Male
SPECIES
Human(?)
ALIGNMENT
Good
PERSONAL INFO

RELATIONSHIPS
CLASS
Hero
NES Mario (also known as Retro Mario, 8-Bit Mario or Pixel Mario) is a pixellated NES version of the famous video game character, Mario. Usually, his appearance is based off of the original Super Mario Bros. game from 1985, but his variations from other titles may be used as well.
It is unknown how exactly he retains his blocky appearance in the games he appears in, but some say he comes from an alternate dimension where everything is pixellated like him.
Appearances
NES Mario is the star of all the classic Mario games and the fanon games that star him in it. NES Mario is referred to as Classic Mario. There is also an Amiibo based off of him. The Amiibo will unlock secret levels and power ups/enemies from future Mario games for the original Super Mario Bros. for the NES.
NES Mario appears as a supporting character who hosts the minigame, Mario Quartz Bros., which features 2D, Super Mario Bros.-style levels in which Mario can earn extra Power Moons in every kingdom.
Retro Mario makes an appearance in Mario Kart Dimensions, as an unlockable character. Retro Mario is one of the most challenging people to unlock, as one must win Special Cup and Lightning Cup on Mirror Mode, or play 15000 races. He is classified as a "Small" driver.
NES Mario appears in Mario Kart Ultra, along with NES Luigi, as an unlockable character. He is a Light weight driver. He has an alternate costume, where you can race in his "Super" form.
Crossover games
Main article: NES Mario (SSB8)
NES Mario, identified as Retro Mario, is an unlockable character in Super Smash Bros. Endgame.
Other appearances
Super Mario Silver Spurs 3: Endgame
NES Mario joins Modern Mario and the 2nd Dimension Luigi and Tails (along with NES Luigi) on their mission to defeat Mandy and foil her plan for universal domination.
Sable and Mabel: Dream Team
NES Mario is confirmed to appear in Sable and Mabel: Dream Team but he will make a small cameo in a holographic billboard and he uses his sprite from Super Mario Bros. 2.
Gallery
Mario Kart Dimensions
Characters
Toad • Koopa • Baby Mario • Lakitu • Mario • Luigi • Peach • Yoshi • Bowser • King Boo • DK • Wario • Dry Bones • Shy Guy • Toadette • Paratroopa • Retro Mario • Baby Luigi • Daisy • Birdo • Bowser Jr. • Diddy Kong • Kamek • Dixie Kong • Waluigi • Wiggler • Boom Boom • Rosalina • Pom Pom • Petey Piranha • Mii • Noki • Pianta • Goomba • Hammer Bro. • Kritter
Courses
Luigi's Circuit • Sky Fortress • Pinna Playground • Airship Ruins Pipe Sewers • Cheep Cheep River • Ghost Mansion • Prehistoric Path Soda Lake • Chai Hills • Supermassive Station • Cement Factory Donut Plains • Subcon Desert • Bowser's Castle • Rainbow Road GCN Baby Park • MKP Retro Hills • 3DS Piranha Slider • SNES Vanilla Lake 1 GBA Yoshi Desert • SNES Donut Plains 3 • MKP Sherbet Mountains • N64 Luigi Raceway N64 Frappe Snowland • NDS Mario Circuit • GCN Mushroom City • MKP Tutankoopa's Curse NDS Wario Stadium • GBA Boo Lake • Wii Bowser's Castle • GCN Rainbow Road Gelato Speedway • GCN Peach Beach • NDS Delfino Square • Corona Caverns
Stardust Fields • Peach's Castle Grounds • Dimble Clearing • Bowser's Lava Lair • Delfino Plaza • Wii Block Plaza • SNES Battle Course 1 • GCN Tilt-a-Kart • 3DS Sherbet Rink • MKP Vanilla Dome
Items
Coins • Item Box • Morph Bubble • Licenses • Mushroom (x3) • Fireball • Banana Peel (x3) • Super Star • Bob-Omb • Green Shell (x3) • Red Shell (x3) • Blooper • Golden Mushroom • Fake Item Box • Blue Spiny Shell • POW Block • Super Leaf • Boomerang • Lightning Bolt • Whimp • Topmaniac • Freezie • Bullet Bill • Oil Drum • Dash Pepper
Enemies
Chain Chomp • Goomba • Cheep-Cheep • Thwomp • Dry Bones • Roto-Disc • Boo •

Mecha Bowser

• Electro-Koopa • Bowser Statue • Fishbone • Eerie • Rocky Wrench • Fishin' Boo • Cannon • Piranha Plant • Ptooie • Inky Piranha Plant • Chargin' Chuck • Goombe • Monty Mole • Cheep-Chomp • Swooper • Terekuribo • Bony Beetle • Dry Bone Bro. • Jack O' Goomba • Buzzy Beetle • Big Boo • Big Bubble • Bat •

Skellyrex

• Torpedo Ted • Unagi • Sidestepper • Fighter Fly • Blooper •

Chicken

•

Chikako

•

Pompon Flower

• Nyololin • Goombo • Bullet Biff •

Pionpi

• Pakkun Flower •

Roketon

• Supermassive Koopa Troopa • Supermassive Goomba • Supermassive Piranha Plant • Game & Watch • Super Koopa • Koopa Troopa • Volcano Lotus • Spike Top Snifit • Ukiki • Pokey • Pidgit •

Tweeter

• Halcandra Dee • Degout • Halcbounce • Halco Burt • Armoured Halcandra Dee • Halcandra Bowby • The Metal General of Egg Engines • Polluted Piranha Plant • Swoopin' Stu
Template:DMK