Hey! Listen!
This article consists of content created and/or currently owned by Ink, and is intended to be viewed in the Oasis skin. Please don't edit it unless you see an error in spelling, grammar, or punctuation!
If you like what you see here and want to waste some more of your time reading stuff, you could also look into something else Ink has made!
Mynis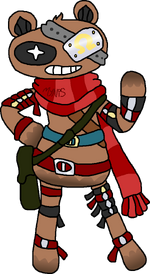 Mynis, a loser calling himself a hero.
GENERAL INFO

GENDER
♂ Male
SEXUALITY
⚤ Heterosexual
SPECIES
Zeonian Beorn
AGE
18
BIRTHDAY
April 1
HEIGHT
4'11
BIRTHPLACE
Baraenion, Zeon
RESIDING AT
Toronto, Canada
ALIGNMENT
Truth and Justice!
PERSONAL INFO

FAMILY

Dongorio Baraenia (adoptive father)
Mioda Baraenia (adoptive sister; deceased)

RELATIONSHIPS
OCCUPATION(S)
Hero?
LIKES

Weaving tales of his heroic exploits, gardening, cooking, merchandising, baseball

DISLIKES

Being contradicted about the details of his tales, needing to fight, the Doomuli, needing to fight the Doomuli, reading

WEAPONS
"Impeerion" (Twin knives)
ABILITIES
Electrokinesis, Blump gardening, inexplicable likability, Descension?
MISCELLANEOUS INFO

CANON APPEARANCES
NON-CANON APPEARANCES
"Alright, then, fiend! Are you ready to have your diabolical plan foiled by the greatest (and last) Beorn in the galaxy? ... That's what I thought!!"


— Mynis, before losing miserably in a fight against a villain
Mynis is one of a presumably infinite number of alternate universe Untens. Unfortunately, he's nowhere near as competent as Unten, with his only boons being his skills at first aid, taunting or cheering, and especially cultivating Blumps.
Appearance
Mynis, being a Beorn, looks quite similar to a bear, and has the usual black eyes with white star-like pupils and hands comparable to paws. His fur is a dark bronze color, which he keeps as well-groomed as possible in order to retain a positive image. This grooming used to include braiding some of the longer hairs and decorating them with small metal coins and flintstones, but he dropped this habit shortly after arriving on Earth. He is actually fairly tall for a Beorn.
Like Unten, he tends towards scarves as far as clothing goes, but his favorite scarf - a red one, with his name embroidered into the fabric - is much longer than any scarf Unten has ever worn. Though this scarf looks awesome when combined with a good wind and a heroic pose, Mynis frequently trips over it when actually fighting. He also has a strange obsession with belts, and claims that they emphasize his tragic backstory. He wears nearly two dozen belts on his entire body, including on his forearms, hands, calves, waist, chest, and even one on his face as a makeshift eyepatch. (He has both his eyes, though. He just thinks it looks cool.) He is also often seen carrying an over-shoulder bag, in which he stores first-aid supplies and a collection of high-quality Blumps, which he grows himself.
Personality
Mynis has some serious inferiority issues. As a prophetic hero who fulfilled his mission, he had to live up to the stereotype of being an incredible hero despite being nearly as incompetent in battle as the main timeline's Mondo. He tries to convince himself that he's a badass by dressing the part, with a collection of belts that would make any edgy giant-sword-wielding antihero jealous and a cocky nature that hides how scared he truly is. Eventually, being a self-certain dick to hide his vulnerability became second nature to him. Though he tries to tone down during his journeying across the multiverse, he ultimately finds himself turning back towards it when facing any enemy at all. He even tries to put on a brave façade while around other Beorns in an attempt to show that he handled the extinction of the species as well as they did. He is awful at making the difficult decisions that are expected of heroes, and will suffer from a nervous breakdowns if the stakes are too high. Despite his self-spawned reputation as a warrior without match, he hates being forced to fight against his will, but sometimes finds comfort in playing support roles in others' fights. After the events of Days of Victory, he built up enough determination to start working out, with his hope being that he will someday get strong enough to be actually worthy of calling himself a hero. He doesn't have all that much to show for it just yet, though...
While alone, Mynis finds distraction and satisfaction at cultivating the mysterious Blump fruits, at which he is thought to be the best in the multiverse. For him, it's a legitimate source of pride, and one of the few areas of expertise in which he acts humbly and honestly when praised. He also enjoys cooking, which he is slightly less skilled at but still capable enough to cook a good meal. He is an astonishingly impressive haggler and negotiator, though he usually just uses this talent to figure out royalties and licensing deals for his merch, so he tends to get a bit nervous when he has to use it to save lives. More recently, he's taken up drinking out of memory of Mioda, and displays a remarkable tolerance for alcohol. He is acrophobic, illiterate, a fan of sports, and enjoys fresh air.
Abilities
Like Unten, Mynis possesses low-level electrokinesis which can be enhanced through use of Blumps, and he also frequently wields bladed weaponry, but the similarities in their fighting styles end there. Mynis' range of electrical manipulation is inferior to his counterpart's, and he has a bad habit of tripping over his scarf when he attempts melee combat with his weapons of choice, a pair of daggers he jealously/zealously named Inpeerion. Fortunately, his areas of expertise lie very clearly in other areas. He is relatively skilled at first aid, and his collection of belts can be used to treat wounds in emergencies by bandaging them or temporarily slowing the flow of blood to them. His knack for talking can be quite useful for both cheering allies on and flustering enemies with a wide array of taunts and insults. His greatest asset is his skill at growing Blumps. With the power granted to him by eating his higher-quality fruits, he can usually exceed a Blump-boosted Unten in electrical manipulation despite their initial power difference.
Sometime after Fantendo Smash Bros. Victory, Mynis begins attaching his daggers to the ends of two belts, allowing him to alternate between wielding them like traditional knives and swinging them about like morning stars. The unlikely benefits of this decision, including a massive boost in attack range and a decrease in his predictability, make him more threatening in close-quarters combat than he was before. It also gives him more things to get tangled in or trip on, though.
Narcissus Mynis
Consuming a Glistening or Golden Blump allows Mynis to transform into Narcissus Mynis. As with Unten's Midas form, this form grants him increased power and speed, as well as increased electricity manipulation abilities. Rather than the toxic Midas Gold, however, his body transforms into Narcissus Silver, which is not only arguably more beautiful-looking but also completely resistant to energy. As a result, attacks bounce harmlessly off of his polished fur until the form's powers wear off. It is a significantly more defensive form than most other Glistening Blump transformations, but it's no less useful.
Since Mynis usually uses his higher-quality home-gardened Blumps to achieve this transformation, its improvements are more noticeable than that of Midas Unten's, but the time limit on it is about the same.
This form is Mynis's main alternate form, generally appears more often than any of his others.
Hyper Mode
Using a Hyper Orb allows Mynis to transform into his Hyper Mode, which he nicknames Icarus Mynis for the sake of maintaining a consistent theme between all the names of his "super forms." In Hyper Mode, Mynis' entire body becomes supercharged with electricity, increasing his attack power a bit and giving him the ability to move at incredible speeds in short bursts. For some reason, Mynis' Inpeerion knives mysteriously vanish in this form, meaning he is forced to fight exclusively at close-range using his electricity-bathed claws, but he is usually able to close this distance with his Hyper Mode's speed. However, Mynis is still just as prone to tripping over himself or missing with his attacks thanks to an even longer scarf.
This form has yet to make a canon appearance, since Mynis doesn't currently have a Hyper Orb he can use.
Nega Mode
Like others, overuse of his Hyper Mode may cause Mynis to take on a Nega Mode form. This form is just as fast as his Hyper Mode, but lacks the boost in attack power and completely nullifies his electric abilities. Worst of all, his belts and scarf completely vanish while in this form.
This form has yet to make a canon appearance, since Mynis doesn't currently have a Hyper Orb he can use.
History
Prior History
Though Mynis never appears in any of the games in the Prodigy series, his nature as an alternate Unten means that he has experienced the same events that Unten experienced during his adventures, albeit with some very obvious differences, such as him being accidentally responsible for Queen Pixella's death during her kidnapping. However, with the help of Mioda, he makes it through these adventures despite the odds stacked against him. At the end, however, Mioda died...
Mynis appears as a playable character, and was announced during the 3/5/16 "Witching Hour" event. Later, he was joined in the roster by Ronnie and Claire. This is Mynis' first official appearance in any Fantendoverse content. During the events of Days of Victory, he, Ronnie, and Claire are recruited by Unten and company to help battle The Threat.
Mynis appears as a playable character. He serves a more supporting role in the game's story mode, and like nearly all other characters, he loses all memory of the events in Delta Prime at the end of the adventure.
Mynis appears as one of the initial playable characters, and was announced on 8/29/16 alongside the game's title and Ronnie and Claire.
Non-Canon Appearances
Relationships
With characters outside of the Mynisverse
---
If you wanna know what Mynis thinks of another character, feel free to leave a link to that character's page right here!
Gallery
Trivia
Community content is available under
CC-BY-SA
unless otherwise noted.