Ms. Pac-Man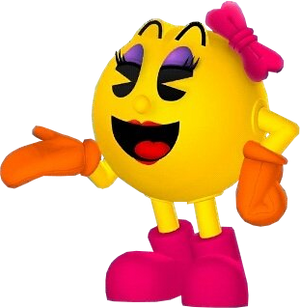 Ms. Pac-Man as she appears in Sonic Dash
GENERAL INFO

GENDER

♀

Female
SPECIES
Pac-Person
BIRTHPLACE
Pacville, Pac-Land
MISCELLANEOUS INFO

CANON APPEARANCES

Ms. Pac-Man, 1981
Sonic Dash, 2018
Ms. Pac-Man, often misspelled as Mrs. Pac-Man, is Pac-Man's love interest and wife in TV series and Pac-Man World games; aside from that, she has starred in her own arcade classic, Ms. Pac Man. In the 3D titles, she has usually been playable as a mere co-op player in the mini-games.
Ms. Pac-Man has since become a semi-recurring character in the Pac-Man universe, with her most recent appearances being as both a stage cameo in Smash 4 and Ultimate and being a playable character in Sonic Dash.
Fanon Appearances
Pac-Man Universe
Ms. Pac-Man appears as a playable character in the 3D Platformer game, Pac-Man Universe.
Ms. Pac-Man appears as Pac-Man's Echo Fighter in the game.
Ms. Pac-Man appears as Pac-Man's Echo Fighter in the game. She, along with the rest of the roster will be appearing in Adventure Mode: The Elemental Labyrinth.
MS. PAC-MAN appears in Super Smash Bros. Charged as an Echo Fighter of PAC-MAN. Their movesets are almost identical to each other, though the projectiles in her neutral special, Namco Roulette, have different properties and trajectories than PAC-MAN's, allowing for different mindgame and trapping options. Additionally, some of the items are replaced with items that appear in MS. PAC-MAN; these include the Pretzel, Pear, and Banana, which replace the Melon, Galaxian, and Key respectively.
Her design is based on how she originally appeared in artwork for MS. PAC-MAN and PAC-LAND, with her design in the PAC-MAN WORLD series available as an alternate costume.
Gallery