Mr. Game & Watch is not from Fantendo. However, this article may include related fan ideas.

These external sources may have official, more accurate information:

This character's article is free to edit. Please follow the article standards and respect good-faith contributions.
Mr. Game & Watch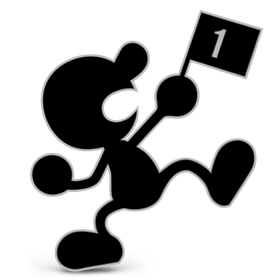 Mr. Game & Watch, one of Nintendo's first characters
GENERAL INFO

GENDER
♂ Male
BIRTHPLACE
Superflat World
Mr. Game & Watch (Japanese: Mr.ゲーム&ウォッチ Mr. Game & Watch) is a character that first debuted in the 2001 Nintendo GameCube title Super Smash Bros. Melee as an unlockable playable character. Mr. Game & Watch serves as an amalgamation of all the various Game & Watch handheld games that Nintendo released between 1980 and 1991, with his appearance being based upon the generic humanoids that appear in Parachute and various later Game & Watch titles. In Super Smash Bros. Ultimate Mr. Game & Watch is shown capable of transforming his body shape, as he does so to mimic the Game & Watch characters on whom his attacks are based; previously he only displayed the ability to transform into the titular creature from Octopus upon using his Final Smash.
Mr. Game & Watch is said to hail from a dimension known as "Superflat World", and as such appears to be an individual who lacks a third dimension and thus appears to be a flat 2D object. In reality, Mr. Game & Watch's entire being is simply based on the limitations of the Game & Watch devices: his movements cycle through a variety of simple frames akin to how the Game & Watch's calculator screens moved the characters around, and makes the same beeping noises that the handheld devices would.
In the Subspace Emissary story mode of Super Smash Bros. Brawl, it is revealed that Mr. Game & Watch is the source of the Shadow Bugs that Tabuu uses to create Primids; Mr. Game & Watch's unique body mass is specified to be the source of this, and he allows himself to be used by Tabuu due to not having a clear concept of good and evil.[1]
Appearances
Though Mr. Game & Watch does not appear in Fantendo Wasteland, this title does introduce his son, Jr. Rock & Watch.
Mr. Game & Watch is the last character to unlock. To unlock him, simply get all the characters. His minigame is Game & Watch Chef and his present is 2-D Paint.
Main article: Mr. Game & Watch (Calamity)
Mr. Game & Watch reappears as a unlockable playable character in Super Smash Bros. Calamity, with a few new moves in his arsenal to have more moves coming from other Game & Watch gallery games, and has more alternates and animations, and a new victory theme.
amiibo
| | | |
| --- | --- | --- |
| | An amiibo figure of Mr. Game & Watch exists! For more info about this amiibo, see this page. | |
Gallery
Regular Mr.Game & Watch
Game & Watch Forms
Trivia
As Mr. Game & Watch was never technically a character prior to his introduction in Super Smash Bros. Melee, he can be considered the only original character in the series to be a main playable fighter.
References