The character Mr. Game & Watch did not originate from fanon, and more information can be found on their respective wiki(s). You may read more about it on the following wiki(s):
Mr. Game & Watch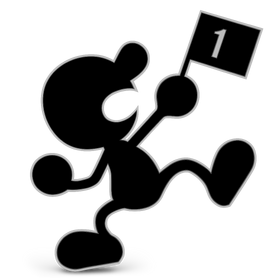 Mr. Game & Watch, one of Nintendo's first characters
GENERAL INFO

GENDER
♂ Male
BIRTH LOCATION
Superflat World
Mr. Game & Watch (Japanese: Mr.ゲーム&ウォッチ Mr. Game & Watch) is a character that first debuted in the 2001 Nintendo GameCube title Super Smash Bros. Melee as an unlockable playable character. Mr. Game & Watch serves as an amalgamation of all the various Game & Watch handheld games that Nintendo released between 1980 and 1991, with his appearance being based upon the generic humanoids that appear in Parachute and various later Game & Watch titles. In Super Smash Bros. Ultimate Mr. Game & Watch is shown capable of transforming his body shape, as he does so to mimic the Game & Watch characters on whom his attacks are based; previously he only displayed the ability to transform into the titular creature from Octopus upon using his Final Smash.
Mr. Game & Watch is said to hail from a dimension known as "Superflat World", and as such appears to be an individual who lacks a third dimension and thus appears to be a flat 2D object. In reality, Mr. Game & Watch's entire being is simply based on the limitations of the Game & Watch devices: his movements cycle through a variety of simple frames akin to how the Game & Watch's calculator screens moved the characters around, and makes the same beeping noises that the handheld devices would.
In the Subspace Emissary story mode of Super Smash Bros. Brawl, it is revealed that Mr. Game & Watch is the source of the Shadow Bugs that Tabuu uses to create Primids; Mr. Game & Watch's unique body mass is specified to be the source of this, and he allows himself to be used by Tabuu due to not having a clear concept of good and evil.[1]
Appearances
Though Mr. Game & Watch does not appear in Fantendo Wasteland, this title does introduce his son, Jr. Rock & Watch.
Mr. Game & Watch is the last character to unlock. To unlock him, simply get all the characters. His minigame is Game & Watch Chef and his present is 2-D Paint.
Main article: Mr. Game & Watch (Calamity)
Mr. Game & Watch reappears as a unlockable playable character in Super Smash Bros. Calamity, with a few new moves in his arsenal to have more moves coming from other Game & Watch gallery games, and has more alternates and animations, and a new victory theme.
amiibo
| | | |
| --- | --- | --- |
| | An amiibo figure of Mr. Game & Watch exists! For more info about this amiibo, see this page. | |
Gallery
Regular Mr.Game & Watch
Game & Watch Forms
Trivia
As Mr. Game & Watch was never technically a character prior to his introduction in Super Smash Bros. Melee, he can be considered the only original character in the series to be a main playable fighter.
References
Navigation Templates
Playable Characters
Assist Characters
Obstacles
Other Characters
Alolan Grimer · Amul · Ann Takamaki · Big Urchin · Blizzy · Bravoman · Buzz-Buzz · Cutiefly · Don-chan · Dragoneel · Fierce Deity · Gil · Happy Mask Salesman · Judge · King · Kissy · K.K. Slider · Litwick · Lloyd · Mappy · Mareanie · Mii · Missile · Morgana · Perry · Pidgit · Pooka · Rabbid Luigi · Rabbid Yoshi · Red Baron · Ribbon · Rowlet · Runner · Ryuji Sakamoto · Sandy · Smasher · Rusty Slugger · Servbot · Sima Zhao · Swanna · Tarosuke · Timmy Nook · Toadsworth · Tommy Nook · Tron Bonne · Valkyrie · Wonder Momo · Ziggy
Collectibles

Trophies

Stickers

Boolossus · Boo Mario · Bowser · Captain Toad · Cat Peach · Chain Chomp · Cloud Mario · Fire Mario · F.L.U.D.D. · Koopa Clown Car · Mega Mushroom · Mario · Penguin Mario · Peach · Propeller Mario · Rock Mario · Toad · Toadette · Waluigi
Birdo · Boo Buddies · Blooper · E. Gadd · Fuzzy · Metal Form · Waluigi · Whomp

Candy Kong · Lord Fredrik

9-Volt · Fauster

Ball and Chain · Deku Leaf · Majora's Mask · Mipha

Abra · Drifloon · Spinarak

Katrina · Mr. Resetti

Adam Malkovich · Arachnus

Nightmare · Noddy · Prank

Mr. Chicken

Back Shield · Centurion · Eggplant Wizard

Disco Kid · Doc Louis · Donkey Kong · Giga Mac · Glass Joe · King Hippo · Little Mac · Von Kaiser

Blue Falcon · Captain Falcon · Pico · Rick Wheeler · Wild Goose

Louie

Pyra

Franklin Badge · Negative Man

Apollo Justice · Franziska von Karma · Miles Edgeworth · Larry Butz · Judge · Phoenix Wright

Dr. Wright · Hammer Slam Bowser
Devil · Dr. Wright · F-Type · Rusty Slugger · Zethia
Community content is available under
CC-BY-SA
unless otherwise noted.