Mr. Driller Adventure 2 is the sequel to the 1985 game, Mr. Driller Adventure. Released in 1987 by Namco for NES and Arcade
Mr. Drilller Adventure 2
Developer(s)
Namco
Publisher(s)
Namco
Platform(s)
NES, Arcade
Genre(s)
Platformer
Series
Mr. Driller
Predecessor
Mr. Driller Adventure
Release Date(s)
1987
Mode(s)
Single-player, Co-op
Media Included
NES Cartridge
Story
Susumu Hori is back! And is going across the globe to stop the underground monsters. Now with new co-op options, player 2 can control Anna Hottenmeyer.
Gameplay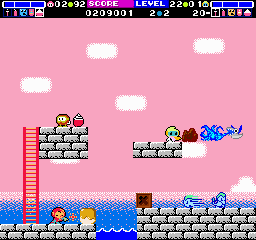 Gameplay is the same as its preddecessor, with new and refined controls, stage elements, and Co-Op gameplay
Jetpack - The Jetpack allows you to float in the air for a brief moment of time (Similar to Peach in SMB2) It is lost when you lose a life.
Drill Revolver - The Drill Revolver is a gun that allows you to shoot at enemies (Can be used forwards and overhead)
Community content is available under
CC-BY-SA
unless otherwise noted.