Mr. Bean 2 (Europe and Australia)

Mr. Bean 2 (Japan)

Mr. Bean 2 - The Adventure Continues (Latin America)

Developer(s)
Nexus Entertainment, Tiger Aspect Productions and Beyond Reallity Games;
Publisher(s)
Blast! Entertainment
Platform(s)
Nintendo NX, Wii U, Steam, PC, Xbox One, Xbox Two, PlayStation 4, PlayStation 5, Android and IOS
Mode(s)
Story Mode, Mini-games and Missions
Age Rating(s)
Genre(s)
Adventure, 3D platform, Action
Series
Mr. Bean
Predecessor
Mr. Bean (2007)
Successor
Mr. Bean 3 - The Battle of the Candies
Media Included
Nintendo NX Cardtridge, Blu-ray Disk, Digital download
Storage Needed
19.2 GB ((Wii U), 9.7 GB PC, 2.5 GB (Xbox One and PlayStation 4).
Mr. Bean 2 - The Adventure Continues (known in Europe and Australia as Mr. Bean 2) is an adventure game and a sequel to the weak game of 2007, and now "co" - developed by Nexus Entertainment, increasing further its gameplay, story and graphic, leaving the old Beyond Engine, developed by Beyond Reallity Games, old and outdated for the modern and powerful Unreal Engine, as well as a partnership with BeamNG (BeamNG GmbH) for an adaptation of BeamPhysics engine for the new game, leaving the physics of even more realistic game than it already is.
Gameplay
The gameplay is very similar to the previous game, except Mr. Bean have the ability to run faster and jump much higher. The game animations are much better than 2007; The player can switch between sigle-player and multiplayer on the same map and can select among several "Beans" with different clothes or "Irmas" with different clothes too. Game phases are much more long and complicated will each last checkpoint. Keeping the same gameplay of the previous game, the player can choose between story mode, mini-games, dances (new to the game) and puzzles and various memory games (puzzles and memory games belonged to the category "Mini-Games ", quoted above; interestingly, the new sequence, these modes are in their own categories, allowing the player a lot more diversity and fun. Finally, you can have online multiplayer with friends or other opponents connected through a free service and excellent quality called BeanNetwork where it is even possible to connect a webcam (or use Kinect in the case of Xbox One) to see the reaction of others and even talk your opponent by that server.
Characters
Sample
Name
Description
Mr. Bean
This man not need any introductions; Mr. Bean is a nice man, polite, but it is very clumsy and lives getting into high confusions! Even his beloved teddy bear named Teddy was kidnapped.
Irma Gobb
It is the girlfriend of Bean; Together ready fun adventures! The problem between them is that Bean does not like a lot of kissing and romance, because he says he feels a lot of shame when this happens.
These two do not have their names disclosed, has only criminal registration code shown in the drawing "145728" and "6i5335". Are two rogue who worship stealing .... TOYS! Especially equal teddy bears or similar to Teddy.
Mr.Bean (Right) and Teddy (Left)
Teddy is Mr. Bean's teddy bear. He had special in design, only served the company for Bean, as he lives alone for a long time in the series, until he discovers that Teddy really know how to speak and get around the scene, when redeemed (in the game)
Controls
To play it is something quite simple and uncomplicated: to play on the PlayStation 4 or Xbox One, just press the X button to jump; Z button makes Bean hunker down; C button makes him throw punches the air; Y button changes the items available in the screen; "O" button makes Bean spinning in the air;
Mobile Device Controls
It is still easy; just pull the digital trigger present in the screen corners and pull them up or down; Moving the screen, you can change the camera position;
Game Modes
Story Mode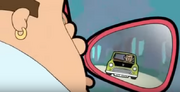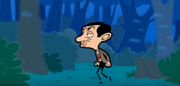 The most preferred mode of play between players; it goes a quick cutscene, 2D, we can see Mr. Bean on a park bench looking at a small lake in front, and eating a ham and cheese sandwich (probably melted cheese) with Teddy, his Teddy bear. Suddenly Bean note that your espresso is over, and go out to buy more, leaving Teddy alone on the bench. The scene quickly changes to a supermarket, where Bean is in his box, with a credit card making the coffee payment. Meanwhile, outside the store, two bandits well known for Bean, a dwarf 30 years and a muscular brutes steal Teddy again, leaving only his sandwich on the bench. When Bean back to the park, notice the theft and is outraged, pronouncing his classic catchphrase "Wait !!", and then get in your car, looking for the criminals. After a relentless chase scene behind them, Bean comes to a forest that seems familiar, recalling rather the first episode of the animated series, called "In the Wild". A family of foxes appear in front of him, apparently getting ready for a photo, but it passes straight through them without even have noticed. The foxes are angry and go to play them. The scene suffers a kind of "conversion" of the original 2D to 3D standard of the game, which is much better than before. Suddenly, Bean is surprised with a kind of track formed on the ground and in front of an entire phase around. Bean utters the phrase "Oh No!", And the cutscene ends, now taking control of the game in the player's hands.
Missions
They are short but very difficult missions that are only available online through BeanNetwork;
= Suck a Weasel
The backyard of Mrs. Wicket is being attacked by weasels! After seeing this shocking scene, becomes furious and shouts the name of Mr. Bean to handle the case out there. After an intense discussion, Wicket decided to make a deal with Bean: Case he can not get rid of the invaders, will be evicted from the apartment!
Bean Skatist
To please Irma in a surprise, Bean decides to use his skateboard that won birthday to the restaurant where Irma is with roses in their hands, but we have a problem: Bean since small, do not Able to ride a skateboard! The player's mission is to get to the restaurant, taking the balance of utmost not to fall off the skateboard, and avoid enemies and buildings in the city.
Tetris Bean
Mr. Bean was playing Tetris in your home, on a very rainy afternoon, when lightning strikes Bean and Tetris game through the window that was open, and some Bean. Suddenly he appears between two colored blocks, called Tetrimins. The player must control Bean sideways and jump, avoiding the falling blocks on top of him, in that after a while, begin to get faster.
Mini-Games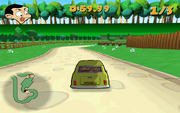 Car race
the player's goal is simply to make a run with friends or alone. You can choose to play with Irma or Bean;
Hunter
Based on previous game mini-game, this time this short game provides various scenarios and goals to choose from, from frogs to lions, as well as multiplayer support;
Soccer
In this game, you can dispute a game of football with friends or alone; you can also choose between Bean and Irma for the tournament;
Ghost Suction
Mr. Bean comes to a ghostly, gloomy mansion with his vacuum cleaner and a flashlight, ready to scare. The gameplay closely resembles the game "Luigi's Mansion" from Nintendo, except that Bean is more fearful Luigi;
Making a Path
Bean decides to do a little off-road through the forest while you have free time to do this, but when he arrives with his car in the mud, it simply bogs down! The goal now is clearing the car, Bean and reach the ultimate goal of phase.
The Relationship
This game can only be played with Irma; She and Bean are in a waterfront park bench by a lake, and, interestingly, the sky in the background of the characters is red, despite the sun not be setting, however, it is right on top of them; Irma decides to make a "dried" in Bean, but he can not know, if not, bizarrely he gets upset with her; The goal is to push the necessary buttons (or buttons, if the version for consoles) that Irma can "conquer it" if the player missing a key or Bean look the part, you lose the game.
Puzzles
It is the session puzzle game.
Videos
It's a pointless game session; Simply game trailers view the videos of initial self-help that are seen during the game.
Levels
| | | |
| --- | --- | --- |
| Level | Name | Description |
| | Main Forest | That's where it all starts; Upon arriving there, Bean stumbles upon this path in the woods and decides to invade the forest with his car, until he discovers a hidden world through this way. |
| | Evil Industries, Inc | Mr. Bean finds that after the forest there is a secret industry that turns bears in bottles. Now your mission is to infiltrate the evil industry to find out where they want to get selling modified bottles. |
| | London City Park | After being discovered by hiding in the meeting room, the bad guys take Teddy to their home (if they have any home). Bean tries to pursue them, but loses sight upon reaching the entrance to the city park. |
| | Confrontation at Home | After going through various challenges, Bean finally reaches the house of rogue. But before stepping in the backyard, he is surprised by two, and is surrounded. What's left to do the player is using and enjoying the Bean fighting powers to achieve stop them. |
Soundtrack
Look the soundtrack here:
Main Menu
Mini-Games Theme
Ingame
Secret was Uncovered
Forest Tutorial
It is a short tutorial to control the characters; After being complete, this theme changes.
Game Over
Level Completed
Messages
Beta Soundtrack
Beta Game Over
Beta Level Completed
Tension moments (unused)
Beta Ingame
It was only used at E3 to show, as fans watched and recorded the game.
Beta Ingame (Long Version)
Warning: this track is an infinite loop, ie means to be played in replay to the effect has force.
Trivia
Although it was released in a huge time difference, it is the second game of Mr. Bean saga;
In the 2007 game, until then, I could not play online because the game had no multiplayer support;
Interestingly, it is the successor of the games "Mr. Bean - Around the World" and "Flying Teddy" for mobile devices;
The game has support for mods and DLCs;
On the menu, selecting the session "about" Bean appears with a flashlight and an analog placard while dancing is the last game credits;
In a demonstration at E3, the game would have more of a "story mode", that is, the player could choose which story was more convincing to him; The initial menu was different.