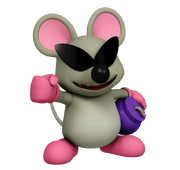 Mouser is a huge, bomb-wielding mouse that serves as the first and third world boss in SMB2. He is grey, wears sunglasses, and has pink gloves and feet (green in world 3).
Gallery
Appearances
yume kojo: doki doki panic/Super Mario bros 2
in these games, moser is a simple boss that attacks by lobbing bombs at the player, which need to be tossed back at him to defeat him. in world 1, he is grey and pink and requires 3 bombs to be defeated. in world 3, he now has a green color scheme and needs to be hit 5 times to be killed. In mario 2, the fith boss is clawgrip, but in doki doki panic, it was an albino mouser that requires 7 hits, this was deemed too difficult for american audiences and replaced.
fanon appearances=
Mouser appears as the boss in the second fortress in World VI. He attacks by standing on a 6 blocks wide platform throwing bombs at you. You must defeat him by picking up the bombs and hurling them back at him. He must be hit 5 times.