Mona is not from Fantendo. However, this article may include related fan ideas.

These external sources may have official, more accurate information:

This article is free to edit. Please follow the article standards and respect good-faith contributions.
— Mona, New Super Mario Bros. Wii 2: the next adventure
Mona Carpaccio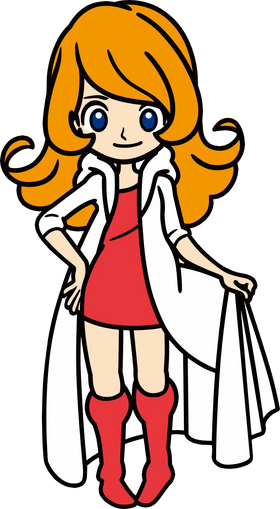 Mona, as she is seen in WarioWare Gold / WarioWare: Get It Together! (pictured).
GENERAL INFO

GENDER

♀

Female
SPECIES
Human
CURRENT STATUS
Alive
AGE
18-19, 20
BIRTHDAY
July 7th
BIRTHPLACE
Mushroom Kingdom


Diamond City

ALIGNMENT
Good
MISCELLANEOUS INFO

SERIES
Mario
Wario (specifically WarioWare)
CANON APPEARANCES
VOICE ACTOR(S)

Leslie Swan (English, previous)
Ruriko Aoki (Japanese)
Stephanie Sheh (English, current)
Mona Carpaccio, most commonly just known as Mona, is a young woman who has worked a variety of jobs in Diamond City. Her main job, though, is her job as a pizza delivery woman of the restaurant, Mona Pizza. She seems to have a crush on Wario and appears to be his very first love interest. There has been no signs that the crush is reciprocal. Of all of Wario's workers, she's his favorite.
General information
Physical appearance
Mona is a teenage girl attending high school. She has a rather fair skin complexion and long orange hair, although her hair appears to be shorter in Game & Wario. Mona's hair often has two bangs over her face, although, in later appearances, a third one was added. In the majority of her appearances, Mona has blue eyes with orange eyelashes. In Game & Wario however, she has solid black eyes. She is also seen wearing some form of headgear in almost every one of her appearances. She is also shown to wear makeup from time to time.
Unlike most characters, Mona's outfit has changed in every one of her appearances. However, Mona's general design appears to resemble that of biker gear, what with her attire consisting of a white mink fur coat, a red sports bra, a red mini-skirt being held up by a brown belt with a blue buckle, and red boots. When working, she wears more formal attire. In WarioWare: Twisted! (in which she works as a pizza delivery girl), she wears a yellow tank top, a blue and yellow baseball cap, blue skirt, yellow socks, and blue rollerskates. An alternate version of her artwork in WarioWare: Twisted! depicts her wearing a similar outfit, but all traces of blue and yellow in her outfit are replaced with red and white accents. In WarioWare: Touched!, Mona (depicted as a bass guitar player) wears a red dress, red gloves, and a large striped hat with sewn eyes. The bass she plays is yellow and green with heart and star motifs.
WarioWare: Smooth Moves depicts Mona as slightly taller and older with even more of a slim build than before, wearing formal cheerleading attire. She also ties her hair back into a mini-ponytail while wearing this outfit. Within the same game, she is also seen wearing a red qipao and has her hair tied back in an even larger ponytail during the intro and ending cutscenes for Young Cricket & Master Mantis' story. She also appears to be wearing a bit of makeup, as seen in her official artwork for the aforementioned game. It is this more mature look that seems to have stuck with Mona for every game starting with WarioWare: Smooth Moves, with the exception of Game & Wario. In WarioWare: Snapped!, being a park employee, Mona wears a white and green uniform with a headphone and a small hat. Mona takes up the job of an explorer in WarioWare: D.I.Y., where her outfit is mostly pink. Mona is also depicted with small earrings and a little bit of makeup, similar to her appearance in WarioWare: Smooth Moves. In Game & Wario, Mona is a photographer. Due to the notable universal design changes found in that game, Mona now has a more circular face shape, shorter hair, and appears slightly younger than her previous appearances. This design is later used in Rhythm Heaven Megamix. In her opening cutscene, she wears makeup.
With the new art style introduced in WarioWare Gold, Mona's appearance in the aforementioned game appears to combine elements of her general design (long orange hair, blue eyes, slim build, tall frame) with the more simplistic design used in Game & Wario (circular face shape, less makeup, slightly younger look overall). In this game, Mona wears a less voluminous version of her usual white mink fur coat. Also, rather than the usual red sports bra and mini-skirt that normally come with said fur coat, Mona instead wears a red dress.
Personality
In all of her appearances, Mona is seen as enthusiastic, fun-loving, tomboyish, spunky, thrill-seeking, and having a knack for adventure. However, Mona can also be very lonely at times, since she rarely ever sees her parents. In the Super Mario Revival series, at first, Mona feels a bit left out and lonely since she is the only one in the group of heroes who does not have any magic or special powers. But soon, she realizes that she is still special and powerful even if she's just a regular human being.
Appearances
Mona is a player on the Wario Muscles team on the multi-player Wii sports game Mario Rugby League. She is a speedy character with good skill and poor strength. Her special skill is throwing a pizza as an extended tackle.
Mona makes her debut in the Mario Singalong! Series in Mario Singalong Boys vs Girls! where she is a member of the girls' team. She reappears in Mario Singalong Rocks! and in Mario Singalong Down Under! where she was an unlockable character. To unlock her, you have to sing Holly Valance's "Kiss Kiss" in Karaoke Mode at least once.
Wario & Geno: Saviour of the Stars
Mona appears as a damsel in distress in Wario & Geno: Saviour of the Stars, alongside the Star Spirits and Wario's money. She was kidnapped by King Dedede to protect her from the real villain who wanted to kill her for unknown reasons, and it was Wario's secondary goal to free her.
She is in Team Wario, as a speed character.
Mona appears in New Super Mario Baseball on Wario's team. Her stats are still unknown. In the introduction, Mona and Wario are seen making out in the baseball closet. Once they are revealed, Wario is shocked, but Mona closes the door. After the door is closed, ounds coming from the closet door indicate that they continue kissing.
Mona appears in Super Duper Smash Bros. as a playable character from the Wario Series. She is ranked second on the tier, due to her fighting technique, and light weight physical attacks,.
Mario Kart Powers
Mona appears as an unlockable character in Mario Kart Powers. In the game, she is a medium-sized character who is unlocked by beating POW Cup on 50cc as Wario, and then again as Waluigi. Mona's signature Kart colors are pink, silver and steel blue.
Mona appears as an unlockable character in P-Floatie Racers. To unlock her, the player must beat the Star Cup in 150cc or just play as Wario five times in any Single Player or multi-player mode. She's a mid-light character, her P-Floatie is maroon colored and has a front view of her scooter as the decal.
Mona appears in WarioWare: 3 Dimensions with a new level theme: "Dance and the Important Music". Ini is her partner in the minigame, "Race ..... For Your Life".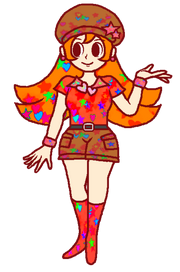 While Mona is absent in the first three seasons of Super Mario Revival,she makes her first appearance in the fourth season,Super Mario Unite!. She had come from Diamond City and into the Mushroom World in order to help Mario and Wario to defend against the new evil. She is usually allied with Princess Shokora and Queen Merelda.
Mona is just a normal human being, and is the only hero in the whole Super Mario Revival series to not have any magic or special powers. Instead, she fights while riding on a special scooter, called the Cutie Star Scooter, which Professor E. Gadd made for her. It has many gadgets and inventions equipped into it to help her attack. She can shoot lasers from it and even pull out a pizza from it to distract enemies and tempt them.
In the past, Mona has had many jobs (in different games); working at an ice cream shop, a pizza delivery woman, a rock star, an explorer, a photographer, and now, Mona claims that fighting evil is her new "job".
In this series, Mona appears in her Game & Wario design (with a red shirt and brown shorts) rather than her original design (with the white fur coat).
Attacks
Mona has a variety of non-magical attacks which she uses to fight. Most of them require the aid of the Cutie Star Scooter.
Tricky Star - Mona, while riding her scooter, suddenly jumps off of it, letting the scooter crash into the enemy and then Mona herself lands onto the enemy for a double hit.
Mona Pizza - Mona uses the Cutie Star Scooter's special compartment and pulls out a ready-made Mona Pizza, which distracts enemies.
Prodigy Beam - Mona's most powerful attack; it is a highly-powered laser blast from her scooter.
Star Team Heroes
She's one of the victims of the Kirthar's Snap Finger.
Quotes
Do I have a chance to win Wario's heart?!
I'm glad I get to work on time! I am very dedicated to work!
I have to deliver this pizza to Wario's house! I promise I won't charge Wario because Wario hates to pay because of his greedy attitude!
Wario! When are you going to give our salary? Today is the day to pay your employees!
I hate it when my pets mess up my house! I always threaten my pets with my boomerang every time they mess up my house!
I promise I will do anything to get me into a romantic relationship with Wario!
Voice Actors
Leslie Swan (English, previous)
Ruriko Aoki (Japanese)
Stephanie Sheh (English, current)
Gallery
Navigation Templates
Template:SMASBcharacters