Mini Mushroom

Appearance of a Mini Mushroom

First Appearance
Mario Party 4
Effect
Turns Mario into Mini Mario
Mini Mushrooms are a type of Mushroom in the Mario series. They first appeared in Mario Party 4 as a pink mushroom with a pacifier before getting a design overhaul in the New Super Mario Bros. series and being changed into a small, blue Mushroom.
Mini Mushrooms turn Mario into Mini Mario. Unlike Mario, Mini Mario can jump extra high, spin more than three times in mid air, run on water and travel down Mini Pipes. However, getting hit once as Mini Mario will cause you to die.
Canon Appearances
Mario Party 4
The
Mini Mushroom
first debuted in Mario Party 4 and appeared as a pink mushroom with a pacifier. It allows the player to enter gates and play Mini Mini-Games, however the
Dice Block
is reduced from 1-10 to 1-6 whilst under the effects of the Mini Mushroom. It costs 5 coins.
Mario Pinball Land
Mini Mushrooms reappear in in Mario Pinball Land. They have mostly the same role where they can allow the player to enter small passages and collect extra Power Stars.
Super Mario Bros. series
The Mini Mushroom recieved a design overhaul in the [[New Super Mario Bros. (series)|New Super Mario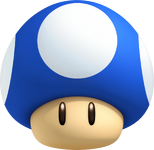 Bros. series]], being changed from a pink Mushroom with a pacifier, to an ordinary blue mushroom. It retains the same abilities as in previous installments, allowing the player to become small and go into Mini Pipes as well as being able to jump higher.
Mario & Sonic at the Olympic Winter Games
The Mini Mushroom appears in the DS version of Mario & Sonic at the Olympic Winter Games during the Adventure Tours story. Once again, the Mini Mushroom makes Mario become small so he can cross thin ice without it breaking.
Mario Sports Mix
In Mario Sports Mix, the Mini Mushroom shrinks opponents, causing them to not be able to hold onto a basketball, dodgeball or hockey puck. Whilst small, they also can't do spikes in Volleyball as well as not being able to perform defensive moves in dodgeball.
Mario Kart Arcade GP DX
Mini Mushrooms appear as an item that can be shot forward like a green shell and shrink an opponent, causing them to move slower.
Fanon Appearances
Gallery
Community content is available under
CC-BY-SA
unless otherwise noted.