Min Min did not originate from fanon. This article can be edited freely by everyone in the community.

Despite covering an existing subject, this article may include related Fantendo content. These external sources may have more official information:
Min Min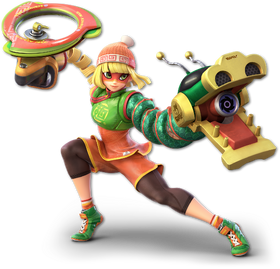 Min Min, as she appears in Super Smash Bros. Ultimate
GENERAL INFO

NICKNAME(S)

The Ramen Bomber

GENDER

♀

Female
SPECIES
Human
AGE
18
HEIGHT
1.67m
WEIGHT
Unimportant lbs
BIRTHPLACE
Ramen Bowl
PERSONAL INFO

LIKES

Eating her mom's homemade ramen

WEAPONS
ARMS (Dragon, Ramram, Megawatt)
MISCELLANEOUS INFO

SERIES
ARMS
CANON APPEARANCES

ARMS (2017)
Min Min is one of the default fighters in ARMS. Min Min joined the ARMS Grand Prix to represent her family's dining business, the Mintendo Noodle House, with the hopes of winning the championship belt. She's also known for delivering spicy kicks to her opponents.
Min Min is able to kick away airborne ARMS while dashing. Her left ARM is also able to become a dragon ARM, leaving left ARMS equipment charged for a longer time.
Description
Min Min appears like a human being, except her more oval eyes have spiraled irises, colored lime green. Her ARMS are also ramen noodles, as is her hair. Her left arm is able to become more draconic after charging, which is green, scaly and has orange spine scales. The insides of the dragon-coil ARM has white scales. Outside of ARMS battling, her hands are shown pale yellow like her ramen ARMS, with green bracelets reminiscent of her dragon ARM. Min Min also wears an orange beanie cap, similar to a ramen bowl, as well as an orange mask.
Min Min's outfit appears to be a bit oriental in appearance, having an orange athletic dress, orange shorts, calve-high thighs and green sneakers with soles shaped like a dragon. She also wears a lime green torso armor with red accents, held together by a teal, dragon-themed strap, and sporting her logo on the front.
Appearances
A member of ramen royalty, she hails from the famed Mintendo Noodle House! Her spicy kicks are known to knock down her opponents' attacks. She is known as the ramen bomber and wants to win to save her restaurant.
Min Min appears as a playable character in Boss Battles, using her moveset from ARMS. Her two attributes being able to kick attacks as a counter and able to charge her left arm into a dragon arm that remains permanently charged until she gets knocked down.
Min Min is a central character in ARMS JAB: Lab Rat, inviting Mechanica to her family's ramen shop. The story discusses her upcoming inheritance of the shop shared with her sister as well as how she is training with Mechanica. The story also introduces her sister Ram Ram.
Min Min appears as a Playable character.
Min Min appears as a Playable character, being unlocked via registering her Amiibo.
Min Min appears as an Unlockable character.
She is one of the characters of the game.
Min Min is one of the veterans of the game.
She is one of the unlockable characters in the game.
Min Min is yet to be revealed if she's going to be part of the main roster, unlockable, or DLC.
She is one of the characters from ARMS side.
Min Min is one of the characters of the game.
Min Min is a playable character in Super Smash Bros. for the arcade as part of a June 29, 2020 update.
Stats
Relationships
Ram Ram is Min Min's big sister, who created the Ramram for her. Min Min uses the Ramram as a default weapon of hers, as she cherishes the relationship she has with her, even through it's ups and downs. Min Min admittedly wishes Ram Ram was a little less invasive of her life, especially around other people. While she can tell Ram Ram is envious of her ARMS ability, she doesn't let it bother her too much.
Trivia
In the Japanese version of ARMS, Min Min is stated to be on a diet.
Min Min's icon includes 麺, which means men, appearing in the word "ramen".
Her family's restaurant, the Mintendo Noodle House is a namesake for Nintendo.
Gallery
Community content is available under
CC-BY-SA
unless otherwise noted.