Midna did not originate from fanon, and more information can be found on their respective wiki(s). You may read more about it on the following wiki(s):
Midna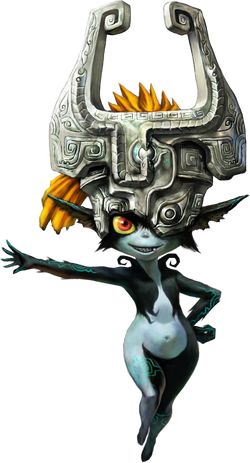 Midna's imp form
PERSONAL INFO

CLASS
Princess of Twilight
WEAPONS
Twilight "Magic"
MISCELLANEOUS INFO

VOICE ACTOR(S)

Japanese: Akiko Koumoto
English: Cindy Robinson
Midna is the princess of the Twili race that resides in the Twilight Realm, and the holder of the Fused Shadows. She appears in Nintendo Princesses and as a unlockable character in Super Smash Bros. Global Apocalypse.
Appearances
Midna is a downloadable character in Super Smash Bros. Blue Heat. Her Final Smash lets her ride on Wolf Link.
Although not confirmed as one of the Princesses of Fate, Midna is still a princess that appears and gives various tips to the rest of the princesses. She was confirmed in the game at the release of the Twenty-Second Choice trailer.
Midna makes her debut in the Mario Singalong! Series in Mario Singalong Legends! in her true form and she is one of the twenty default characters and one of the ten legend of Zelda characters.
Midna makes her first televison appearance in Pikachu and Kirby: Amazing Adventures, and is Pikachu's main love interest. She mainly appears in her human form. Pikachu instantly falls in love with her while she is unaware. She enjoys his company and even begins to develop feelings for him because of kindness and ambition, something she could never find in any other person she's ever dated.
Midna makes a minor appearance in the Wii U/3DS Super Smash Bros. title Super Smash Bros. Fusion. In the game, she appears on the back of Wolf Link while he is in battle, and also allows Link to transform into said wolf form. She also uses her magic to aid the wolf-Hylian in battle. In Wolf Link's taunts, she is the main focus for many of them, with her sarcastic personality taking over from Link's strong and silent demeanour.
Midna is a playable character in Hyrule Heroes. She attacks with her hair and Wolf Link, and in her Twili costume, with the Mirror of Twilight. She is a powerful character.
Gallery
Imp Form
True Form
Navigation Templates
Playable Characters
Assist Characters
Obstacles
Other Characters
Alolan Grimer · Amul · Ann Takamaki · Big Urchin · Blizzy · Bravoman · Buzz-Buzz · Cutiefly · Don-chan · Dragoneel · Fierce Deity · Gil · Happy Mask Salesman · Judge · King · Kissy · K.K. Slider · Litwick · Lloyd · Mappy · Mareanie · Mii · Missile · Morgana · Perry · Pidgit · Pooka · Rabbid Luigi · Rabbid Yoshi · Red Baron · Ribbon · Rowlet · Runner · Ryuji Sakamoto · Sandy · Smasher · Rusty Slugger · Servbot · Sima Zhao · Swanna · Tarosuke · Timmy Nook · Toadsworth · Tommy Nook · Tron Bonne · Valkyrie · Wonder Momo · Ziggy
Collectibles

Trophies

Stickers

Boolossus · Boo Mario · Bowser · Captain Toad · Cat Peach · Chain Chomp · Cloud Mario · Fire Mario · F.L.U.D.D. · Koopa Clown Car · Mega Mushroom · Mario · Penguin Mario · Peach · Propeller Mario · Rock Mario · Toad · Toadette · Waluigi
Birdo · Boo Buddies · Blooper · E. Gadd · Fuzzy · Metal Form · Waluigi · Whomp

Candy Kong · Lord Fredrik

9-Volt · Fauster

Ball and Chain · Deku Leaf · Majora's Mask · Mipha

Abra · Drifloon · Spinarak

Katrina · Mr. Resetti

Adam Malkovich · Arachnus

Nightmare · Noddy · Prank

Mr. Chicken

Back Shield · Centurion · Eggplant Wizard

Disco Kid · Doc Louis · Donkey Kong · Giga Mac · Glass Joe · King Hippo · Little Mac · Von Kaiser

Blue Falcon · Captain Falcon · Pico · Rick Wheeler · Wild Goose

Louie

Pyra

Franklin Badge · Negative Man

Apollo Justice · Franziska von Karma · Miles Edgeworth · Larry Butz · Judge · Phoenix Wright

Dr. Wright · Hammer Slam Bowser
Devil · Dr. Wright · F-Type · Rusty Slugger · Zethia
Community content is available under
CC-BY-SA
unless otherwise noted.