Midna is not from Fantendo. However, this article may include related fan ideas.

These external sources may have official, more accurate information:

This article is free to edit. Please follow the article standards and respect good-faith contributions.
Midna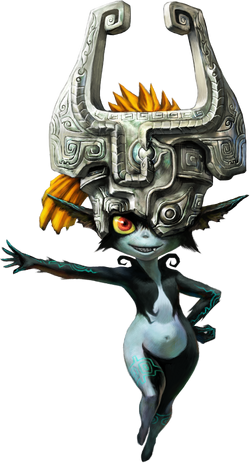 Midna's imp form
GENERAL INFO

GENDER

♀

Female
SPECIES
Twili
BIRTHPLACE
Hyrule


Twilight Realm
PERSONAL INFO

CLASS
Princess of Twilight
WEAPONS
Twilight "Magic"
MISCELLANEOUS INFO

VOICE ACTOR(S)

Japanese: Akiko Koumoto
English: Cindy Robinson
Midna is the princess of the Twili race that resides in the Twilight Realm, and the holder of the Fused Shadows. She appears in Nintendo Princesses and as a unlockable character in Super Smash Bros. Global Apocalypse.
Appearances
Super Smash Bros. Blue Heat
Midna is a downloadable character in Super Smash Bros. Blue Heat. Her Final Smash lets her ride on Wolf Link.
Nintendo Princesses
Although not confirmed as one of the Princesses of Fate, Midna is still a princess that appears and gives various tips to the rest of the princesses. She was confirmed in the game at the release of the Twenty-Second Choice trailer.
Midna makes her debut in the Mario Singalong! Series in Mario Singalong Legends! in her true form and she is one of the twenty default characters and one of the ten legend of Zelda characters.
Midna makes a minor appearance in the Wii U/3DS Super Smash Bros. title Super Smash Bros. Fusion. In the game, she appears on the back of Wolf Link while he is in battle, and also allows Link to transform into said wolf form. She also uses her magic to aid the wolf-Hylian in battle. In Wolf Link's taunts, she is the main focus for many of them, with her sarcastic personality taking over from Link's strong and silent demeanour.
Midna is a playable character in Hyrule Heroes. She attacks with her hair and Wolf Link, and in her Twili costume, with the Mirror of Twilight. She is a powerful character.
Gallery
Imp Form
True Form