Merrin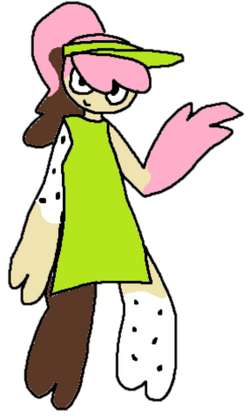 Merrin's official art in Sugar Cannon
GENERAL INFO

GENDER

♀

Female
SPECIES
Unknown
AGE
?
PERSONAL INFO

RELATIONSHIPS

?
MISCELLANEOUS INFO

SERIES
Sugar Cannon
Merrin is a character created by CrakaboLazy4090 (t∣b∣c). She originally made an appearence in Battle for Fantendo, before making her official debut in the upcoming Sugar Cannon.
Appearence
Merrin's body is composed entire out of ice cream, primarily vanilla, chocolate, strawberry and cookies and cream. She wears a neon green visor and apron, and her "hair" is fashioned into a ponytail.
Personality
Merrin is normally seen as cheerful, optimistic and caring to others. She has a devotion to protecting the Flavor Sprites and will stop at nothing to get them back.
Abilities
Merrin can draw her powers from the Flavor Sprites in order to give her weapons to fight off against her enemies. The Flavor Sprite that's with her will determine what weapon she gets. She can have up to three Flavor Sprites at a time. She also has the ability to fly.
Appearences
Merrin appears as the main protagonist of Sugar Cannon. Living in the Dessert Kingdom, she is responsible for protecting the Flavor Sprites, the guardians of Foodtopia. When the Flavor Sprites are captured and the evil Burgking is threatening to take Foodtopia over, Merrin, alongside a lone Vanilla sprite, seek to take down Burgking and save their friends.
Merrin makes an appearence as a DLC Character in Battle for Fantendo, alongside Lane from KillGames and a Rogue from Kingdombound, as part of the Crakabo DLC Pack.
Gallery
Trivia
Merrin has had somewhat of a long history of being scrapped for other projects.

She was originally created for a game by KirbiMiroir (t∣b∣c), where all of the characters are self-inserts of various Fantendo users. The game was later seemingly abandoned.
She was briefly considered to appear in KillGames as a playble character. She was going to be created by scientists as a clone of the game's main character, Redge, and would have played a more antagonistic role. She was scrapped, but later, her ice-wielding role would later be given to Yuki.
She was entered into the Powerborn Create a Hero (or Villain) Contest to become a potential character in Powerborn. However, she only made it to 6th place, losing out.

Her name is based of meringue, a dessert made from whipped egg whites and sugar.