This article is part of the Medieverse. Surely you're not looking for the original Melissa Dust?
Melissa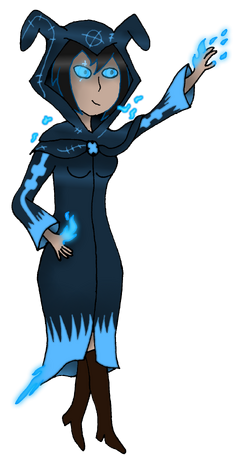 GENERAL INFO

GENDER

♀

Female
SPECIES
Witch
CURRENT STATUS
Alive
AGE
23
BIRTHPLACE
Occident
PERSONAL INFO

OCCUPATION(S)
Heartgold Member
MISCELLANEOUS INFO

SERIES
Medieverse
CANON APPEARANCES

TBA
Melissa is a character in the Medieverse who takes a major role in the story.
History
Back in the day, Melissa was good friends with Pixel, both discovering that they have magical abilities. They hid them from anyone, but once Melissa was discovered, Valerie approached the two of them and took them into the Heartgold Coven. Melissa trained hard to become a proper witch, while her best friend delved into rogue magic, leading to Pixel abusing her magic. Melissa exiled her and instead became the second hand in the coven. She adores Valerie and strives to fulfill her ideals and also to get back at Pixel.
Physical description
Melissa is a woman of average height with a light tanned skin, blue eyes and pitch-black hair. She has a scar across her left eye which is in the form of a crucifix and glows blue. She wears a cloak that is similar to that of Valerie. Instead of the white-red, she has a black-blue color scheme. She has bunny ears on top of her hood as well. Underneath she wears a simple black top and leggings.
Personality
While being a rather calm person most of the time, she can be very passionate about what she strives to accomplish in life. Her witch life is very important to her and she will do anything for it. She is not shy of adventure and is prepared to go out in the daylight, despite her being a witch. She can hold grudges for a long time, but only if there was a tight bond before. She has a foul mouth, something Aurora doesn't like, but tries to watch it in her presence.
Abilities
Being a witch, Melissa practices magic and specializes in a specific type of magic. This is a special type of psychokinesis in which she can control the particles of organismic things. She can direct these particles into any direction. She also controls the particles of her own body, she does this with her hair and hands.
Relationships
Valerie
Pixel
Aurora
Trivia
Community content is available under
CC-BY-SA
unless otherwise noted.