Mega Evolution is not from Fantendo. However, this article may include related fan ideas.

These external sources may have official, more accurate information:

This article is free to edit. Please follow the article standards and respect good-faith contributions.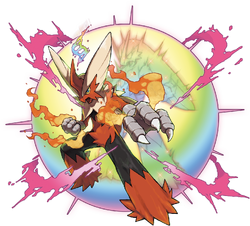 Mega Evolution a special kind of evolution that only affect certain kinds of Pokémon. It is discovered in Kalos, but as of right now, Mega Evolution still hold many mysteries.
Korrina and her grandfather Gherkinn (both hailing from Shalour City) are said to know a few secrets from Mega Evolving. Steven Stone, Pokémon Champion from Hoenn, is also intrigued by this process.
According to a Kalosian legend, Lucario was the very first Pokémon that ever Mega Evolved.
There's a process known as Primal Reversion, which has its similarities with Mega Evolution. Groudon and Kyogre can undergo through this to become Primal Groudon and Primal Kyogre, respectively. However, Rayquaza has a regular Mega Evolution instead, but the Sky High Pokémon does have rooted connections with this process.
Usage
In order for a Pokémon to Mega Evolve, it first has to hold the correct Mega Stone, appropriately named after itself. A Blaziken has to Mega Evolve by holding a Blazikenite. If it's holding something like a Venusaurite, it won't work, as it only works for Venusaur. However, its Trainer has to hold and activate a Key Stone in order to have it work. The Key Stone can literally be hung or placed anywhere the Trainer wants: in a ring, bracelet, necklace, glasses, etc. But even with the necessary items in place, the Pokémon is unable to Mega Evolve if it doesn't have a strong bond with its Trainer.
A Pokémon can only Mega Evolve during a battle, and the Trainer can only Mega Evolve one Pokémon per battle. Mega Evolution is revertible, but the Mega Pokémon can only turn back into its original state when the battle is over, or when it faints. When a fainted Pokémon is revived, but already Mega Evolved before it fainted in the same battle, it cannot Mega Evolve again for the same match.
Mega Evolution can be used on the same turn as a normal attack, and always has priority before anything else.
Mega Stones cannot be stolen or switched with another item from other Pokémon. Therefor, Thief and Covet will turn into a regular attack, and the abilities Pickpocket and Magician will never succeed to take away a Mega Stone. The holder cannot get rid of a Mega Stone either, so moves like Fling and Bestow will fail instantly.
Moves that prevent the usage of held items, like Embargo or Wonder Room, do not prevent Mega Evolution. Status conditions won't prevent the Pokémon from Mega Evolving either.
There are only two instances when a Pokémon cannot Mega Evolve: shifting positions during a Triple Battle, and during the airborne phase of Sky Drop, when the target can basically do nothing at all.
Effects
Aside from the Pokémon having "Mega" before its name (e.g. Mega Scizor), they get a vast changes in their stats. The HP stat is the only stat that won't ever be affected. The stat boosts will give each Mega Evolution a boost of 100 points to their Base Stat Total. Mega Alakazam is the only exception, whose Base Stat Total boost is just 90 points.
These stat changes can completely turn a Pokémon and its strategies around. For example, Garchomp's highest stats were Attack and Speed, but its lowest were Special Attack and Special Defense, so it was typically used as a physical sweeper. However, Mega Garchomp has its Speed as its lowest stat, and gained a tremendous boost in Attack and Special Attack.
Aside from stats, the Pokémon usually gets its Ability changed as well. Sometimes, they get a different type combination. They can gain a new type while originally just single-typed (e.g. pure Electric-type Ampharos becomes Electric/Dragon), have their secondary type switched out for another (e.g. Mega Gyarados is Water/Dark, as opposed to regular Gyarados's Water/Flying), or removed altogether to become a single type (e.g. Aggron loses its Rock-type after Mega Evolution, becoming pure Steel).
The original movement order remains intact on the turn when Mega Evolution is activated, so the improvements or declines will be realized on the next turn instead.
A Fanon concept that is an evolutionary state beyond Mega Evolution, the Supreme Evolution further increases a Pokemon's battle capabilities as well as for some Pokemon, giving them a third type. Supreme Evolution requires a Key Stone and Mega Stone like Mega Evolution however the Pokemon must have a high Friendship Level to Supreme Evolve.
Like Mega Evolution, Supreme Evolution only lasts for as long as the Pokemon is not fainted and only works in battle. Supreme Evolution cannot be activated on turn 1 unless scripted to do so. Instead Pokemon must wait for Turn 2 to Supreme Evolve, requiring a Mega Evolution on turn 1.
List of Mega Evolution-capable Pokémon
Official
Before Mega Evolution
After Mega Evolution
Mega Stone
Pokémon
Type
Ability/ies
Pokémon
Type
Ability

Venusaur
Overgrow
Chlorophyll (Hidden)

Mega Venusaur
Thick Fat

Venusaurite

Charizard
Blaze
Solar Power (Hidden)

Mega Charizard X
Tough Claws

Charizardite X

Mega Charizard Y
Drought

Charizardite Y

Blastoise
Torrent
Rain Dish (Hidden)

Mega Blastoise
Mega Launcher

Blastoisinite

Beedrill
Swarm
Sniper (Hidden)

Mega Beedrill
Adaptaility

Beedrillite

Pidgeot
Keen Eye
Tangled Feet
Big Pecks (Hidden)

Mega Pidgeot
No Guard

Pidgeotite

Alakazam
Synchronize
Inner Focus
Magic Guard (Hidden)

Mega Alakazam
Trace

Alakazite

Slowbro
Oblivious
Own Temper
Regenerator (Hidden)

Mega Slowbro
Shell Armor

Slowbronite

Gengar
Levitate

Mega Gengar
Shadow Tag

Gengarite

Kangaskhan
Early Bird
Scrappy
Inner Focus (Hidden)

Mega Kangaskhan
Parental Bond

Kangaskhanite

Pinsir
Hyper Cutter
Mold Breaker
Moxie (Hidden)

Mega Pinsir
Aerilate

Pinsirite

Gyarados
Intimidate
Moxie (Hidden)

Mega Gyarados
Mold Breaker

Gyaradosite

Aerodactyl
Rock Head
Pressure
Unnerve (Hidden)

Mega Aerodactyl
Tough Claws

Aerodactylite

Mewtwo
Pressure
Unnerve (Hidden)

Mega Mewtwo X
Steadfast

Mewtwonite X

Mega Mewtwo Y
Insomnia

Mewtwonite Y

Ampharos
Static
Plus (Hidden)

Mega Ampharos
Mold Breaker

Ampharosite

Steelix
Rock Head
Sturdy
Sheer Force (Hidden)

Mega Steelix
Sand Force

Steelixite

Scizor
Swarm
Technician
Light Metal (Hidden)

Mega Scizor
Technician

Scizorite

Heracross
Swarm
Guts
Moxie (Hidden)

Mega Heracross
Skill Link

Heracronite

Houndoom
Early Bird
Flash Fire
Unnerve (Hidden)

Mega Houndoom
Solar Power

Houndoominite

Tyranitar
Sand Stream
Unnerve (Hidden)

Mega Tyranitar
Sand Stream

Tyranitarite

Sceptile
Overgrow
Unburden (Hidden)

Mega Sceptile
Lightning Rod

Sceptilite

Blaziken
Blaze
Speed Boost (Hidden)

Mega Blaziken
Speed Boost

Blazikenite

Swampert
Torrent
Rain Dish (Hidden)

Mega Swampert
Swift Swim

Swampertite

Gardevoir
Synchronize
Trace
Telepathy (Hidden)

Mega Gardevoir
Pixilate

Gardevoirite

Sableye
Stall
Keen Eye
Prankster (Hidden)

Mega Sableye
Magic Bounce

Sablenite

Mawile
Intimidate
Hyper Cutter
Sheer Force (Hidden)

Mega Mawile
Huge Power

Mawilite

Aggron
Sturdy
Rock Head
Heavy Metal (Hidden)

Mega Aggron
Filter

Aggronite

Medicham
Pure Power
Telepathy (Hidden)

Mega Medicham
Pure Power

Medichamite

Manectric
Static
Lightning Rod
Minus (Hidden)

Mega Manectric
Intimidate

Manectite

Sharpedo
Rough Skin
Speed Boost (Hidden)

Mega Sharpedo
Strong Jaw

Sharpedonite

Camerupt
Magma Armor
Solid Rock
Anger Point (Hidden)

Mega Camerupt
Sheer Force

Cameruptite

Altaria
Natural Cure
Cloud Nine (Hidden)

Mega Altaria
Pixilate

Altarianite

Banette
Insomnia
Frisk
Cursed Body (Hidden)

Mega Banette
Prankster

Banettite

Absol
Pressure
Super Luck
Justified (Hidden)

Mega Absol
Magic Bounce

Absolite

Glalie
Inner Focus
Ice Body
Moody (Hidden)

Mega Glalie
Refrigirate

Glalitite

Salamence
Intimidate
Moxie (Hidden)

Mega Salamence
Aerilate

Salamencite

Metagross
Clear Body
Light Metal (Hidden)

Mega Metagross
Tough Claws

Metagrossite

Latias
Levitate

Mega Latias
Levitate

Latiasite

Latios
Levitate

Mega Latios
Levitate

Latiosite

Rayquaza
Air Lock

Mega Rayquaza
Delta Stream
Rayquaza doesn't need to hold a Mega Stone, but instead has to know the move Dragon Ascent.

Lopunny
Cute Charm
Klutz
Limber (Hidden)

Mega Lopunny
Scrappy

Lopunnite

Garchomp
Sand Veil
Rough Skin (Hidden)

Mega Garchomp
Sand Force

Garchompite

Lucario
Steadfast
Inner Focus
Justified (Hidden)

Mega Lucario
Adaptability

Lucarionite

Abomasnow
Snow Warning
Soundproof (Hidden)

Mega Abomasnow
Snow Warning

Abomasite

Gallade
Steadfast
Justified (Hidden)

Mega Gallade
Inner Focus

Galladite

Audino
Healer
Regenerator
Klutz (Hidden)

Mega Audino
Healer

Audinite

Diancie
Clear Body

Mega Diancie
Magic Bounce

Diancite
Fanon
Trivia
Dragon and Psychic appear to be tied as the types with the most Mega Evolutions (eight), while Ice and Electric have the fewest (only one).
So far, the only two Pokémon having two Mega Evolutions are Mewtwo and Charizard. Both of them hail from Kanto and are very popular among Pokémon fans.
Mewtwo was the first legendary Pokémon capable of Mega Evolution.
When a Pokémon Mega Evolves into its X form, they always have their secondary type replaced with another type or gain a secondary type.
Gallery
Community content is available under
CC-BY-SA
unless otherwise noted.