Murphy Quinton McBoo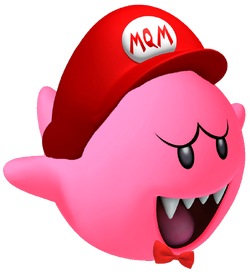 McBoo's first piece of artwork, by Arend.
GENERAL INFO

GENDER
♂ Male
CURRENT STATUS
Undead
AGE
Unknown
BIRTHPLACE
Boo Woods
PERSONAL INFO

RELATIONSHIPS
CLASS
Neutral/Hero
MISCELLANEOUS INFO

CANON APPEARANCES
Murphy Quinton McBoo (or simply McBoo) is a Red Boo character, created by McBoo-Blitzman. Unlike most Boos, he wears a small red bow tie and a Mario cap with his initials. He is the main character in his own series.
(McBoo's name and general appearance have been repurposed and redesigned by McBoo-Blitzman in the form of a new character for his YouTube videos, Flipnote animations, and a comic story he is working on. However, McBoo-Blitzman considers this a completely different character who was inspired by his original concept for McBoo.)
Biography
McBoo began working on the Mario Party board, Towering Treetop, stealing Coins or Stars from Mario and his friends. King Boo saw this as a great success and promoted him to the leader of the Red Boo faction. McBoo wore a hat and bow tie to differentiate himself from the other Red Boos. He is less shy than most Boos, but still has his bashful moments throughout the series.
Although he serves King Boo, McBoo doesn't hold a grudge against Mario or Luigi. Instead he fears them and their ability to trap him inside a painting. Despite his loyalty to the villainous king, McBoo felt conflicted about working for the Boo Troop. He didn't immediately become a hero though. After he was temporarily fired by King Boo, McBoo created his own mansion and tried to rule the Mushroom Kingdom with his friends. McBoo is the smartest of his four friends (O'Lantern, Akro Bat, and Ghoularry), but tends to be a bit clumsy and has fun scaring people for no good reason.
McBoo later met his love interest, Booberry, who helped McBoo become more heroic. In spite of this, McBoo's loyalty to King Boo led him to rejoin the Boo Troop, hoping to turn his fellow Boos to the good side one day.
Appearances
McBoo is primarily known for his role as the main character of the McBoo series. However, he has appeared in many Fantendo games, since McBoo-Blitzman has allowed other users to include him in their games.
McBoo has appeared in nearly every YoshiEgg game to date. He is a major character and is always playable.
Gallery
Sprites
Artworks