Max Brass is not from Fantendo. However, this article may include related fan ideas.

These external sources may have official, more accurate information:

This article is free to edit. Please follow the article standards and respect good-faith contributions.
Max Brass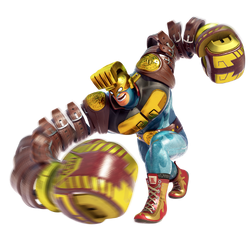 Max Brass's basic appearance
GENERAL INFO

NICKNAME(S)

The Commish

GENDER
♂ Male
SPECIES
Human
AGE
52
HEIGHT
1.95m
WEIGHT
117kg lbs
BIRTHPLACE
Sky Arena
PERSONAL INFO

LIKES

Training and inspiring new fighters

WEAPONS
ARMS (Nade, Roaster, Kablammer)
MISCELLANEOUS INFO

SERIES
ARMS
CANON APPEARANCES

ARMS (2017)
Max Brass is one of the downloadable fighters in ARMS. He is the current head of the ARMS League, and also organizes the ARMS Grand Prix, which he has been the reigning champion of for many years.
Before he was available, Max Brass is the final opponent in the Grand Prix. However, when doing the Grand Prix at Level 4 and above, Max Brass would be possessed by Hedlok, who then poses as the final challenge instead.
Max Brass can pump up his muscles temporarily in order to resist getting knocked down. Like Spring Man, he also has the ability to deflect incoming punches, as well as having his ARMS permanently charged when his health reaches below 25%.
Description
Max Brass is a buff, middle-aged man wearing a cyan and blue spandex suit and red boxing boots. He also wears a brass mask helmet adorned with a fist ornament. His pupils aren't visible, but they likely have a spiral pattern like most of the human fighters. He wears black torso armor, with golden plates reminiscent of his logo on his pectoral muscles.
Max Brass's ARMS are made of brown leather belts, specifically the champion belts he has won over the years. He wears another championship belt over his waist.
Appearances
Max Brass reappears as the end boss for Arcade Route in Boss Battles. In Medium and Hard modes, he will be pocessed by either a Silver Hedlok or a Omega Hedlok. Max Brass has the ability to pump himself up to resist being knocked down, as well as dodge oncoming punches and has the ability to maintain a constant charge while below 25% health.
Stats
Relationships
Max Brass appears to know Dr. Coyle from their past together. They may have been friends at one point judging by her ending, although her quotes suggest they have a fierce rivalry or are even straight up foes.
Gallery